English for Queensland Units 3&4 Teacher obook assess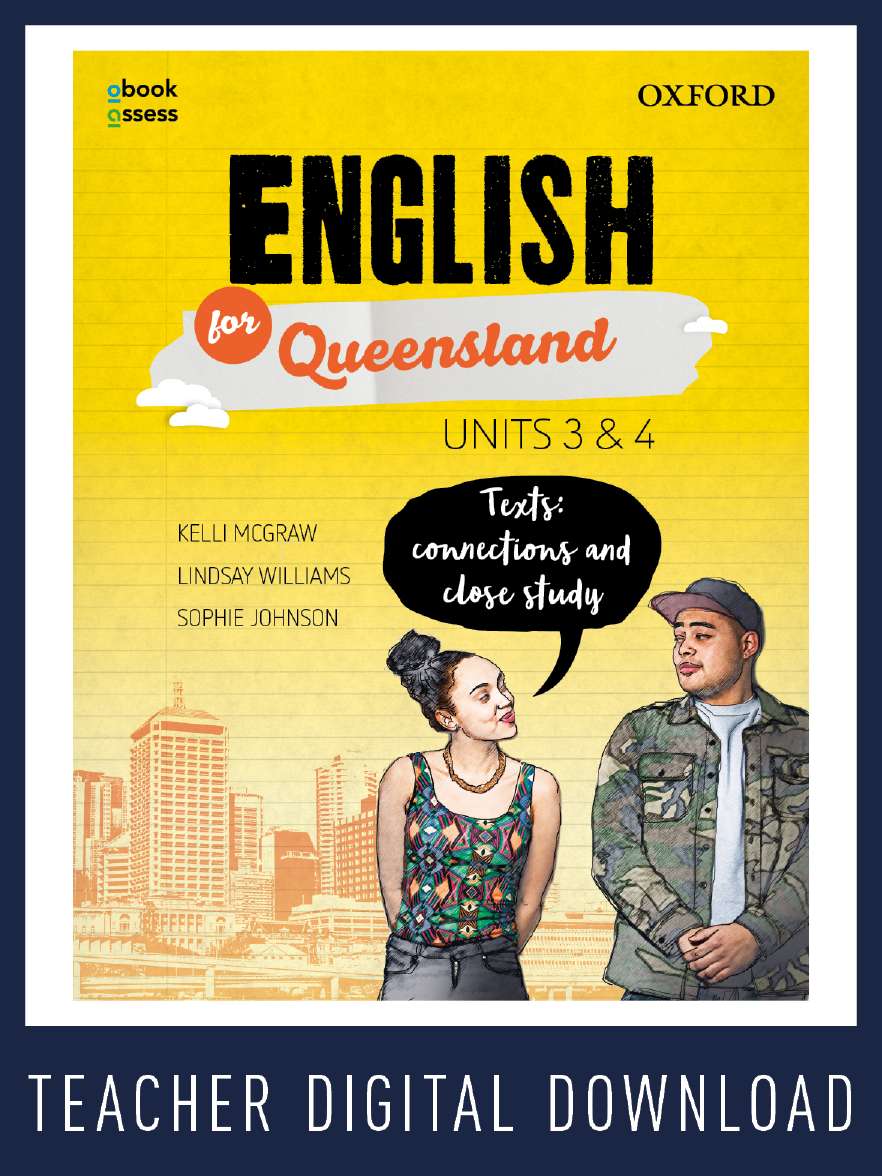 English for Queensland Units 3&4 Teacher obook assess
| | |
| --- | --- |
| ISBN: | 9780190313180 |
| Binding: | obook code (digital) |
| Published: | 1 Oct 2019 |
| Availability: | Available |
| Series: | |
$299.00 AUD
$343.99 NZD
Add To Cart
Description
This ISBN provides you with access to the obook assess digital Teacher dashboard supporting the English for Queensland Units 3 & 4 Student book + obook assess (ISBN: 9780190313142).

Teacher obook assess is available FREE to booklisting schools or schools that purchase a class set of 25 or more copies. Contact your Oxford Education Consultant via www.oup.com.au/contact to discuss your requirements and request a demonstration.

obook assess is a cloud-based obook that teachers and students can use anywhere, anytime on any device.
obook assess provides Teachers with access to:
answers to all questions and assessment tasks in the Student book
detailed course planners, teacher notes and lesson plans
Teachers will have access to the following Student resources via obook assess:
a complete digital version of the Student book with added note-taking and bookmarking functionality
free Oxford Concise Dictionary look-up feature
a range of interactive, auto-correcting, multiple-choice assess quiz questions.
Contents
UNITS 3 & 4

PART A STUDYING SENIOR ENGLISH UNITS 3 & 4

Chapter 1 Preparing to study Units 3 & 4
1.1 Review of key information from English for Queensland Units 1 & 2
1.2 Independent study for English: Guide and tips

Chapter 2 Unit 3: Making connections between texts
2.1 What connects texts?
2.2 What is a concept?
2.3 What is an issue?

Chapter 3 Unit 4: Responding critically, responding creatively
3.1 Studying literature
3.2 Creating invited and critical readings
3.3 Cognitive processes for critical and creative responding to literature

PART B UNIT 3 TEXTUAL CONNECTIONS 1 – CONCEPTS IN TEXTS

Chapter 4 Comparative study option 1: Aspiration
4.1 Representing the concept of 'aspiration'
4.2 'Aspiration' in The Great Gatsby and 'American Dreams'
4.3 Comparing representations of 'aspiration' in the texts

Chapter 5 Comparative study option 2: Human progress
5.1 Representing the concept of 'human progress'
5.2 'Human progress' in Hidden Figures and poetry by Kathy Jetñil-Kijiner
5.3 Comparing representations of 'human progress' in the texts

Chapter 6 Comparative study option 3: Sherlock Holmes
6.1 Adaptation: The case of Sherlock Holmes
6.2 It's elementary: Updating Sherlock Holmes
6.3 Comparing A Study in Scarlet and 'A Study in Pink'

Chapter 7 Internal assessment 1: Public writing
7.1 Exploring textual connections
7.2 Structure and features of a blog post as compositional analysis
7.3 Writing for print or digital publication
7.4 Suggested tasks for assessment

PART C UNIT 3 TEXTUAL CONNECTIONS 2 – ISSUES IN TEXTS

Chapter 8 Conversations about 'surveillance' in media texts
8.1 Conversations about the issue of 'surveillance'
8.2 Examining media texts
8.3 Exploring textual connections

Chapter 9 Internal assessment 2: Persuasive speaking
9.1 Speaking persuasively about contemporary issues
9.2 Persuasive language and structuring arguments
9.3 Speaking in live and recorded situations
9.4 Adding multimodal and non-verbal components
9.5 Suggested task for assessment

PART D UNIT 4 CLOSE STUDY OF LITERARY TEXTS 1 – RESPONDING CREATIVELY

Chapter 10 Close study of Island by Alistair Macleod
10.1 Introduction to short stories
10.2 Characters in short stories
10.3 Storyworlds in short stories
10.4 Problems in short stories

Chapter 11 Internal assessment 3: Imaginative writing
11.1 Responding creatively to a close literary study
11.2 Interventions and stand-alone stories
11.3 Creating an imaginative response

PART E UNIT 4 CLOSE STUDY OF LITERARY TEXTS 2 – RESPONDING CRITICALLY

Chapter 12 Close study and critical response
12.1 Analysing literature
12.2 Guides for close study of all external assessment texts
12.3 Burial Rites by Hannah Kent
12.4 Cat's Eye by Margaret Atwood
12.5 Hamlet by William Shakespeare
12.6 Jane Eyre by Charlotte Brontë
12.7 Macbeth by William Shakespeare
12.8 Nineteen Eighty-Four by George Orwell
12.9 The White Earth by Andrew McGahan
12.10 We Are All Completely Beside Ourselves by Karen Joy Fowler

Chapter 13 External assessment: Analytic writing
13.1 Essay writing
13.2 Creating a critical response for external assessment

Chapter 14 English toolkit
14.1 Quick lookup
14.2 Planners
14.3 Checklists


Note: Contents subject to change prior to publication
Authors
Dr Kelli McGraw
Dr Kelli McGraw is a Lecturer in the Faculty of Education at Queensland University of Technology. Kelli currently teaches secondary English curriculum and draws on her prior experience teaching secondary school English and debating. Kelli is also the Treasurer of the English Teachers' Association of Queensland (ETAQ).

Dr Lindsay Williams
Dr Lindsay Williams has been an educator in Queensland for 36 years, teaching English at both state and independent schools. He has also served on numerous curriculum committees and panels, has coordinated and taught teacher preparation courses, and creates curriculum resources for numerous organisations including Reading Australia. He is the current Vice President of the ETAQ.

Sophie Johnson
Sophie Johnson has been teaching Senior English in both independent and state schools in Queensland for over 10 years. She has also taught International Baccalaureate syllabuses and has worked with the QCAA in a range of roles. Sophie is an active member of the ETAQ.
Sample Pages