Physical Education for Queensland Units 3&4 2E obook assess MULTI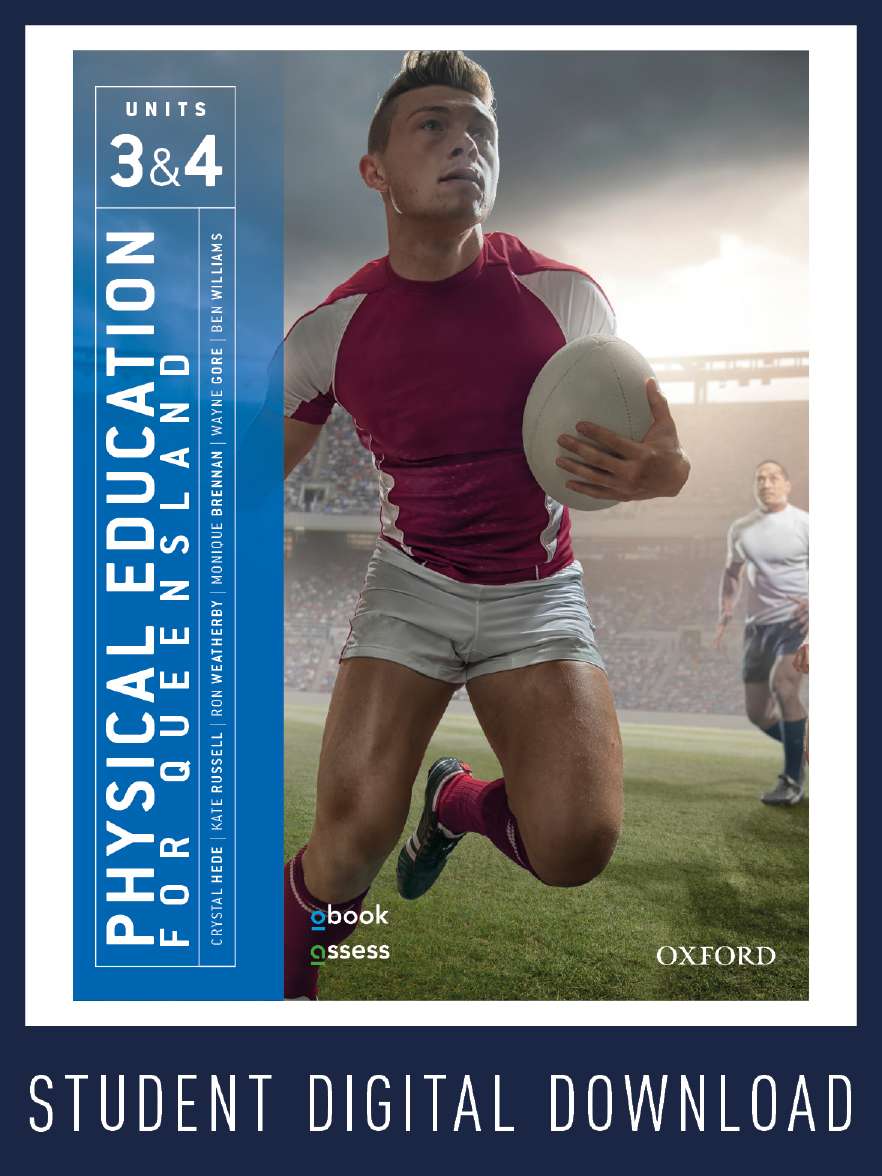 Physical Education for Queensland Units 3&4 2E obook assess MULTI
| | |
| --- | --- |
| ISBN: | 9780190313265 |
| Binding: | obook code (digital) |
| Published: | 20 Nov 2019 |
| Availability: | Available |
| Series: | |
$75.95 AUD
$86.99 NZD
Add To Cart
Description
The MULTI licence provides several consecutive years' digital access to obook assess, a cloud-based resource that students can use anywhere, anytime on any device.

With obook assess, students can:
access their Student book
access rich, interactive content
access work assigned by their teacher: reading, homework, tests and assignments.
Your Physical Education for Queensland Units 3 & 4 obook provides access to:
a complete digital version of the Student book with added note-taking and bookmarking functionality
free Oxford Concise Dictionary look-up feature
targeted instructional videos by some of Queensland's most experienced Physical Education teachers, designed to help students prepare for assessment tasks and exams
a range of engaging worksheets for every chapter, designed to consolidate and extend understanding of key content from the syllabus
additional case studies and opportunities for extension
a range of interactive, auto-correcting, multiple-choice assess quiz questions.
obook assess is available with the printed Student book or as a digital download.
Contents
Chapter 1: Physical Education toolkit
1.1 Course overview for QCE Physical Education
1.2 Assessment overview for QCE Physical Education Units 3 & 4
1.2A Tips for success on the Project – folio
1.2B Tips for success on the Investigation – report
1.2C Tips for success on the Examination – combination response
1.2D Understanding cognitive verbs
1.3 The importance of data in QCE Physical Education
1.3A Putting data to use in Physical Education
1.4 Careers in physical education, sport and fitness

UNIT 3: TACTICAL AWARENESS, ETHICS AND INTEGRITY AND PHYSICAL ACTIVITY

Chapter 2: Tactical awareness
2.1 Introduction to tactical awareness
2.2 Approaches to motor learning and the development of tactical awareness
2.3 The dynamic systems approach and dynamic models of learning
2.4 Introduction to a constraints-led approach to teaching and learning
2.5 Implementing a constraints-led approach
2.6 Assessment support – Summative internal assessment 1: Project – folio
2.7 Developing tactical awareness in 'invasion' physical activities [ONLINE ONLY]
2.7A Australian football
2.7B Basketball
2.7C Futsal
2.7D Netball
2.7E Soccer
2.7F Touch football
2.7G Water polo
2.8 Developing tactical awareness in 'net and court' physical activities [ONLINE ONLY]
2.8A Badminton
2.8B Tennis
2.8C Volleyball
Chapter 2 review

Chapter 3: Ethics and integrity
3.1 Introduction to ethics and integrity
3.2 Ethics and integrity in sport and physical activity
3.3 Fair play
3.4 Developing personal values and ethical behaviours
3.5 The influence of ethical values and ethical strategies on fair play and integrity
3.6 The influence of globalisation and mass media coverage on ethical values and behaviours
3.7 Ethical dilemmas
3.8 The ethical decision-making framework
3.9 Assessment support for summative internal assessment 2
Chapter 3 review

UNIT 4: ENERGY, FITNESS AND TRAINING AND PHYSICAL ACTIVITY

Chapter 4: Energy, fitness and training
4.1 Introduction to energy, fitness and training
4.2 Energy requirements for physical activity
4.3 Energy systems used in physical activity
4.4 Fitness requirements for physical activity
4.5 The role of oxygen in performance
4.6 Training requirements for physical activity
4.7 Training zones
4.8 Principles of training
4.9 Training methods
4.9A Continuous training
4.9B Fartlek training
4.9C Resistance training
4.9D Interval training
4.9E Flexibility training
4.9F Circuit training
4.10 Fatigue and recovery in training
4.11 The theory of periodisation
4.12 Developing a training program
4.13 Developing a training session plan
4.14 Assessment support – Summative internal assessment 3: Project – folio
Chapter 4 review

Chapter 5: Unit 4 revision and examination preparation
5.1 Energy requirements for physical activity including energy systems
5.2 Fitness requirements for physical activity
5.3 The role of oxygen in performance and training zones
5.4 Principles of training
5.5 Training methods, fatigue and recovery in training
5.6 The theory of periodisation
5.7 Developing training programs and training sessions

Chapter 6: Skill drills
1.2A Planning, creating and presenting a Project – folio [ONLINE ONLY]
1.2B Creating and presenting an Investigation – report [ONLINE ONLY]
1.3A Strategies for improving your results on the Examination – combination response [ONLINE ONLY]
1.3B Conducting a survey and presenting the results [ONLINE ONLY]
1.3C Using the internet to find relevant, credible and reliable sources [ONLINE ONLY]
2.3 Devising a personal tactical strategy
2.4 Evaluate the effectiveness of decision making in authentic game settings
2.6 Evaluate the effectiveness of your personal tactical strategy
3.4 Implement your values in physical activities
3.7 Ethical dilemmas exercise
3.8 Apply the decision-making framework to an ethical dilemma
4.5 Determine your fitness profile
4.5A Use heart rate recovery as a measure of fitness
4.5B Determine your VO2 max
4.5C Determine your lactate threshold
5.1 Evaluate the effectiveness of a training session on a particular energy system
5.2 Determine personal performance capacities for a physical activity using customised fitness testing
5.3 Using heart rate to determine if you are in the correct training zone
5.4 Determine the importance of applying the training principles when developing a training program
5.5 Determine the impact of volume, intensity and skill work for development of a specialised movement sequence
5.6 Determine the importance of periodisation
5.7 Evaluating the importance of a correctly structured warm up

Glossary
Index
Authors
Crystal Hede
Crystal Hede has been the Head of Health and Physical Education at The Glennie School for over 10 years. She has lead curriculum change and held the position of IT mentor, supporting the broader staff body in the implementation of technology to enhance teaching and learning. She has also been a district panellist for senior Physical Education.

Kate Russell
Kate Russell has taught Health and Physical Education in Queensland for 14 years, including as Head of Department at St Saviour's College. As a district review panellist, Kate has contributed to the development of the Physical Education syllabus over many years. Kate now specialises in the field of child behaviour, psychology and development, working to help parents and educators build positive relationships with the children in their care.

Ron Weatherby
Ron Weatherby has been a Health and Physical Education teacher for over 30 years and has been Head of Department at Lockyer District State High since 1997. Ron has been involved with senior Physical Education curriculum development at all levels since 1995, acting as a panellist, district review panel chair and state member over this time. Ron was also a member of the review panel for the new senior Physical Education syllabus and is currently presenting at workshops and developing resources for its implementation in 2019.

Monique Brennan
Monique Brennan is an experienced Health and Physical Education teacher and Head of Department who has taught across a range state and Catholic schools. Monique led the implementation of the Australian Curriculum: HPE for Brisbane Catholic Education, providing guidance and support for teachers. Monique is passionate about the lifelong positive effects of quality health and physical education and currently leads Middle Years Curriculum at Carmel College in Brisbane.

Wayne Gore
Wayne Gore is the Head of Physical Education at Anglican Church Grammar School (Churchie) in Brisbane. He is a committed educator with over 20 years' teaching experience. Wayne is a management committee member with ACHPER Australia Queensland Branch and has also worked as a Panel Member, QCAA Endorsement Assessor (trial).

Ben Williams
Ben Williams is a Lecturer in Health and Physical Education in the School of Education and Professional Studies at Griffith University. He is a member of the QCAA's state review panel and has been a member of many health and physical education industry advisory panels. He is also President of the Australian Council for Health, Physical Education and Recreation's Queensland Branch (ACHPER QLD). Before completing his PhD and joining Griffith University, Ben was a Health and Physical Education teacher at The Gap State High School.
Sample Pages