Physical Education for Queensland Units 3&4 2E Teacher obook assess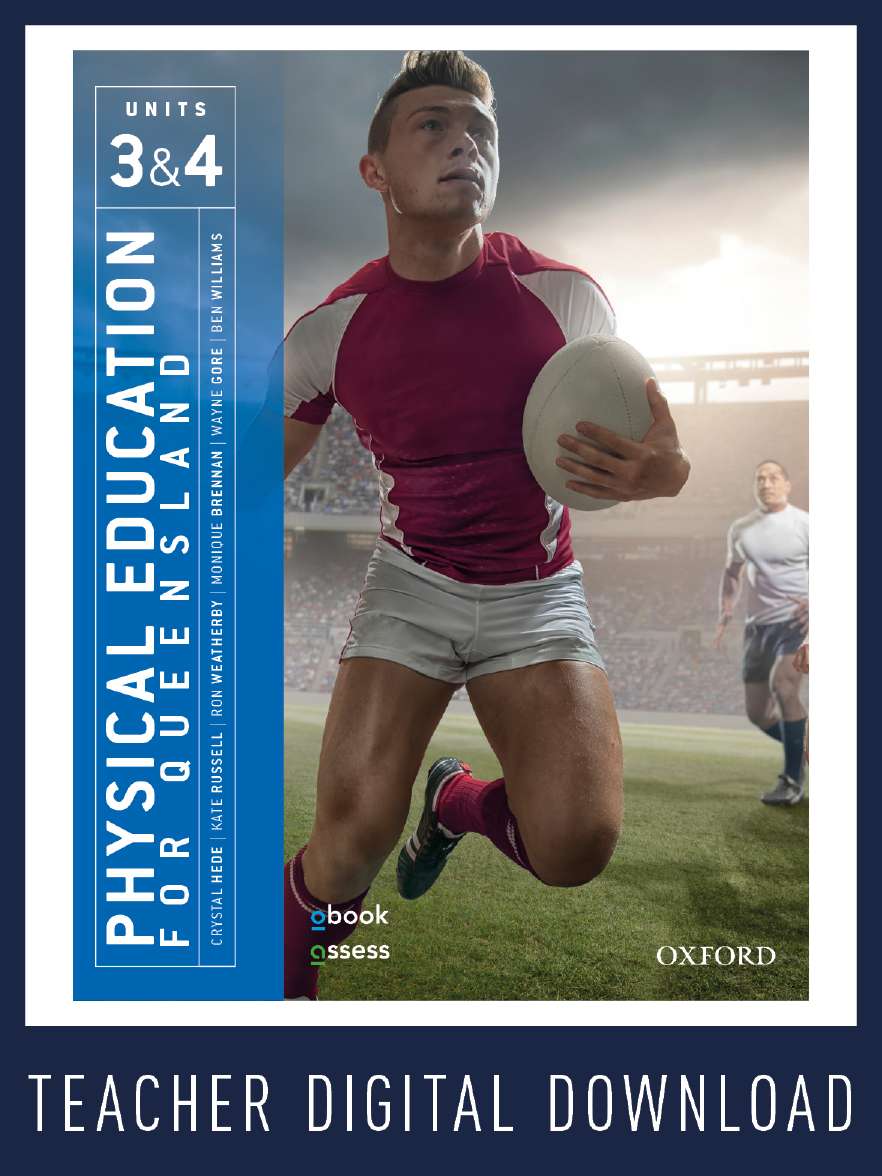 Physical Education for Queensland Units 3&4 2E Teacher obook assess
| | |
| --- | --- |
| ISBN: | 9780190313289 |
| Binding: | obook code (digital) |
| Published: | 7 Jan 2020 |
| Availability: | Available |
| Series: | |
$299.00 AUD
$343.99 NZD
Add To Cart
Description
This ISBN provides you with access to the obook assess digital Teacher dashboard supporting the Physical Education for Queensland Units 3 & 4 2E Student book + obook assess (ISBN: 9780190313241).

Teacher obook assess is available FREE to booklisting schools or schools that purchase a class set of 25 or more copies. Contact your Oxford Education Consultant via www.oup.com.au/contact to discuss your requirements and request a demonstration.

obook assess is a cloud-based obook that teachers and students can use anywhere, anytime on any device.

obook assess provides teachers with access to:
detailed course planners, teaching programs and lesson plans
answers to all questions and assessment tasks in the Student book
chapter summary PowerPoint presentations and revision notes ideal for individual or whole-class revision
printable (and editable) assessment tasks and tests with answers
printable (and editable) practice exam with answers
all student resources listed below.
With obook assess, teachers can:
set in-platform assessment tasks with the ability to create groups and tailor instructions to meet the different needs of abilities of different students
monitor student progress and graph results
view all available content and resources in one place.
Teachers will have access to the following student resources via obook assess:
a complete digital version of the Student book with added note-taking and bookmarking functionality
free Oxford Concise Dictionary look-up feature
targeted instructional videos by some of Queensland's most experienced Physical Education teachers, designed to help students prepare for assessment tasks and exams
a range of engaging worksheets for every chapter, designed to consolidate and extend understanding of key content from the syllabus
additional case studies and opportunities for extension
a range of interactive, auto-correcting, multiple-choice assess quiz questions.
Authors
Crystal Hede
Crystal Hede has been the Head of Health and Physical Education at The Glennie School for over 10 years. She has lead curriculum change and held the position of IT mentor, supporting the broader staff body in the implementation of technology to enhance teaching and learning. She has also been a district panellist for senior Physical Education.

Kate Russell
Kate Russell has taught Health and Physical Education in Queensland for 14 years, including as Head of Department at St Saviour's College. As a district review panellist, Kate has contributed to the development of the Physical Education syllabus over many years. Kate now specialises in the field of child behaviour, psychology and development, working to help parents and educators build positive relationships with the children in their care.

Ron Weatherby
Ron Weatherby has been a Health and Physical Education teacher for over 30 years and has been Head of Department at Lockyer District State High since 1997. Ron has been involved with senior Physical Education curriculum development at all levels since 1995, acting as a panellist, district review panel chair and state member over this time. Ron was also a member of the review panel for the new senior Physical Education syllabus and is currently presenting at workshops and developing resources for its implementation in 2019.

Monique Brennan
Monique Brennan is an experienced Health and Physical Education teacher and Head of Department who has taught across a range state and Catholic schools. Monique led the implementation of the Australian Curriculum: HPE for Brisbane Catholic Education, providing guidance and support for teachers. Monique is passionate about the lifelong positive effects of quality health and physical education and currently leads Middle Years Curriculum at Carmel College in Brisbane.

Wayne Gore
Wayne Gore is the Head of Physical Education at Anglican Church Grammar School (Churchie) in Brisbane. He is a committed educator with over 20 years' teaching experience. Wayne is a management committee member with ACHPER Australia Queensland Branch and has also worked as a Panel Member, QCAA Endorsement Assessor (trial).

Ben Williams
Ben Williams is a Lecturer in Health and Physical Education in the School of Education and Professional Studies at Griffith University. He is a member of the QCAA's state review panel and has been a member of many health and physical education industry advisory panels. He is also President of the Australian Council for Health, Physical Education and Recreation's Queensland Branch (ACHPER QLD). Before completing his PhD and joining Griffith University, Ben was a Health and Physical Education teacher at The Gap State High School.