PDHPE Application and Inquiry Second Edition Preliminary Course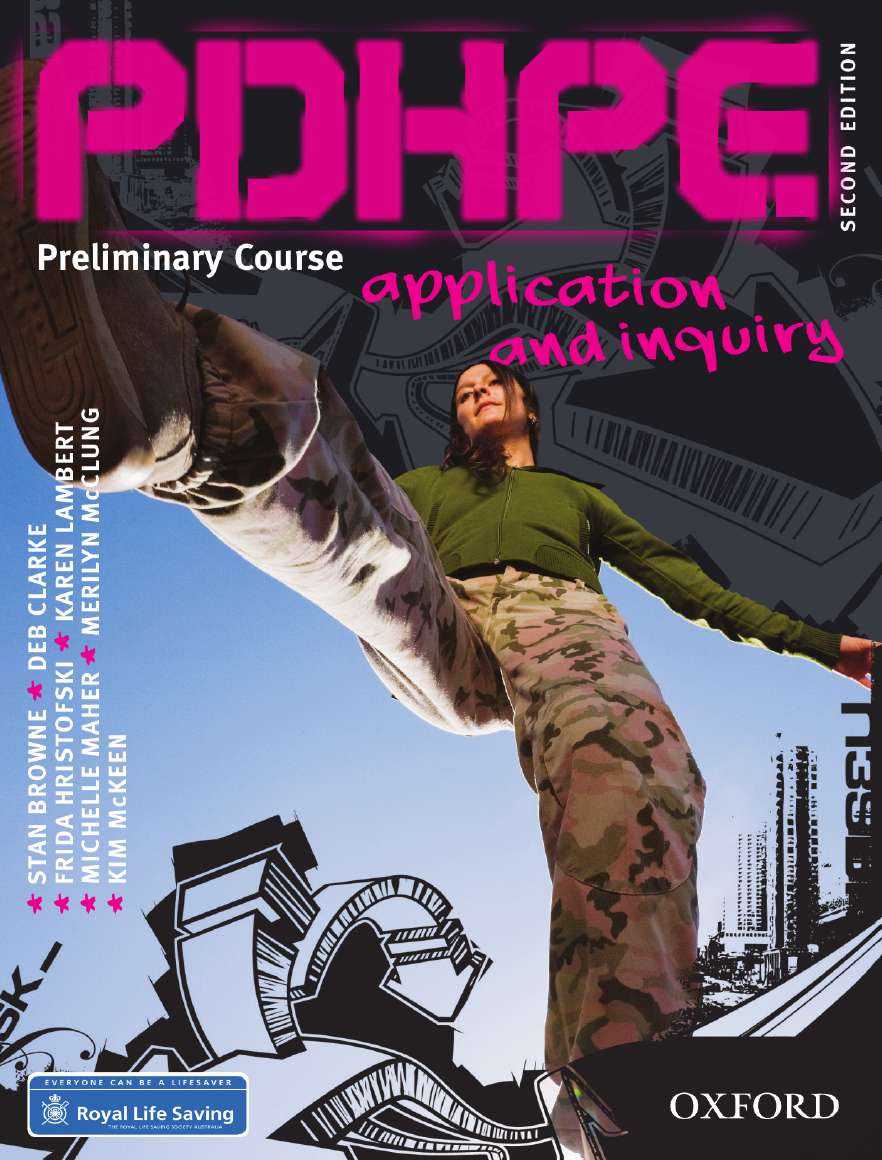 PDHPE Application and Inquiry Second Edition Preliminary Course
| | |
| --- | --- |
| ISBN: | 9780195565676 |
| Binding: | Paperback + CD |
| Published: | 23 Sep 2009 |
| Availability: | 219 |
| Series: | |
$96.95 AUD
$111.99 NZD
Add To Cart
Request an inspection copy
Description
Oxford's successful
PDHPE Application & Inquiry
series has been extensively revised by a team of highly respected teachers, educators and HSC markers to provide concise and clear coverage of the revised Stage 6 syllabus. Updated statistics, articles, and overviews of trends and practices in the areas of physical and mental health, physical activity and first aid will enable students to complete the course successfully. A new, full colour design has been tailored to appeal to students. Enhanced artwork and contemporary photographs including step by step instructional photography, will appeal to visual learners.
Title overview (PDF)
Contents
Core 1: Better Health for Individuals
Chapter 1 What does health mean to individuals?
Chapter 2 What influences the health of individuals?
Chapter 3 What strategies help to promote the health of individuals?
Core 2: The Body in Motion
Chapter 4 How do the musculoskeletal and cardiorespiratory systems of the body influence and respond to movement?
Chapter 5 What is the relationship between physical fitness, training and movement efficiency?
Chapter 6 How do biomechanical principles influence movement?
Option 1: First Aid
Chapter 7 What are the main priorities for assessment and management of first aid patients?
Chapter 8 How should the major types of injuries and medical conditions be managed in first aid situations?
Chapter 9 What does the individual need to consider in administering first aid?
Option 2: Composition and Performance
Chapter 10 How do the elements of composition apply to different movement mediums?
Chapter 11 How are the elements used to compose movement?
Chapter 12 What is the role of appraisal in the process of composing and performing?
Option 3: Fitness Choices
Chapter 13 What does exercise mean to different people?
Chapter 14 What are the ways people choose to exercise for fitness?
Chapter 15 What influences people's choice of fitness activities?
Option 4: Outdoor Recreation
Chapter 16 What is the value of outdoor recreation?
Chapter 17 What are the technical skills and understanding needed for safe participation in outdoor recreation?
Chapter 18 What impact does group dynamics have on the outdoor experience?
Student Resources
Teacher Resources
Oxford would like to thank The Royal Life Saving Society Australia for the reproduction of the following learning module. Royal Life Saving is dedicated to turning everyday people into everyday community lifesavers. The following videos on Resuscitation are a convenient First Aid refresher on CPR and can be used in conjunction with the First Aid chapter in
PDHPE Application and Inquiry Second Edition: Preliminary Course
.
Resuscitation videos
Sample Marking Criteria
Each Sample Marking Criteria sheet corresponds to the exam style questions at the end of each chapter and consists of:
1. The relevant key term definition
2. A criteria that utilises the rubric and the key term
3. The syllabus content area the question is drawn from
Using these, teachers will be able to provide realistic HSC style feedback and demonstrate expectations to their students.
Editable Sample Marking Criteria will be available for every exam style question in the book, and will be available to teachers in Term 3, 2009. A free sample is available below.
Core 1: Better Health for Individuals
Chapter 1 Sample Marking Criteria
Access to complete teaching and assessment resources
PDHPE Application and Inquiry
is supported by password protected teaching and assessment resources. If you have booklisted or purchased a full class set you are invited to acces this material.
If you require a password, contact your
sales representative
or send an email to
salesec.au@oup.com
to receive your password.
Sample Pages
Request an inspection copy