PDHPE Application and Inquiry HSC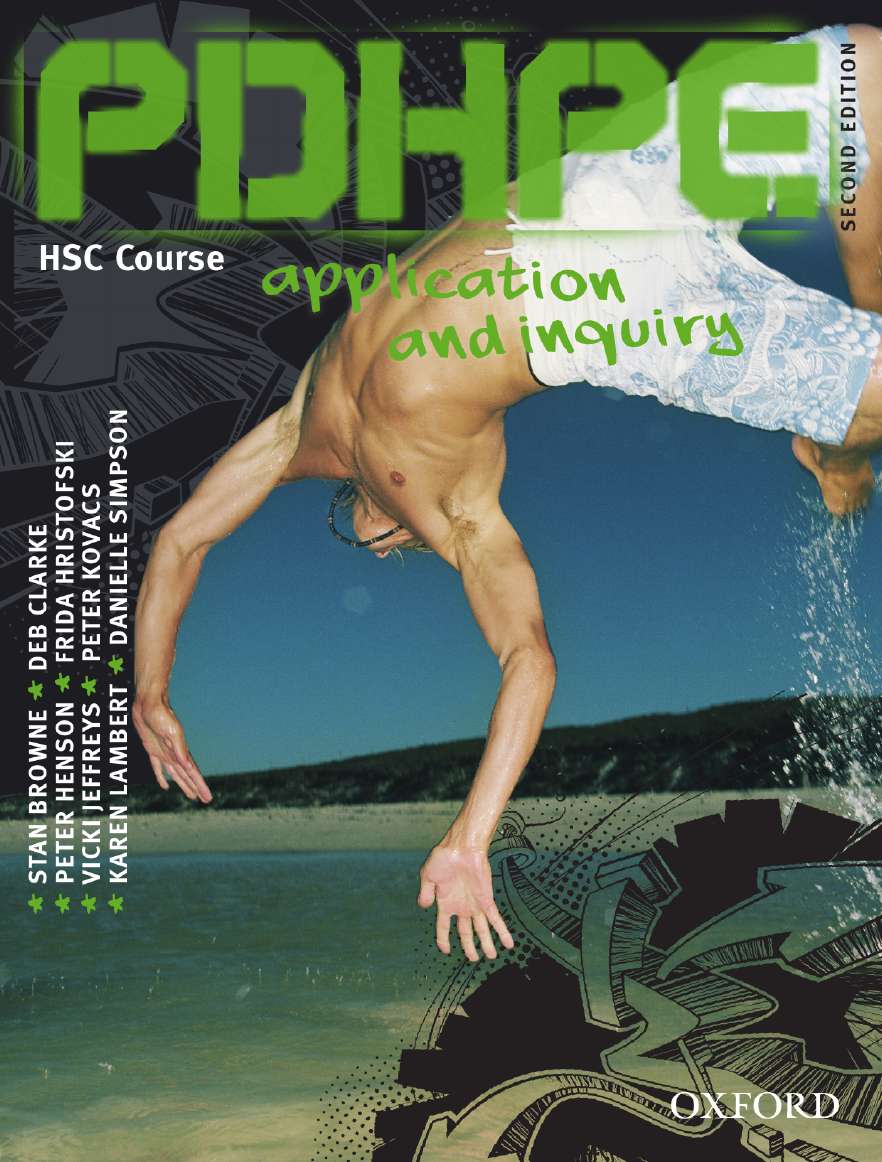 PDHPE Application and Inquiry HSC
| | |
| --- | --- |
| ISBN: | 9780195566109 |
| Binding: | Paperback + CD |
| Published: | 15 Oct 2009 |
| Availability: | 172 |
| Series: | |
$96.95 AUD
$111.99 NZD
Add To Cart
Request an inspection copy
Description
Oxford's successful
PDHPE Application & Inquiry
series has been extensively revised by a team of highly respected teachers, educators and HSC markers to provide concise and clear coverage of the revised Stage 6 syllabus. The collective experience of these educators and specialist teams make the PDHPE Application and Inquiry series the most authoritative and comprehensive texts on the market.
Updated statistics, articles, and overviews of trends and practices in the areas of physical and mental health, physical activity, factors influencing performance and recovery strategies, will enable students to complete the course successfully.
A stunning new, full colour design has been tailored to appeal to students. Enhanced artwork and contemporary photographs including step by step instructional photography, will appeal to visual learners.
Contents
Core 1: Health Priorities in Australia
Chapter 1 How are priority issues for Australia's health identified?
Chapter 2 What are the priority issues for improving Australia's health?
Chapter 3 What role do health care facilities and services play in achieving better health for all Australians?
Chapter 4 What actions are needed to address Australia's health priorities?
Core 2: Factors Affecting Performance
Chapter 5 How does training affect performance?
Chapter 6 How can psychology affect performance?
Chapter 7 How can nutrition and recovery strategies affect performance?
Chapter 8 How does the acquisition of skill affect performance?
Option 1: The Health of Young People
Chapter 9 What is good health for young people?
Chapter 10 To what extent do Australia's young people enjoy good health?
Chapter 11 What skills and actions enable young people to attain better health?
Option 2: Sport and Physical Activity in Australian Society
Chapter 12 How have meanings about sport and physical activity changed over time?
Chapter 13 What is the relationship between sport and national and cultural identity?
Chapter 14 How does the mass media contribute to people's understanding, values, and beliefs about sport?
Chapter 15 What are the relationships between sport and physical activity and gender?
Option 3: Sports Medicine
Chapter 16 How are sports injuries classified and managed?
Chapter 17 How does sports medicine address the demands of specific athletes?
Chapter 18 What role do preventative actions play in enhancing the wellbeing of the athlete?
Chapter 19 How is injury rehabilitation managed?
Option 4: Improving Performance
Chapter 20 How do athletes train for improved performance?
Chapter 21 What are the planning considerations for improving performance?
Chapter 22 What ethical issues are related to improving performance?
Option 5: Equity and Health
Chapter 23 Why do inequities exist in the health of Australians?
Chapter 24 What inequities are experienced by population groups in Australia?
Chapter 25 How may the gap in health status of populations be bridged?
Student Resources
Teacher Resources
Professional Support
HSC Core 1&2 workshop presentation
(10MB)
Teaching Program
HSC syllabus audit
(word doc)
Sample Marking criteria
Each sample marking criteria sheet corresponds to the exam style questions at the end of each chapter and consists of:
1. The relevant key term definition
2. A criteria that utilises the rubric and the key term
3. The syllabus content area the question is drawn from
Using these, teachers will be able to provide realistic HSC style feedback and demonstrate expectations to their students.
Editable Sample marking criteria will be available for every exam style question in the book, and will be available to teachers in Term 3, 2009. A free sample is available below.
Core 1: Health priorities in Australia
Chapter 1 Marking criteria
Access to complete teaching and assessment resources
PDHPE Application and Inquiry
is supported by password protected teaching and assessment resources. If you have booklisted or purchased a full class set you are invited to access this material. Online resources will be available online for schools using Oxford's PDHPE Application and Inquiry series. Teacher passwords can be obtained from your
Oxford Sales Representative
.
Sample Pages
Request an inspection copy