Oxford Big Ideas Humanities 8 Victorian Curriculum Teacher obook assess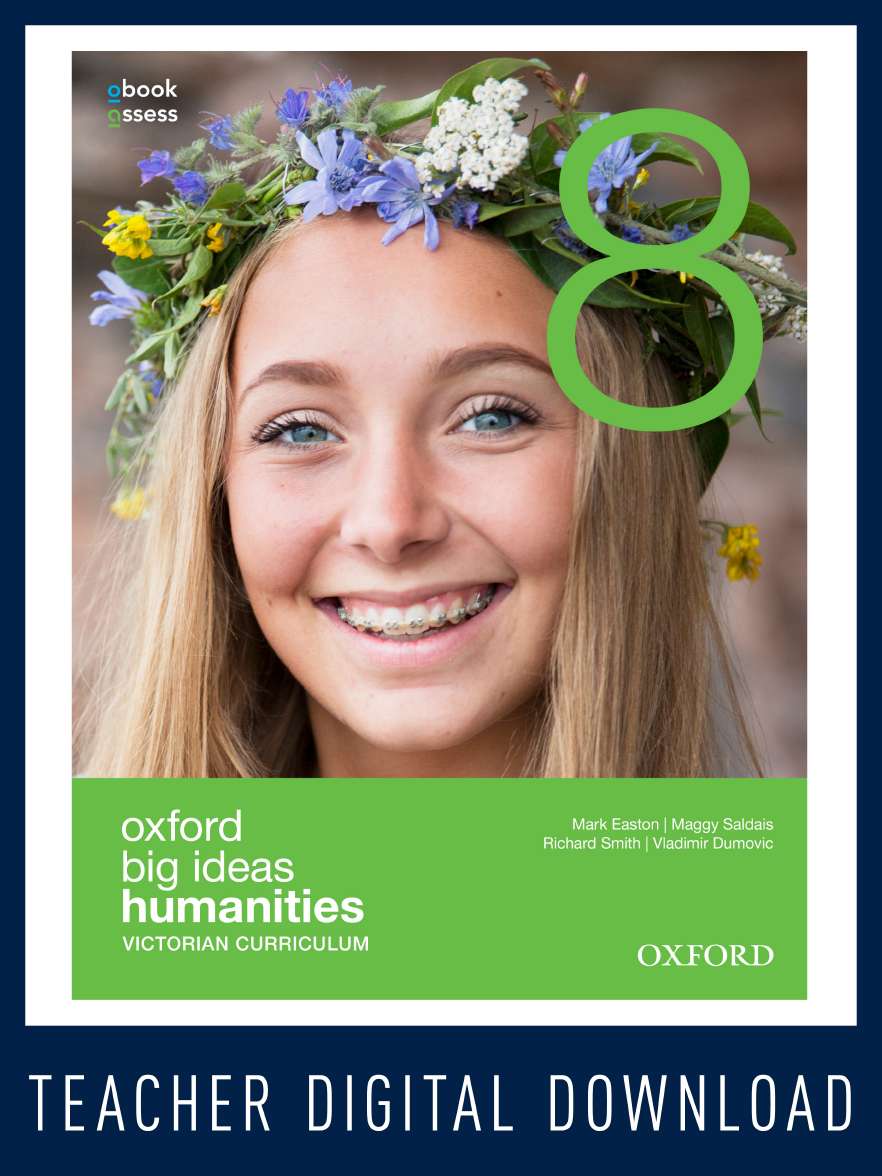 Oxford Big Ideas Humanities 8 Victorian Curriculum Teacher obook assess
| | |
| --- | --- |
| ISBN: | 9780190307417 |
| Binding: | obook code (digital) |
| Published: | 30 Jan 2017 |
| Availability: | Available |
| Series: | |
$299.00 AUD
$343.99 NZD
Add To Cart
Add To Cart
Description
Practical and targeted teacher support is provided in digital format via Teacher obook assess.

obook provides teachers with access to the Student book together with added extras such as teaching programs, lesson ideas, worksheets, class tests and answers to all activities in the Student book.

assess offers the ability to assign interactive quizzes and tests, gather results, and monitor student performance.
Teacher obook assess now also offers Dashboard view – an online lesson control centre, allowing teachers to instantly preview, access and assign resources such as videos, interactives, worksheets and tests to students.

With Oxford Big Ideas Humanities Victorian Curriculum Teacher obook assess, teachers can:
monitor progress and results
set assignments
set up classes
access over 120 editable student worksheets (with answers)
tailor teaching according to individual student needs.
Contents
PART 1: GEOGRAPHY

Concepts and skills: Geography

Chapter 1 The geography toolkit

Unit 1 Landforms and landscapes

Chapter 2 The Earth's landscapes and landforms

Chapter 3 Mountain landscapes

Chapter 4 Coastal landscapes

Unit 2 Changing nations

Chapter 5 Cities and urban life

Chapter 6 Migration


PART 2: HISTORY

Concepts and skills: History

Chapter 7 The history toolkit

Unit 1 The European and Mediterranean world

Chapter 8 Introduction to the European and Mediterranean world

Chapter 9 The Vikings

Chapter 10 Medieval Europe

Chapter 11 The Ottoman Empire [obook only chapter]

Unit 2 The Asia-Pacific world

Chapter 12 Introduction to the Asia-Pacific world

Chapter 13 The Khmer Empire [obook only chapter]

Chapter 14 Mongol Expansion

Chapter 15 Japan under the shoguns

Chapter 16 The Polynesian expansion across the Pacific [obook only chapter]

Unit 3 Expanding contacts: Discovery and exploration

Chapter 17 Introduction to Expanding contacts: Discovery and exploration

Chapter 18 Renaissance Italy [obook only chapter]

Chapter 19 The Spanish conquest of the Americas


PART 3: ECONOMICS AND BUSINESS

Concepts and skills: Economics and business

Chapter 20 The economics and business toolkit

Unit 1 Resource allocation and making choices

Chapter 21 The world of business

Unit 2 Consumer and financial literacy

Chapter 22 The world of work

PART 4: CIVICS AND CITIZENSHIP

Concepts and skills: Civics and citizenship

Chapter 23 Civics and citizenship toolkit

Unit 1 Government and democracy

Chapter 24 Democracy in Australia

Chapter 25 Justice and the law


Glossary

Index

Acknowledgements
Authors
Mark Easton has taught Geography, History and English for over 20 years and during the last 15 years has been a contributing author to many geography, humanities and atlas titles. In 2010 he joined Oxford as a geography consultant to work on a range of titles and to support the use of these resources in the classroom. Mark is also the Head of the Humanities Department at St Margaret's School.

Maggy Saldais brings fifteen years' experience in educational publishing to her role as a History author. Maggy has a strong academic background in the discipline of History and a long-held commitment to engaging middle-years students in learning and discovery in her field of expertise.

Richard Smith is a history teacher at Melbourne Grammar School. He has worked in government and independent schools for over 35 years in both administrative and teaching roles. Richard is presently the Treasurer of the History Teachers Association of Victoria and is immediate-past president. He chairs the National History Challenge for the History Teachers' Association of Australia of which he is a past vice-president and treasurer. In 2010 Richard was honoured with the presentation of the HTAV award for Outstanding contribution to the teaching and learning of history and to the HTAV.

Vladimir Dumovic is the Head of Humanities and Economics at Dandenong High School. He completed a combined Bachelor of Secondary Education and Bachelor of Commerce at Monash University and gained experience in the finance sector before beginning a career in education. Vladimir is an experienced author and a regular presenter at Victorian Commercial Teachers Association (VCTA) and subject-association conferences.