Oxford Big Ideas Humanities 9 Victorian Curriculum Student Book + obook assess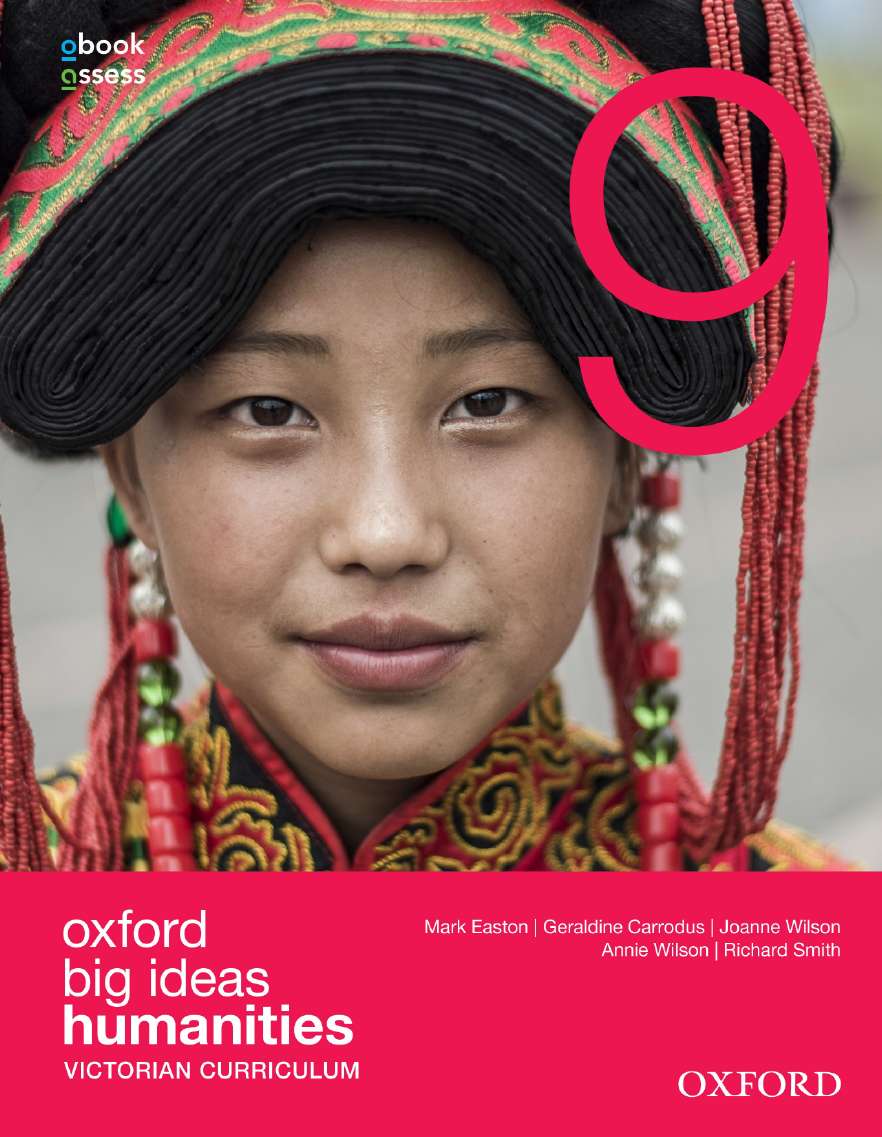 Oxford Big Ideas Humanities 9 Victorian Curriculum Student Book + obook assess
| | |
| --- | --- |
| ISBN: | 9780190307424 |
| Binding: | Paperback + obook |
| Published: | 21 Dec 2016 |
| Availability: | 999 |
| Series: | |
$69.95 AUD
$79.99 NZD
Add To Cart
Request an inspection copy
Description
Oxford Big Ideas Humanities Victorian Curriculum provides complete coverage for the Humanities – Geography, History, Economics & Business and Civics & Citizenship – in one easy-to-use package. Take a semester-based approach or deliver separate year-long courses.
Key features:
Four books in one – ideal for semester-based courses
Fully revised and updated to meet the requirements of the Victorian Curriculum: Humanities across Years 7–10
Complete coverage of all Civics & Citizenship, Economics & Business, Geography, and History content in a single learning package (print and digital)
Stand-alone skills toolkits cover key concepts and skills from the Victorian Curriculum
All topics are supported by additional worksheets, answers, teacher notes, tests, interactives and videos
Clear instructional language supports student understanding and a wealth of stunning images, illustrations and source materials engage even the most reluctant learners
A range of self-marking quizzes mapped to VCAA content descriptors – offered FREE through obook assess
obook assess
Oxford's premium digital learning solution encompasses a suite of resources to support teachers and students, including interactives, tests, answers, videos, differentiated worksheets, teaching notes and more. Click here for more information.
Contents
PART 1: GEOGRAPHY

Chapter 1 The geography toolkit

Unit 1 Biomes and food security

Chapter 2 Growing food

Chapter 3 Food security

Unit 2 Geographies of Interconnection

Chapter 4 An interconnected world

Chapter 5 The effects of global connections


PART 2: HISTORY

Concepts and skills

Chapter 6 The history toolkit

Unit 1 The Industrial Revolution

Chapter 7 Introduction to the Industrial Revolution

Chapter 8 The Industrial Revolution

Unit 2 Australian and Asia

Chapter 9 Introduction to Australia and Asia

Chapter 10 Australia (1750-1918)

Chapter 11 China (1750–1918) [obook only chapter]

Chapter 12 Japan (1750–1918) [obook only chapter]

Chapter 13 India (1750–1918) [obook only chapter]

Unit 3 Australia at war (1914-1945)

Chapter 14 Introduction to Australia at war (1914-1918)

Chapter 15 World War 1 (1914-1918)


PART 3: ECONOMICS AND BUSINESS

Concepts and skills

Chapter 16 The economics and business toolkit

Unit 1 Resource allocation and making choices

Chapter 17 Understanding the economy

Unit 2 Consumer and financial literacy

Chapter 18 Managing financial risks and rewards

Unit 3 Work and work futures

Chapter 19 The changing work environment


PART 4: CIVICS AND CITIZENSHIP

Concepts and skills

Chapter 20 The civics and citizenship toolkit

Unit 1 Government and democracy

Chapter 21 Government, democracy and the citizen

Unit 2 Laws and citizens

Chapter 22 Australia's legal system


Glossary

Index

Acknowledgements
Authors
Geraldine Carrodus has taught History in Victorian schools for over forty years. She was an examiner in Australian History from the 1970s and was Chair of the Setting Panel and Chief Assessor from 2000 until 2005. She has written or co-written a number of History texts used in schools and has been a regular speaker at HTAV conferences for students and teachers. Geraldine had been part of the consultation process on the Australian Curriculum. In 2006, Geraldine was honoured with the presentation of an HTAV award for Excellent and Sustained Contribution to the Teaching and Learning of History and to the HTAV.

Mark Easton has taught Geography, History and English for over 20 years and during the last 15 years has been a contributing author to many geography, humanities and atlas titles. In 2010 he joined Oxford as a geography consultant to work on a range of titles and to support the use of these resources in the classroom. Mark is also the Head of the Humanities Department at St Margaret's School.

Richard Smith is a history teacher at Melbourne Grammar School. He has worked in government and independent schools for over 35 years in both administrative and teaching roles. Richard is presently the Treasurer of the History Teachers Association of Victoria and is immediate-past president. He chairs the National History Challenge for the History Teachers' Association of Australia of which he is a past vice-president and treasurer. In 2010 Richard was honoured with the presentation of the HTAV award for Outstanding contribution to the teaching and learning of history and to the HTAV.

Annie Wilson is an experienced Civics and Business Studies teacher who has been passionately teaching and developing curriculum materials for 30 years. She is the author of numerous textbooks and has prepared a range of teaching and learning resources for various publishers and subject associations, including the Victorian Commercial Teachers Association (VCTA). Annie is currently teaching at Presbyterian Ladies' College (Melbourne) and is actively involved in providing professional development to VCE Legal Studies teachers and student revision lectures.

Joanne Wilson is a writer, publisher and teacher with many years' experience in the education sector. Having taught in both private and government schools, Joanne is an accomplished History teacher and has contributed to numerous textbooks and digital learning resources in the field of Humanities and Social Science.
Sample Pages
Request an inspection copy