Big Ideas Humanities&Social Sciences 10 WA Curric obook assess MULTI(code card)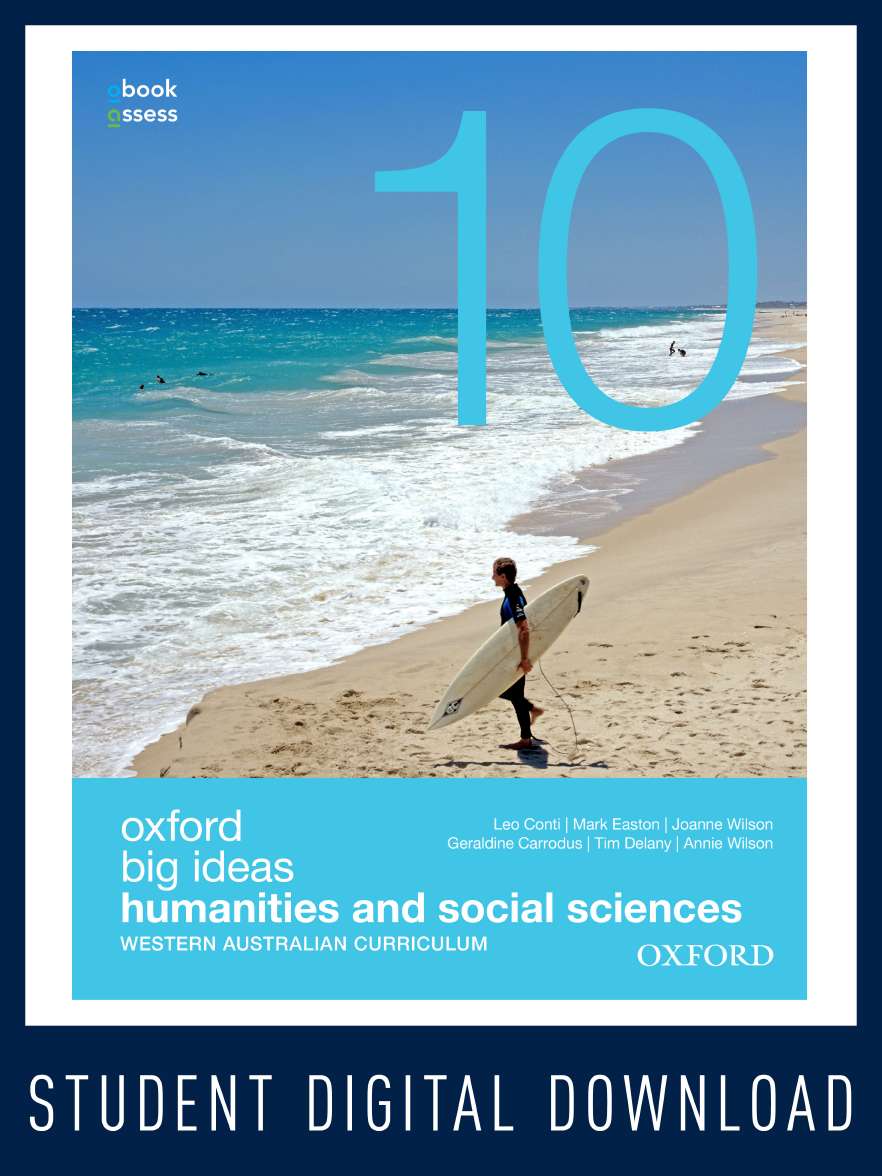 Big Ideas Humanities&Social Sciences 10 WA Curric obook assess MULTI(code card)
| | |
| --- | --- |
| ISBN: | 9780190307752 |
| Binding: | obook code (card) |
| Published: | 22 Nov 2016 |
| Availability: | 0 |
| Series: | |
$42.95 AUD
$48.99 NZD
Add To Cart
Description
The obook assess MULTI licence provides several consecutive years digital access.

obook provides an interactive electronic version of the Student book in an easy-to-read format. It features multimedia links, interactive learning objects, videos, note-taking, highlighting and bookmarking tools, and live question blocks. obook is compatible with laptops, iPads, tablets and IWBs, and also offers page view (in flipbook format) that can be used offline.

assess is an indispensable online assessment tool. Explicitly mapped to the Western Australian Curriculum, it drives student progress through tailored instruction. Teachers can track the status of assignments, monitor progress with auto-marking assessments, or construct customised tests from the testbank using varied question levels and question types.

This title will be delivered as a physical Code Card.

Free taster courses

Give your Year 10 students a taste of senior Accounting, Business Management, Economics and Legal Studies courses and empower them to make informed subject selections for the following year. Oxford Taster Courses introduce students to what they can expect to learn in Year 11 with informative topic spreads, case studies, glossaries and 'check your learning' questions. Answers to every question are provided to teachers in an accompanying booklet.

Available free of charge to schools booklisting Big Ideas Humanities and Social Sciences 10 and Big Ideas Economics & Business | Civics & Citizenship 9 & 10, Taster Courses can be downloaded via the Teacher Resources tab on Oxford Digital.
Contents
PART 1: GEOGRAPHY

Concepts and skills: Geography

Chapter 1 The geography toolkit

Environmental change and management

Chapter 2 Changing and managing the environment

Chapter 3 Coastal change and management

Geographies of human wellbeing

Chapter 4 An unequal world

Chapter 5 Inequalities in human wellbeing

Chapter 6 Improving wellbeing


PART 2: HISTORY

Concepts and skills: History

Chapter 7 The history toolkit

Overview

Chapter 8 The modern world and Australia

Depth study 1: Investigating World War II (1939–1945)

Chapter 9 World War II

Depth study 2: Investigating rights and freedoms (1945–the present)

Chapter 10 Rights and freedoms


PART 3: ECONOMICS AND BUSINESS

Concepts and skills: Economics and business

Chapter 11 The economics and business toolkit

Economic performance and living standards

Chapter 12 Measuring Australia's economic performance

Chapter 13 Living standards



PART 4: CIVICS AND CITIZENSHIP

Concepts and skills: Civics and citizenship

Chapter 14 The civics and citizenship toolkit

Justice at home and overseas

Chapter 15 Australia's democracy and the global context

Chapter 16 The Australian constitution and the High Court

Chapter 17 Australia's international legal obligations


Glossary

Index

Acknowledgements
Authors
Geraldine Carrodus has taught History in Victorian schools for over forty years. She was an examiner in Australian History from the 1970s and was Chair of the Setting Panel and Chief Assessor from 2000 until 2005. She has written or co-written a number of History texts used in schools and has been a regular speaker at HTAV conferences for students and teachers. Geraldine had been part of the consultation process on the Australian Curriculum. In 2006, Geraldine was honoured with the presentation of an HTAV award for Excellent and Sustained Contribution to the Teaching and Learning of History and to the HTAV.

Leo Conti is Head of Humanities at South Fremantle Senior High School and a Big Ideas author.

Tim Delany has taught in a number of Government schools in Australia and England. He has contributed to a number of texts relating to History and International Studies and has managed curriculum projects for the Department of Education in Victoria and for Social Education Victoria (SEV). He is currently Principal of Newborough Primary School in Gippsland, Victoria.

Mark Easton has taught Geography, History and English for over 20 years and during the last 15 years has been a contributing author to many geography, humanities and atlas titles. In 2010 he joined Oxford as a geography consultant to work on a range of titles and to support the use of these resources in the classroom. Mark is also the Head of the Humanities Department at St Margaret's School.

Annie Wilson is an experienced Civics and Business Studies teacher who has been passionately teaching and developing curriculum materials for 30 years. She is the author of numerous textbooks and has prepared a range of teaching and learning resources for various publishers and subject associations, including the Victorian Commercial Teachers Association (VCTA). Annie is currently teaching at Presbyterian Ladies' College (Melbourne) and is actively involved in providing professional development to VCE Legal Studies teachers and student revision lectures.

Joanne Wilson is a writer, publisher and teacher with many years' experience in the education sector. Having taught in both private and government schools, Joanne is an accomplished History teacher and has contributed to numerous textbooks and digital learning resources in the field of Humanities and Social Science.