Oxford Big Ideas History 7 Victorian Curriculum Teacher obook assess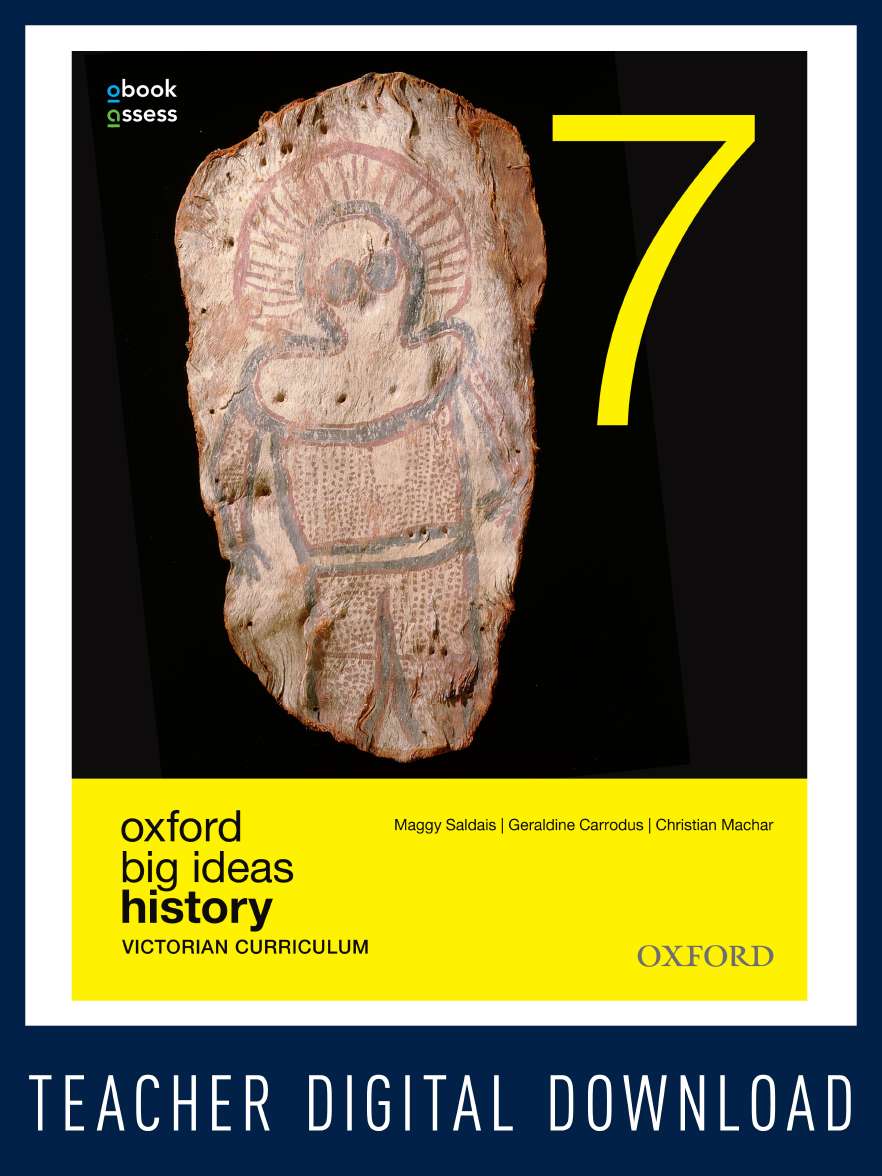 Oxford Big Ideas History 7 Victorian Curriculum Teacher obook assess
| | |
| --- | --- |
| ISBN: | 9780190307844 |
| Binding: | obook code (digital) |
| Published: | 30 Jan 2017 |
| Availability: | Available |
| Series: | |
$299.00 AUD
$343.99 NZD
Add To Cart
Add To Cart
Description
Practical and targeted teacher support is provided in digital format via Teacher obook assess.

obook provides teachers with access to the Student book together with added extras such as teaching programs, lesson ideas, worksheets, class tests and answers to all activities in the Student book.

assess offers the ability to assign interactive quizzes and tests, gather results, and monitor student performance. Teacher obook assess now also offers Dashboard view – an online lesson control centre, allowing teachers to instantly preview, access and assign resources such as videos, interactives, worksheets and tests to students.

With Oxford Big Ideas History Teacher obook assess, teachers can:
access over 40 editable student worksheets (with answers)
set up classes
set assignments
monitor progress and results
tailor teaching according to individual student needs
over 200 pages of Victorian Curriculum content
over 80 pages of teacher support (teacher notes, answers, curriculum planning, teaching programs)
videos with supporting worksheets
350 self-correcting assess quiz questions
Contents
Concepts and skills

Chapter 1 the history toolkit

Unit 1 Aboriginal and Torres Strait Islander peoples and cultures

Chapter 2 Introduction to Aboriginal and Torres Strait Islander peoples and cultures

Chapter 3 Ancient Australia

Unit 2 The European and Mediterranean World

Chapter 4 Introduction to the European and Mediterranean world

Chapter 5 Ancient Egypt

Chapter 6 Ancient Greece

Chapter 7 Ancient Rome

Unit 3 The Pacific world

Chapter 8 Introduction to the Asia-Pacific world

Chapter 9 Ancient India

Chapter 10 Ancient China

Glossary

Index

Acknowledgements
Authors
Maggy Saldais brings fifteen years' experience in educational publishing to her role as a History author. Maggy has a strong academic background in the discipline of History and a long-held commitment to engaging middle-years students in learning and discovery in her field of expertise.

Geraldine Carrodus has taught History in Victorian schools for over forty years. She was an examiner in Australian History from the 1970s and was Chair of the Setting Panel and Chief Assessor from 2000 until 2005. She has written or co-written a number of History texts used in schools and has been a regular speaker at HTAV conferences for students and teachers. Geraldine had been part of the consultation process on the Australian Curriculum. In 2006, Geraldine was honoured with the presentation of an HTAV award for Excellent and Sustained Contribution to the Teaching and Learning of History and to the HTAV.