Oxford Big Ideas History 10 Victorian Curriculum Student Book + obook assess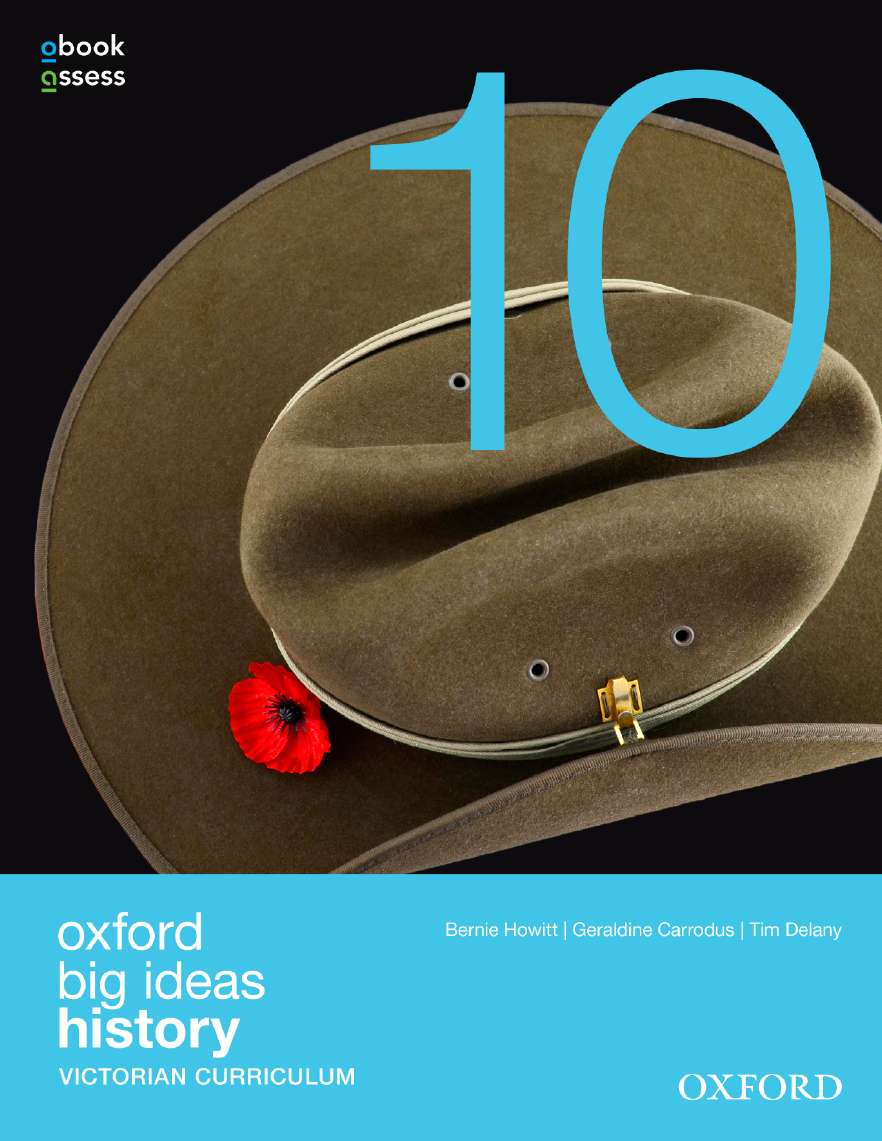 Oxford Big Ideas History 10 Victorian Curriculum Student Book + obook assess
| | |
| --- | --- |
| ISBN: | 9780190307950 |
| Binding: | Paperback + obook |
| Published: | 19 Dec 2016 |
| Availability: | 397 |
| Series: | |
$59.95 AUD
$68.99 NZD
Add To Cart
Request an inspection copy
Description
Oxford Big Ideas History Victorian Curriculum is fully revised and updated for the Victorian Curriculum: History. It provides opportunities to discover, explore and connect with the past through engaging, inquiry-based units.
Key features:
Fully revised and updated to meet the requirements of the Victorian Curriculum: History 7–10
New topics added – Aboriginal and Torres Strait Islander Peoples and Cultures (Year 7) and Political Crisis (Year 10)
All topics and options offered in print and supported by additional worksheets, answers, teacher notes, tests, interactives and videos
Learning centred around meaningful inquiry-based units of work
Explicit focus on the acquisition of historical skills and key concepts at each year level supported by 'The history toolkit'
Clear instructional language supports student understanding and stunning images, illustrations and source materials engage even the most reluctant learners
A range of self-marking quizzes mapped to VCAA content descriptors – offered FREE via obook assess – drive student progress and engagement.
The obook is a cloud-based web-book available anywhere, anytime, on any device, navigated by topic or by 'page view'. assess is an indispensable online assessment tool, explicitly mapped to the Victorian Curriculum that drives student progress through tailored instruction. As well as containing the student text and study tools, this obook offers interactive timelines, interactives such as 'drag & drop' and 'hot zones', videos and virtual site studies.

Teacher obook assess gives teachers digital access to the resources they need in order to drive student progress and engagement. These include:
teacher notes (including lesson ideas, planning and programming tips, and assessment advice)
answers to all activities, worksheets and tests
additional student worksheets (printable)
complete digital access to student book content (both online and offline) including note-taking, highlighting and bookmarking functionality
ability to electronically assign worksheets, tests, videos and interactives to students, as well as monitor progress and results
clear links to VCAA content descriptors
access to a testbank (containing hundreds of additional randomised multiple choice, short answer and extended response questions) that allows you to create bespoke class tests simply and easily
student progress and class results dashboard.
Teacher obook assess now also offers Dashboard view – an online lesson control centre, allowing teachers to instantly preview, access and assign resources like videos, interactives, worksheets and tests to students. Click here for more information.
Contents
Concepts and skills

Chapter 1 The history toolkit

Unit 1 Australia at War (1914-1945)

Chapter 2 Introduction to Australia at war (1914-1945)

Chapter 3 World War II (1939-1945)

Unit 2 Rights and freedoms

Chapter 5 Rights and freedoms

Unit 3 The Globalising World

Chapter 6 The introduction of the globalising world

Chapter 7 Popular culture

Chapter 8 The environment movement

Chapter 9 Migration experiences

Chapter 10 Political crisis: The Vietnam War

Glossary

Index

Acknowledgements
Authors
Geraldine Carrodus has taught History in Victorian schools for over forty years. She was an examiner in Australian History from the 1970s and was Chair of the Setting Panel and Chief Assessor from 2000 until 2005. She has written or co-written a number of History texts used in schools and has been a regular speaker at HTAV conferences for students and teachers. Geraldine had been part of the consultation process on the Australian Curriculum. In 2006, Geraldine was honoured with the presentation of an HTAV award for Excellent and Sustained Contribution to the Teaching and Learning of History and to the HTAV.

Tim Delany has taught in a number of Government schools in Australia and England. He has contributed to a number of texts relating to History and International Studies and has managed curriculum projects for the Department of Education in Victoria and for Social Education Victoria (SEV). He is currently Principal of Newborough Primary School in Gippsland, Victoria.

Bernie Howitt is currently President of the NSW History Teachers' Association, and has been teaching History since the 1970s. Bernie has worked on syllabus development for both the NSW Board of Studies and ACARA. He has won two NSW Premier's History scholarships, an excellence in teaching award, and taught in England as a Commonwealth Exchange teacher. He has been a contributor to the Oxford Big Ideas History Australian Curriculum series.
Sample Pages
Here are some sample pages for your reference.
Request an inspection copy