Oxford Big Ideas Geography 8 Victorian Curriculum Teacher obook assess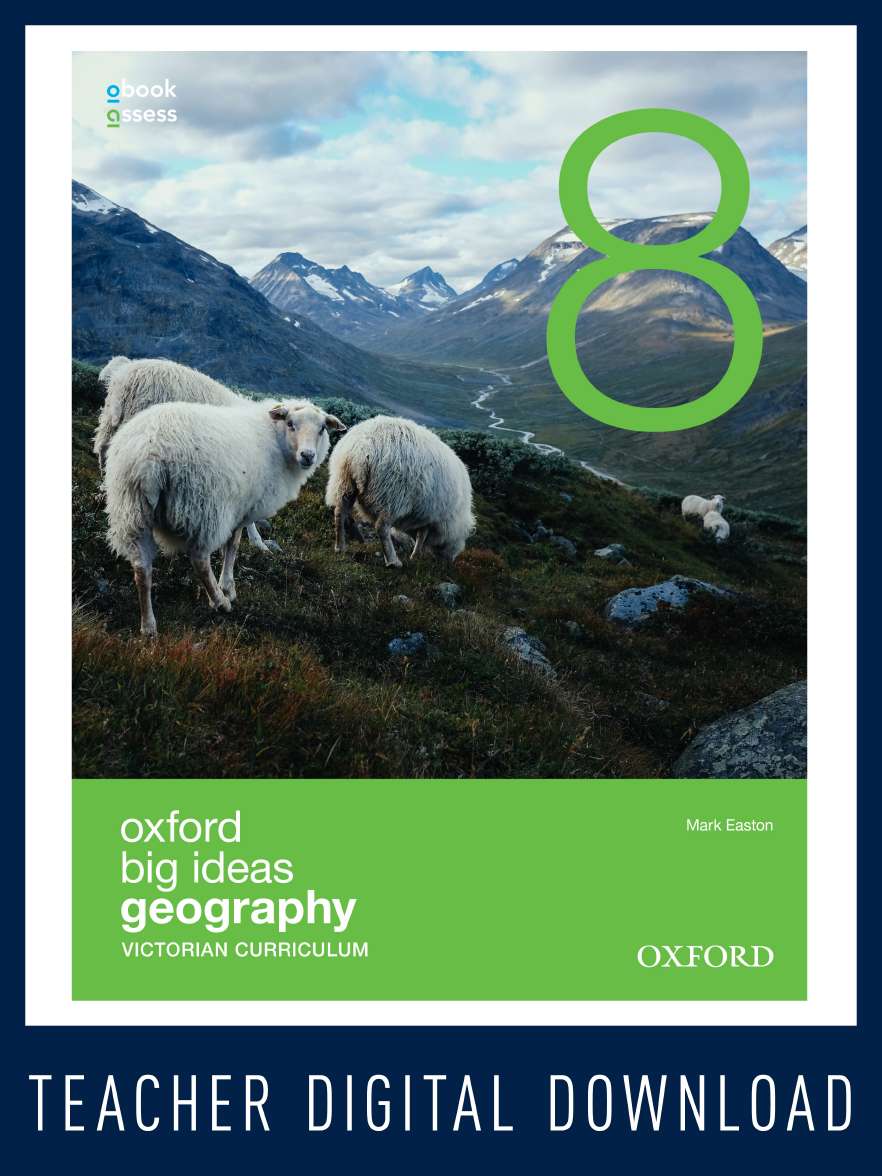 Oxford Big Ideas Geography 8 Victorian Curriculum Teacher obook assess
| | |
| --- | --- |
| ISBN: | 9780190308094 |
| Binding: | obook code (digital) |
| Published: | 30 Jan 2017 |
| Availability: | Available |
| Series: | |
$299.00 AUD
$343.99 NZD
Add To Cart
Add To Cart
Description
Practical and targeted teacher support is provided in digital format via Teacher obook assess.
obook provides teachers with access to the Student book together with added extras such as teaching programs, lesson ideas, worksheets, class tests and answers to all activities in the Student book.

assess offers the ability to assign interactive quizzes and tests, gather results, and monitor student performance.
Teacher obook assess now also offers Dashboard view – an online lesson control centre, allowing teachers to instantly preview, access and assign resources such as videos, interactives, worksheets and tests to students.

With Oxford Big Ideas Geography Victorian Curriculum Teacher obook assess, teachers can:
access over 40 editable student worksheets (with answers)
set up classes
set assignments
monitor progress and results
tailor teaching according to individual student needs.
Contents
Concepts and skills

Chapter 1 The geography toolkit

Unit 1 Landscapes and landforms

Chapter 2 The Earth's landscapes and landforms

Chapter 3 Mountain landscapes

Chapter 4 Coastal landscapes

Unit 2 Changing nations

Chapter 5 Cities and urban life

Chapter 6 Migration

Glossary

Index

Acknowledgements
Authors
Mark Easton has taught Geography, History and English for over 20 years and during the last 15 years has been a contributing author to many geography, humanities and atlas titles. In 2010 he joined Oxford as a geography consultant to work on a range of titles and to support the use of these resources in the classroom. Mark is also the Head of the Humanities Department at St Margaret's School.