Key Features of Modern History 1 Year 11 Student obook assess MULTI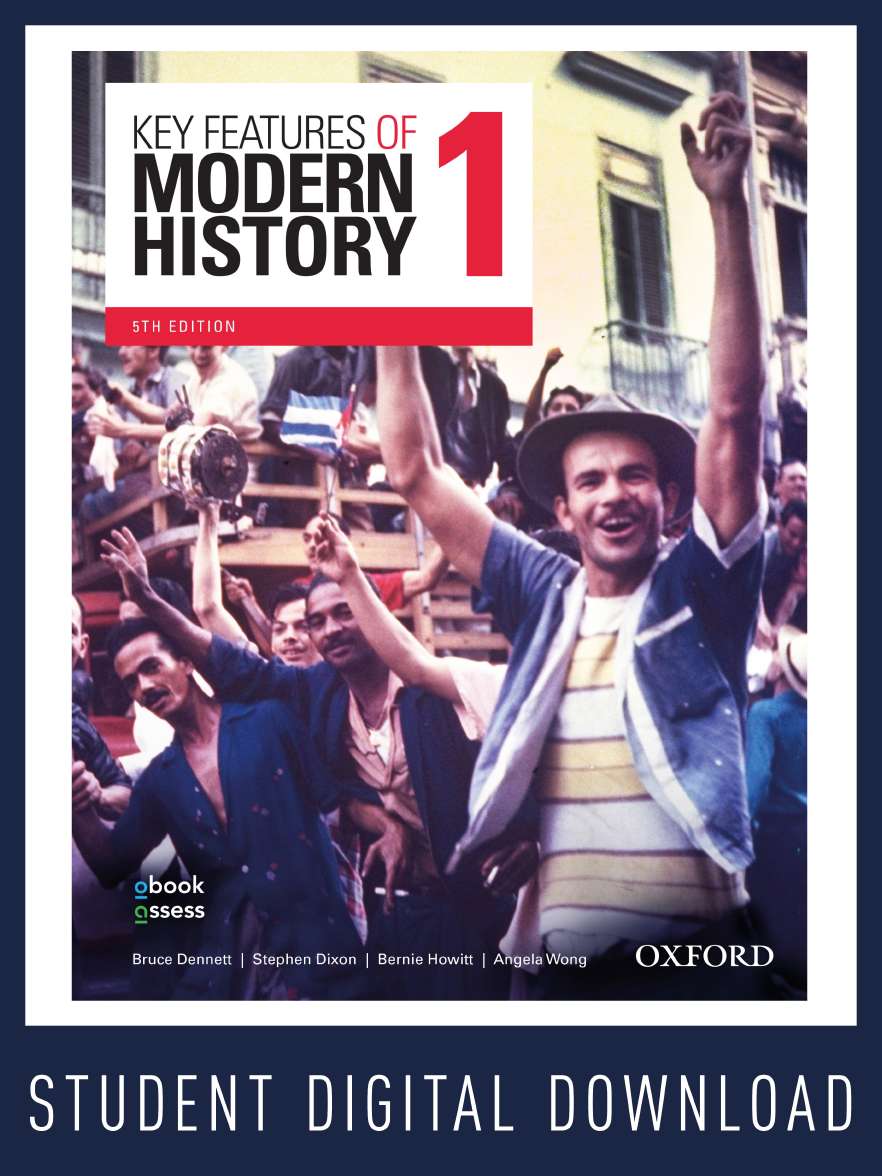 Key Features of Modern History 1 Year 11 Student obook assess MULTI
| | |
| --- | --- |
| ISBN: | 9780190310509 |
| Binding: | obook code (digital) |
| Published: | 14 Jan 2018 |
| Availability: | Available |
| Series: | |
$58.95 AUD
$66.99 NZD
Add To Cart
Description
The MULTI licence provides several consecutive years' digital access to obook assess, a cloud-based resource that students can use anywhere, anytime on any device.

Students can:
access their Student book
access rich, interactive content
access work assigned by their teacher: reading, homework, tests and assignments.
Your Key Features of Modern History 1 obook assess includes:
a complete digital version of the Student book with notetaking and bookmarking functionality
targeted instructional videos by some of Australia's most experienced Modern History teachers
interactive auto-correcting multiple-choice quizzes.
obook assess is available with the printed Student book or as a digital download.
Contents
PART A: INVESTIGATING MODERN HISTORY – THE NATURE OF MODERN HISTORY
Chapter 1 The investigation of historic sites and sources: The trenches of World War I and the archaeology of Fromelles
Chapter 2 The contestability of the past: Pearl Harbor
Chapter 3 The construction of modern histories: the Holocaust
Chapter 4 History and memory: autobiography
Chapter 5 The representation and commemoration of the past: film, television and history
Chapter 6 Historical investigation
PART B: INVESTIGATING MODERN HISTORY – CASE STUDIES
Chapter 7 Terrorism
Chapter 8 The American Civil War
Chapter 9 The decline and fall of the Romanov dynasty
Chapter 10 The Cuban Revolution
Chapter 11 The Boxer Rebellion in China
Chapter 12 The origins of the Arab–Israeli conflict
PART C: THE SHAPING OF THE MODERN WORLD
Chapter 13 World War I
Chapter 14 The French Revolution
Chapter 15 The age of Imperialism
Authors
Bruce Dennett
Dr Bruce Dennett has a PhD in History and a Masters Degree in Education. He is currently lecturing at Notre Dame University and contributes on a freelance basis to Macquarie University's teacher education program. Bruce has more than forty years' experience teaching Ancient and Modern History in New South Wales secondary schools and at university level. Bruce is an active member of the History Teachers' Association of NSW (HTANSW) and has been awarded the Premier's History Teaching Scholarship twice. Bruce has worked on all five editions of Key Features of Modern History.

Bernie Howitt
Bernie Howitt is currently a lecturer in History and Society & Culture Methods in the School of Education at the University of NSW. Bernie has been teaching History since the 1970s and is the winner of two NSW Premier's History scholarships. He has worked on syllabus development for both the Board of Studies NSW and ACARA and is one of the lead authors of Oxford University Press' popular junior history series Insight History for New South Wales.

Stephen Dixon
Stephen Dixon has had a long career teaching all aspects of history across Years 7−12 in New South Wales. He has co-authored several textbooks for both the junior and senior History curriculum. He has extensive experience in the teaching and marking of HSC Modern History and was a regular lecturer for the HTANSW for many years. In 2006 he won a NSW Premier's Teacher Scholarship to study aspects of World War II on the home front in the United Kingdom.

Angela Wong
Angela Wong has been involved in educational publishing for around 20 years, working with teachers in New South Wales, Victoria and Queensland to help produce texts in all the Years 7 to 12 learning areas. Angela has previously co-authored Oxford University Press' junior history series Insight History for New South Wales.