Oxford Big Ideas Geography/History 10 AC Student book + obook assess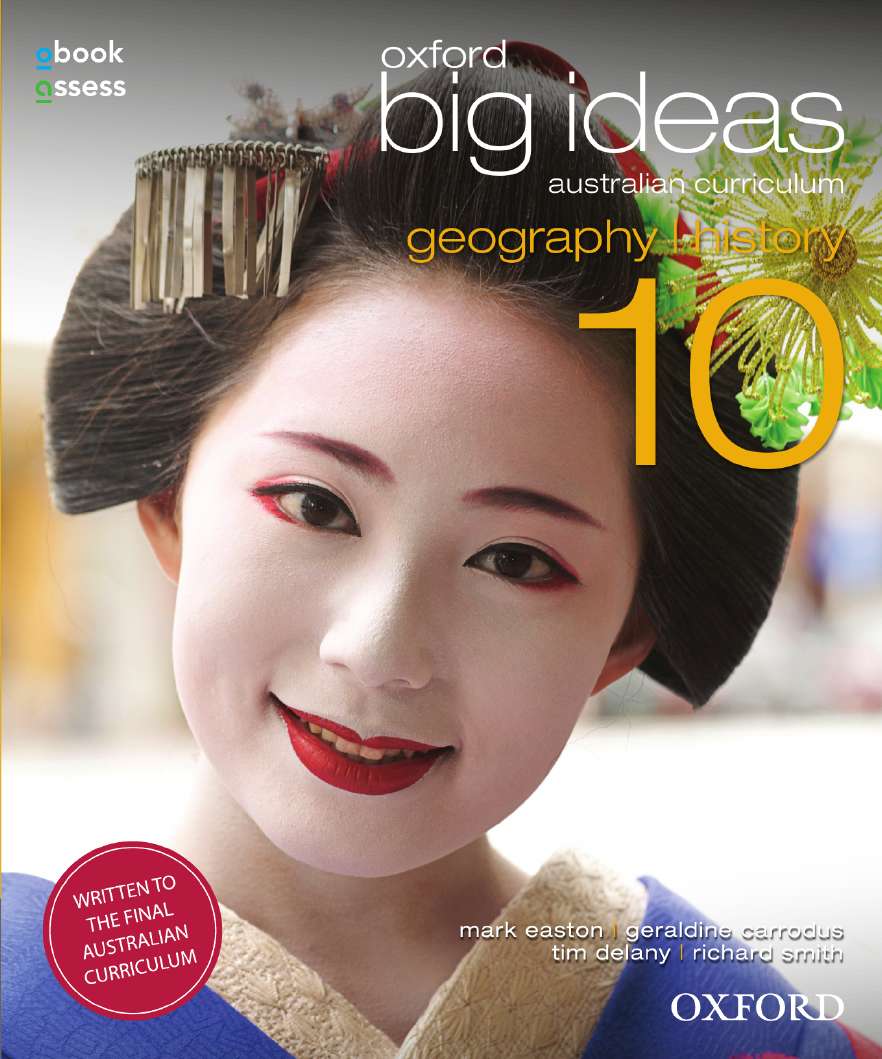 Oxford Big Ideas Geography/History 10 AC Student book + obook assess
| | |
| --- | --- |
| ISBN: | 9780195522204 |
| Binding: | Paperback + obook |
| Published: | 24 Mar 2014 |
| Availability: | 499 |
| Series: | |
$75.95 AUD
$87.99 NZD
Add To Cart
Description
Oxford Big Ideas Geography | History Australian Curriculum provides complete coverage of Australian Curriculum: Geography and Australian Curriculum: History across Years 7 to 10.

Each level is packaged in a way that:
supports the full delivery of all course content within the available class time
enables teachers to adopt a semesterised approach or deliver discrete year-long courses
provides Years 7 & 8 Civics & Citizenship and Commerce units for schools (in digital format only)
obook is a cloud-based web-book available anywhere, anytime, on any device, navigated by topic or by 'page view'. As well as containing the student text and study tools, this obook offers virtual case studies including interactive maps and timelines, videos and other interactives.

assess is an indispensable online assessment tool, explicitly mapped to the Australian Curriculum that drives student progress through tailored instruction.

Free taster courses

Give your Year 10 students a taste of senior Accounting, Business Management, Economics and Legal Studies courses and empower them to make informed subject selections for the following year. Oxford Taster Courses introduce students to what they can expect to learn in Year 11 with informative topic spreads, case studies, glossaries and 'check your learning' questions. Answers to every question are provided to teachers in an accompanying booklet.

Available free of charge to schools booklisting Big Ideas Geography | History 10 and Big Ideas Economics & Business | Civics & Citizenship 9 & 10, Taster Courses can be downloaded via the Teacher Resources tab on Oxford Digital.
Contents
GEOGRAPHY

The geographer's toolkit – concepts and skills

Unit 1 Environmental change and management
Chapter 1 Changing and managing the environment
1.1 How do human activities affect the environment?
1.2 How do people change and manage the land?
1.3 How do people change and manage fresh water?

Chapter 2 Coastal change and management
2.1 How is the coastal environment changing?
2.2 How can coastal changes be managed?
2.3 How can geographers help to manage coastal changes?

Unit 2 Geographies of human wellbeing
Chapter 3 An unequal world
3.1 How does wellbeing vary around the world?
3.2 How does wellbeing vary within countries?

Chapter 4 Inequalities in wellbeing
4.1 How does the natural environment cause inequality?
4.2 How do human activities cause inequality?

Chapter 5 Improving human wellbeing
5.1 How can we improve wellbeing?
5.2 Who is working to improve wellbeing?

HISTORY

The historian's toolkit – concepts and skills

Overview 1 World War II

Depth study 1 World War II
Chapter 6 World War II
World War II: a timeline
6.1 What were the causes of World War II and what course did it take?
6.2 What were some of the most significant events of World War II?
6.3 How did the events of World War II affect the lives of Australians and Australia's international relationships?

Overview 2 Rights and freedoms

Depth study 2 Rights and freedoms
Chapter 7 Rights and freedoms
Rights and freedoms: a timeline
7.1 How have Indigenous peoples in Australia struggled for rights and freedoms?
7.2 How have Indigenous peoples in Australia achieved change and what were some of the significant events that influenced this change?
7.3 In what ways do activists continue to struggle for civil rights and freedoms in Australia and around the world?

Overview 3 The globalising world

Depth study 3 The globalising world
Chapter 8 Popular culture
Popular culture: a timeline
8.1 What was the nature of popular culture in Australia at the end of World War II?
8.2 What developments in popular culture most affected Australia after World War lI?
8.3 How have the Australian music, film and television industries changed in Australia?
8.4 What has Australia contributed to international popular culture?

Chapter 9 Migration experiences
Migration experiences: a timeline
9.1 How have key events influenced migration to Australia since World War II?
9.2 How have government immigration policies changed?
9.3 How did the Vietnam War affect migration to Australia?
9.4 How has migration shaped Australia's identity and global relationships?

The environment movement [obook only chapter]
1 How and why did the environment movement develop?
2 Why did the events of the 20th century lead to growing environmental awareness?
3 How did events and campaigns contribute to the growth of the environment movement in Australia and overseas?
4 How have governments and international organisations responded to environmental threats?

Glossary
Index

*assess is available for selected chapters (not available for obook only chapters).
Authors
Mark Easton is Head of the Humanities department at Saint Margaret's School in Berwick. He has taught Geography, History and English for over twenty years and has contributed to many school textbooks and atlases.

Geraldine Carrodus has taught History in Victorian schools for over forty years. She was an examiner in Australian History from the 1970s and was Chair of the Setting Panel and Chief Assessor from 2000 until 2005. She has written or co-written a number of History texts used in schools and has been a regular speaker at HTAV conferences for students and teachers. Geraldine had been part of the consultation process on the Australian Curriculum over the past two years. In 2006, Geraldine was honoured with the presentation of an HTAV award for Excellent and Sustained Contribution to the Teaching and Learning of History and to the HTAV

Tim Delany has taught in a number of Government schools in Australia and England. He has contributed to a number of texts relating to History and International Studies and has managed curriculum projects for the Department of Education in Victoria and for Social Education Victoria (SEV). He is currently Principal of Newborough Primary School in Gippsland, Victoria.

Kate McArthur has taught History and English in Victorian schools for the last 12 years, and has written or contributed to a number of texts relating to History and Literacy. She has also worked as a Literacy Coach for the Victorian Department of Education and Training for 3 years, and is currently an Assistant Principal at Hume Central Secondary College.

Richard Smith is a history teacher at Melbourne Grammar School. He has worked in government and independent schools for over 35 years in both administrative and teaching roles. Richard is presently the Treasurer of the History Teachers Association of Victoria and is immediate-past president. He chairs the National History Challenge for the History Teachers' Association of Australia of which he is a past vice-president and treasurer. In 2010 Richard was honoured with the presentation of the HTAV award for Outstanding contribution to the teaching and learning of history and to the HTAV.
Sample Pages