Oxford Big Ideas Geography 7 Australian Curriculum Student obook assess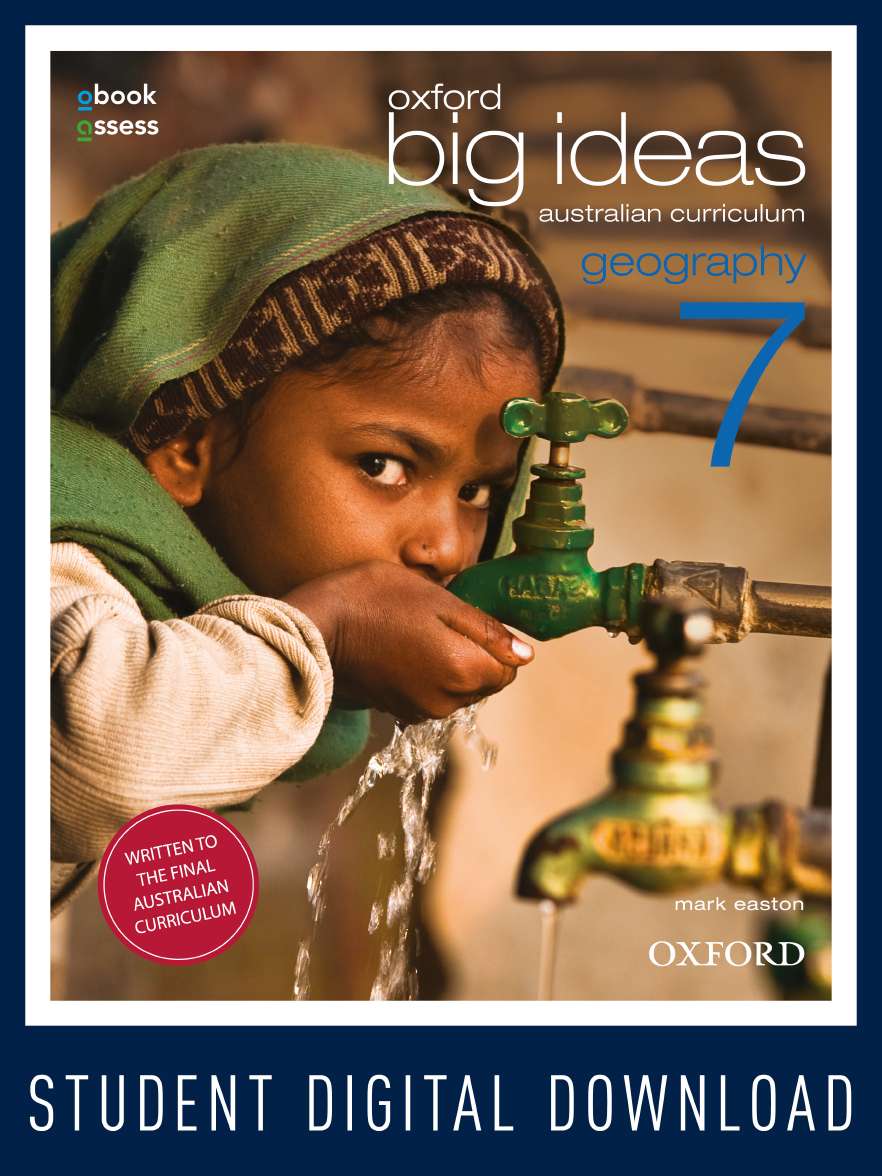 Oxford Big Ideas Geography 7 Australian Curriculum Student obook assess
| | |
| --- | --- |
| ISBN: | 9780195526394 |
| Binding: | obook code (digital) |
| Published: | 1 Nov 2012 |
| Availability: | Available |
| Series: | |
$45.95 AUD
$52.99 NZD
Add To Cart
Add To Cart
Description
obook provides an interactive electronic version of the Student book in an easy-to-read format. It features multimedia links, interactive learning objects, videos, note-taking, highlighting and bookmarking tools, and live question blocks. obook is compatible with laptops, iPads, tablets and IWBs, and also offers page view (in flipbook format) that can be used offline.

assess is an indispensable online assessment tool. Explicitly mapped to the Australian Curriculum, it drives student progress through tailored instruction. Teachers can track the status of assignments, monitor progress with auto-marking assessments, or construct customised tests from the testbank using varied question levels and question types.

Oxford Big Ideas Geography Australian Curriculum:
Explicitly integrates content and skills from both strands of the Australian Curriculum Geography:

– Geographical Knowledge and Understanding
– Geographical Inquiry and Skills.

Provides comprehensive coverage of 'Concepts for geographical understanding' – concepts are clearly explained and supported with worked examples, then revisited with increasing complexity throughout each chapter to reinforce student understanding.
Organises learning around meaningful inquiry-based questions, or big ideas, that are closely mapped to the content of the Australian Curriculum: Geography.
Provides a complete teaching and learning program from Year 7 to 10 across a range of print, digital, and blended resources.
Contents
THE GEOGRAPHER'S TOOLKIT – GEOGRAPHICAL CONCEPTS AND SKILLS

UNIT 1 WATER IN THE WORLD
CHAPTER 1 WATER AS A RESOURCE
1.1 How is water used as an environmental resource?
1.2 How does water connect and affect places?
1.3 How much water do we have?

CHAPTER 2 VALUING AND MANAGING WATER
2.1 In what ways do we value and manage water?
2.2 How can we overcome water scarcity?
2.3 How do we respond to floods?

UNIT 2 PLACE AND LIVEABILITY
CHAPTER 3 LIVING IN AUSTRALIA
3.1 Where do we live and why?
3.2 Why are some places more liveable than others?
3.3 How do people connect to different places?

CHAPTER 4 LIVEABLE CITIES
4.1 What makes a city liveable?
4.2 Where are the most and least liveable cities?
4.3 How can we make cities more liveable?
Authors
Mark Easton has taught Geography, History and English for over 20 years and during the last 15 years has been a contributing author to many geography, humanities and atlas titles. In 2010 he joined Oxford as a geography consultant to work on a range of titles and to support the use of these resources in the classroom. Mark is also the Head of the Humanities Department at St Margaret's School.