Oxford Big Ideas Geography 8 Australian Curriculum Student obook assess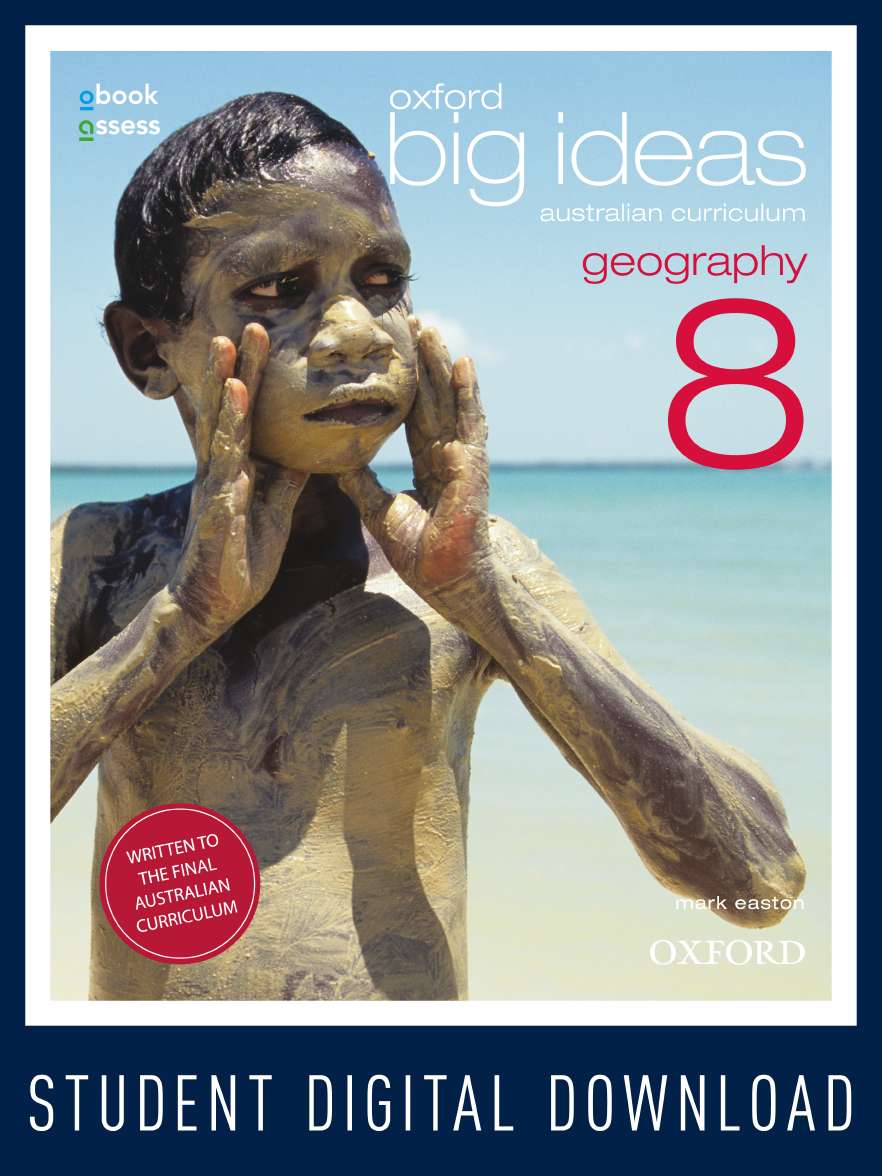 Oxford Big Ideas Geography 8 Australian Curriculum Student obook assess
| | |
| --- | --- |
| ISBN: | 9780195526431 |
| Binding: | obook code (digital) |
| Published: | 1 Nov 2012 |
| Availability: | Available |
| Series: | |
$47.95 AUD
$54.99 NZD
Add To Cart
Add To Cart
Description
obook provides an interactive electronic version of the Student book in an easy-to-read format. It features multimedia links, interactive learning objects, videos, note-taking, highlighting and bookmarking tools, and live question blocks. obook is compatible with laptops, iPads, tablets and IWBs, and also offers page view (in flipbook format) that can be used offline.

assess is an indispensable online assessment tool. Explicitly mapped to the Australian Curriculum, it drives student progress through tailored instruction. Teachers can track the status of assignments, monitor progress with auto-marking assessments, or construct customised tests from the testbank using varied question levels and question types.

Forget about any ongoing fees – assess is FREE with every obook, with NO reactivation fees!

Oxford Big Ideas Geography Australian Curriculum:
Explicitly integrates content and skills from both strands of the Australian Curriculum Geography:

– Geographical Knowledge and Understanding
– Geographical Inquiry and Skills.

Provides comprehensive coverage of 'Concepts for geographical understanding' – concepts are clearly explained and supported with worked examples, then revisited with increasing complexity throughout each chapter to reinforce student understanding.
Organises learning around meaningful inquiry-based questions, or big ideas, that are closely mapped to the content of the Australian Curriculum: Geography.
Provides a complete teaching and learning program from Year 7 to 10 across a range of print, digital, and blended resources.
Contents
What is Oxford Big Ideas Geography?
Using Oxford Big Ideas Geography
Australian Curriculum: Geography 8 – Scope and sequence

The geographer's toolkit
Concepts for geographical understanding
Place and space
Environment and interconnection
Sustainability and scale
Change
Geographical inquiry and skills
Observing, questioning and planning
Collecting, recording, evaluating and representing
Analysing and concluding
Communicating
Reflecting and responding
Fieldwork in geography

UNIT 1 Landforms and landscapes
Chapter 1 Mountain landscapes
1.1 How are mountains formed?
1.2 How are mountain landscapes used and managed?
1.3 Are mountain landscapes hazardous places?

Chapter 2 Coastal landscapes
2.1 What forces shape coastal landscapes?
2.2 How are coastal landscapes used and managed?
2.3 Are coastal landscapes hazardous places?

UNIT 2 Reshaping the nation
Chapter 3 Life in different cities
3.1 Where do people live?
3.2 What are some advantages and disadvantages of cities?
3.3 How does immigration change cities and nations?

Chapter 4 Shaping the culture and society of different nations
4.1 How do culture and society shape different nations?
4.2 What changes when people move?
4.3 Why do nations change?

Glossary
Index
Acknowledgements
Authors
Mark Easton is a full-time teacher and Head of Humanities at Saint Margaret's School in Berwick. He has taught Geography, History and English for over twenty years and over the last decade has contributed to many school textbooks and atlases and has also written a novel, Kazim the Great.