Oxford Big Ideas Geography 8 Australian Curriculum Teacher obook assess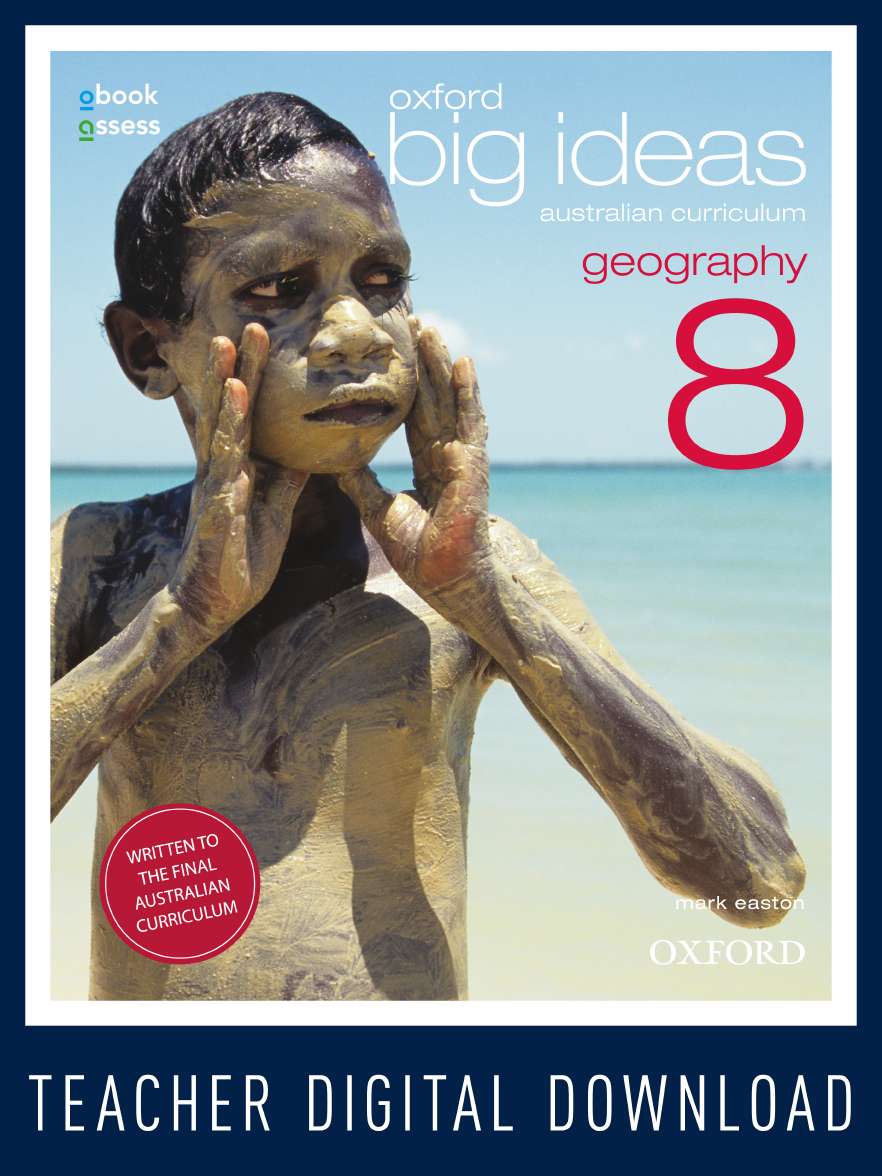 Oxford Big Ideas Geography 8 Australian Curriculum Teacher obook assess
| | |
| --- | --- |
| ISBN: | 9780195526448 |
| Binding: | obook code (digital) |
| Published: | 1 Nov 2013 |
| Availability: | Available |
| Series: | |
$299.00 AUD
$343.99 NZD
Add To Cart
Add To Cart
Description
Practical and targeted teacher support is provided in digital format via Teacher obook assess.

obook provides teachers with access to the Student book together with added extras such as teaching programs, lesson ideas, worksheets, class tests and answers to all activities in the Student book.

assess offers the ability to assign interactive quizzes and tests, gather results, and monitor student performance.

Teacher obook assess now also offers Dashboard view – an online lesson control centre, allowing teachers to instantly preview, access and assign resources such as videos, interactives, worksheets and tests to students.
Contents
THE GEOGRAPHER'S TOOLKIT – CONCEPTS AND SKILLS

UNIT 1 LANDFORMS AND LANDSCAPES

Chapter 1 Landforms and landscapes
1.1 What are landscapes?
1.2 What are landforms?

Chapter 2 Mountain landscapes
2.1 What forces shape mountain landscapes?
2.2 How are mountain landscapes used and managed?
2.3 Are mountain landscapes hazardous places?

Chapter 3 Coastal landscapes
3.1 What forces shape coastal landscapes?
3.2 How are coastal landscapes used and managed?
3.3 Are coastal landscapes hazardous places?

UNIT 2 CHANGING NATIONS

Chapter 4 Life in different cities
4.1 Why do people live in cities?
4.2 Where do people in different countries live?
4.3 How can we plan for Australia's urban future?

Chapter 5 Migration
5.1 Why do people move?
5.2 What are the impacts of migration?
5.3 How has international migration changed Australia?
Authors
Mark Easton is a full-time teacher and Head of Humanities at Saint Margaret's School in Berwick. He has taught Geography, History and English for over twenty years and over the last decade has contributed to many school textbooks and atlases and has also written a novel, Kazim the Great.