Oxford Big Ideas Geography/History 8 Australian Curriculum Student obook assess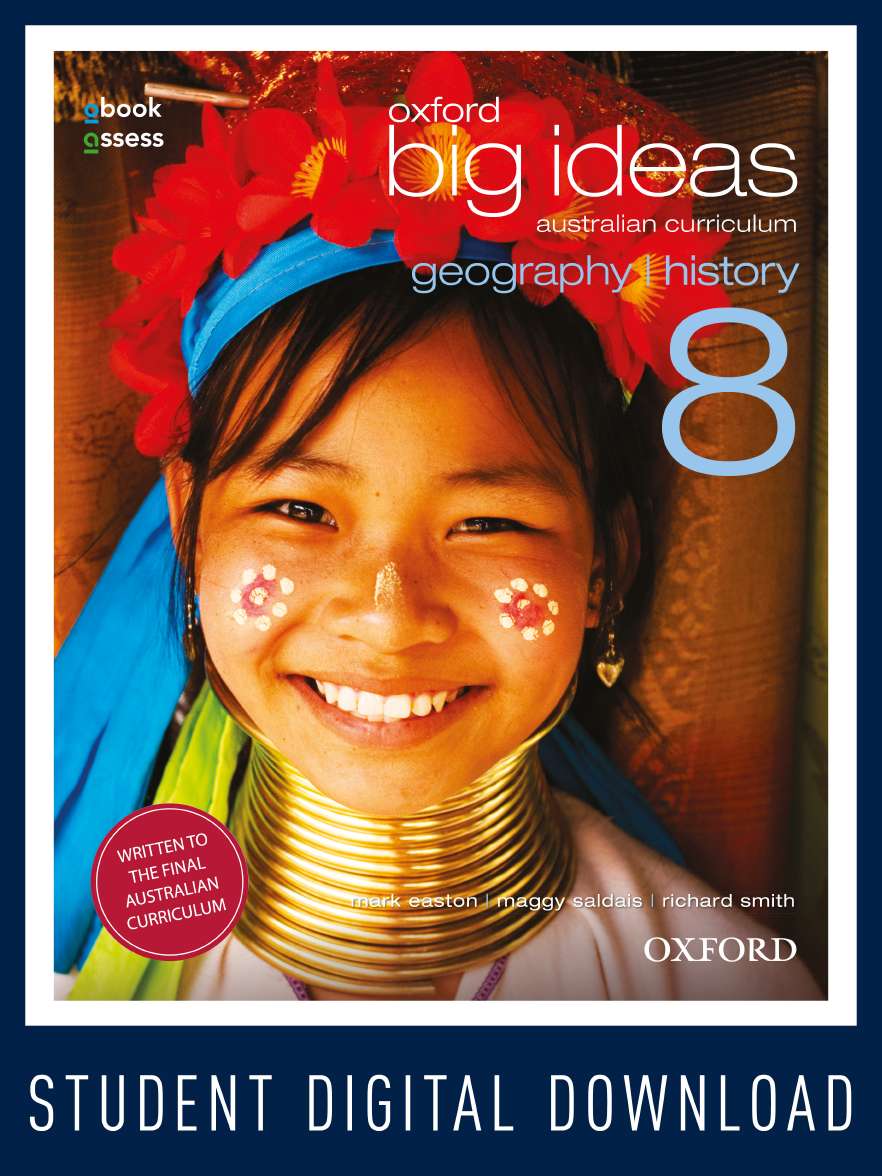 Oxford Big Ideas Geography/History 8 Australian Curriculum Student obook assess
| | |
| --- | --- |
| ISBN: | 9780195526486 |
| Binding: | obook code (digital) |
| Published: | 1 Nov 2012 |
| Availability: | Available |
| Series: | |
$45.95 AUD
$52.99 NZD
Add To Cart
Add To Cart
Description
obook provides an interactive electronic version of the Student book in an easy-to-read format. It features multimedia links, interactive learning objects, videos, note-taking, highlighting and bookmarking tools, and live question blocks. obook is compatible with laptops, iPads, tablets and IWBs, and also offers page view (in flipbook format) that can be used offline.

assess is an indispensable online assessment tool. Explicitly mapped to the Australian Curriculum, it drives student progress through tailored instruction. Teachers can track the status of assignments, monitor progress with auto-marking assessments, or construct customised tests from the testbank using varied question levels and question types.

Oxford Big Ideas Geography | History Australian Curriculum provides complete coverage of Australian Curriculum: Geography and Australian Curriculum: History across Years 7 to 10.

Each level is packaged in a way that:
supports the full delivery of all course content within the available class time
enables teachers to adopt a semesterised approach or deliver discrete year-long courses
provides Years 7 & 8 Civics & Citizenship and Commerce units for schools (in digital format only)
Contents
GEOGRAPHY

The geographer's toolkit – concepts and skills

UNIT 1 LANDFORMS AND LANDSCAPES
Chapter 1 Landforms and landscapes
1.1 What are landscapes?
1.2 What are landforms?

Chapter 2 Mountain landscapes
2.1 What forces shape mountain landscapes?
2.2 How are mountain landscapes used and managed?
2.3 Are mountain landscapes hazardous places?

Chapter 3 Coastal landscapes
3.1 What forces shape coastal landscapes?
3.2 How are coastal landscapes used and managed?
3.3 Are coastal landscapes hazardous places?

UNIT 2 CHANGING NATIONS
Chapter 4 Life in different cities
4.1 Why do people live in cities?
4.2 Where do people in different countries live?
4.3 How can we plan for Australia's urban future?

Chapter 5 Migration
5.1 Why do people move?
5.2 What are the impacts of migration?
5.3 How has international migration changed Australia?

HISTORY

The historian's toolkit – concepts and skills

Overview 1 The Western and Islamic world

DEPTH STUDY 1 THE WESTERN AND ISLAMIC WORLD
The Ottoman Empire [obook only chapter]
1 How was society organised during the Ottoman Empire?
2 What were the most significant achievements and developments of the Ottoman Empire?
3 How did the policies and power of the Ottoman Empire change other societies?

Renaissance Italy [obook only chapter]
1 How were societies in Renaissance Italy organised?
2 What developments and achievements characterised Renaissance Italy?
3 How did Renaissance culture spread and what is its legacy?

Chapter 6 The Vikings
The Vikings: a timeline
6.1 How was Viking society organised?
6.2 What developments led to Viking expansion?
6.3 How did Viking conquests change societies?

Chapter 7 Medieval Europe
Medieval Europe: a timeline
7.1 How were societies in medieval Europe organised?
7.2 How and why did societies in medieval Europe change?
7.3 What developments influenced life in medieval Europe?

Overview 2 The Asia–Pacific world

DEPTH STUDY 2 THE ASIA–PACIFIC WORLD
Chapter 8 The Khmer Empire
The Khmer Empire: a timeline
8.1 How did the Khmer Empire rise to power and what were its greatest achievements?
8.2 How was society organised during the Khmer Empire?
8.3 How and why did the Khmer Empire come to an end?

Chapter 9 Japan under the shoguns
Japan under the shoguns: a timeline
9.1 What led to the rise of the shoguns?
9.2 How was Japanese society organised during the time of the shoguns?
9.3 How did Japan change under the rule of the shoguns?

Polynesian expansion across the Pacific [obook only chapter]
1 How did Polynesian settlers spread across the Pacific?
2 What was life like in Māori societies?
3 What were the most significant Māori cultural achievements?

Overview 3 Expanding contacts

DEPTH STUDY 3 EXPANDING CONTACTS
Chapter 10 Mongol expansion
Mongol expansion: a timeline
10.1 How was Mongol society organised?
10.2 How and why did the Mongols expand their territory?
10.3 What were the consequences of Mongol expansion?

Chapter 11 The Black Death in Asia, Europe and Africa
The Black Death: a timeline
11.1 How were societies organised at the time of the Black Death?
11.2 What were the causes of the Black Death and how did it spread?
11.3 What were the effects of the Black Death?

Spanish conquest of the Americas [obook only chapter]
1 How were societies in the Americas organised before the arrival of the Spanish?
2 Why did the Spanish colonise the Americas?
3 What were the effects of Spanish conquest in the Americas and around the world?

Glossary
Index

*assess is available for selected chapters (not available for obook only chapters).
Authors
Mark Easton has taught Geography, History and English for over 20 years and during the last 15 years has been a contributing author to many geography, humanities and atlas titles. In 2010 he joined Oxford as a geography consultant to work on a range of titles and to support the use of these resources in the classroom. Mark is also the Head of the Humanities Department at St Margaret's School.

Maggy Saldais brings fifteen years' experience in educational publishing to her role as a History author. Maggy has a strong academic background in the discipline of History and a long-held commitment to engaging middle-years students in learning and discovery in her field of expertise.