Oxford Big Ideas Geography 10 Australian Curriculum Teacher obook assess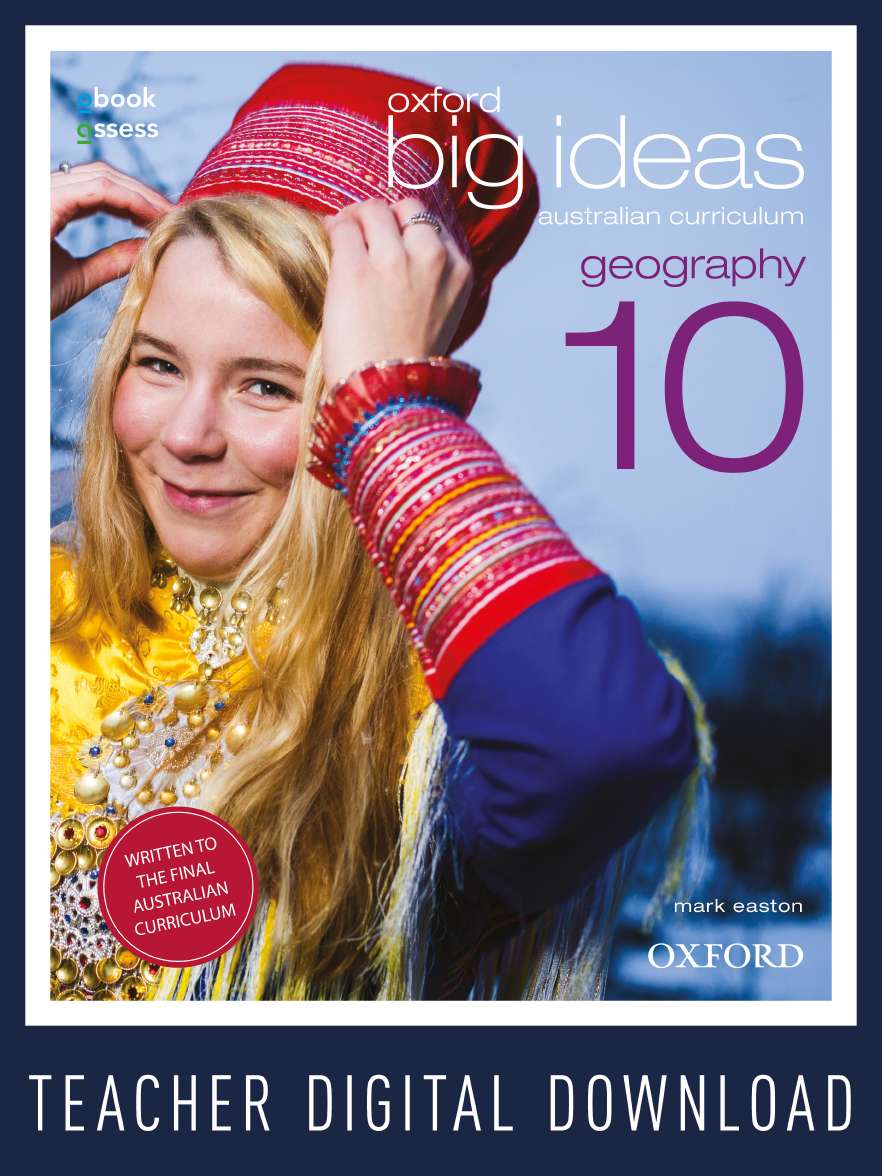 Oxford Big Ideas Geography 10 Australian Curriculum Teacher obook assess
| | |
| --- | --- |
| ISBN: | 9780195529562 |
| Binding: | obook code (digital) |
| Published: | 1 Oct 2013 |
| Availability: | Available |
| Series: | |
$299.00 AUD
$343.99 NZD
Add To Cart
Description
Practical and targeted teacher support is provided in digital format via Teacher obook assess.

obook provides teachers with access to the Student book together with added extras such as teaching programs, lesson ideas, worksheets, class tests and answers to all activities in the Student book.

assess offers the ability to assign interactive quizzes and tests, gather results, and monitor student performance.

Teacher obook assess now also offers Dashboard view – an online lesson control centre, allowing teachers to instantly preview, access and assign resources such as videos, interactives, worksheets and tests to students.
Contents
THE GEOGRAPHER'S TOOLKIT – CONCEPTS AND SKILLS

UNIT 1 ENVIRONMENTAL CHANGE AND MANAGEMENT
CHAPTER 1 CHANGING AND MANAGING THE ENVIRONMENT
1.1 How do human activities affect the environment?
1.2 How do people change and manage the land?
1.3 How do people change and manage fresh water?

CHAPTER 2 COASTAL CHANGE AND MANAGEMENT
2.1 How is the coastal environment changing?
2.2 How can coastal changes be managed?
2.3 How can geographers help to manage coastal changes?

UNIT 2 GEOGRAPHIES OF HUMAN WELLBEING
CHAPTER 3 AN UNEQUAL WORLD
3.1 How does wellbeing vary around the world?
3.2 How does wellbeing vary within countries?

CHAPTER 4 INEQUALITIES IN WELLBEING
4.1 How does the natural environment cause inequality?
4.2 How do human activities cause inequality?

CHAPTER 5 IMPROVING HUMAN WELLBEING
5.1 How can we improve wellbeing?
5.2 Who is working to improve wellbeing?
Authors
Mark Easton has taught Geography, History and English for over 20 years and during the last 15 years has been a contributing author to many geography, humanities and atlas titles. In 2010 he joined Oxford as a geography consultant to work on a range of titles and to support the use of these resources in the classroom. Mark is also the Head of the Humanities Department at St Margaret's School.