Oxford Insight History 9 AC for NSW Student book + obook assess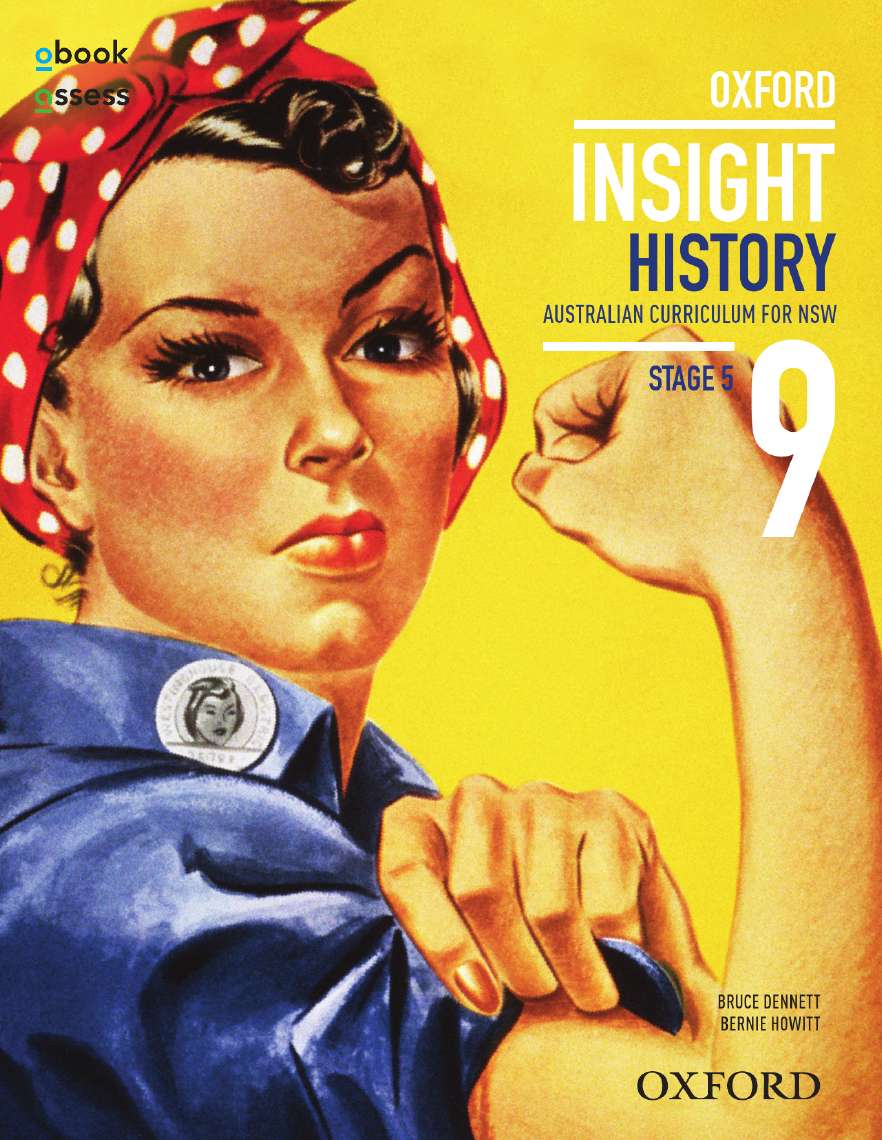 Oxford Insight History 9 AC for NSW Student book + obook assess
| | |
| --- | --- |
| ISBN: | 9780195529708 |
| Binding: | Paperback + obook |
| Published: | 10 Jan 2014 |
| Availability: | 0 |
| Series: | |
$73.95 AUD
$84.99 NZD
Add To Cart
Description
Oxford Insight History has been developed specifically to support the implementation of the NSW Syllabus for the Australian Curriculum. It provides a complete teaching and learning program for Stages 4 and 5 to suit your classroom across a range of print, digital and blended resources.

Oxford Insight History provides explicit coverage of all History objectives and outcomes identified by the NSW Board of Studies. Student understanding is mapped against course content at each Stage and a range of assessment tools are provided to ensure that deep learning has taken place and to help students successfully meet all required outcomes.

Key features
Stunning images and illustrations engage students and support deep inquiry.
Each chapter of Oxford Insight History is sequenced according to the NSW Syllabus for the Australian Curriculum: History and structured around a number of key inquiry questions.
Content dot points clearly map the learning sequence for students.
Source study activities expose students to a range of primary and secondary sources designed to bring the past to life. All sources are accompanied by activities that challenge students to engage with the past and develop a range of historical skills.
Review, Interpret, Apply and Extend tasks appear throughout each chapter, providing a range of activities suited to different abilities and learning styles.
Checkpoint questions appear at the end of every section and are linked to a content dot point in the NSW History Syllabus. They can be used flexibly – completed orally in class (to support formative assessment) or set as written tests (to support summative assessment).
Each Checkpoint is supported by a set of three student worksheets available electronically via Teacher obook assess. These worksheets are graded to support, consolidate or extend students of different abilities and personalise learning in your class.
Rich tasks appear at the end of every section. They are open-ended, inquiry-based tasks that often involve an element of fun. They are designed to engage students to develop their specific historical skills.
The Historians Toolkit provides a stand-alone reference for all of the historical skills and concepts (can be taught as a separate unit of work or revisited as required).

obook provides an interactive electronic version of the Student book in an easy-to-read format. It features multimedia links, interactive learning objects, videos, note-taking, highlighting and bookmarking tools, and live question blocks. obook is compatible with laptops, iPads, tablets and IWBs, and also offers page view (in flipbook format) that can be used offline.

assess is an indispensable online assessment tool. Explicitly mapped to the Australian Curriculum, it drives student progress through tailored instruction. Teachers can track the status of assignments, monitor progress with auto-marking assessments, or construct customised tests from the testbank using varied question levels and question types.

For all related titles in this series, please click here
Contents
Using Insight History
The making of the modern world

PART 1 Making a better world? – an overview
Depth study 1
CHAPTER 1 The Industrial Revolution
CHAPTER 2 Movement of peoples
CHAPTER 3 Progressive ideas and movements: Capitalism

PART 2 Australia and Asia – an overview
Depth study 2
CHAPTER 4 Making a nation
CHAPTER 5 Asia and the world: China

PART 3 Australians at war – an overview
Depth study 3
CHAPTER 6 Australians at war (World Wars I and II)

APPENDIX 1 The historian's toolkit – concepts and skills
Glossary
Index
Authors
Bruce Dennett is the author and co-author of six history textbooks. Since retiring from high school teaching he lectures on a part-time basis at Macquarie University in the Schools of Modern History and Education and works as a history lecturer and consultant for the NSW Library Service. He recently completed his research towards a Ph.D. at Macquarie University. Bruce regularly conducts workshops for high school teachers and students in both Junior and Senior History. His most recent series of high school workshops focused on teaching historical thinking as an aspect of junior history. Bruce has won two NSW Premier's Teacher Scholarships.

Bernie Howitt is currently President of the NSW History Teachers' Association, and has been teaching History since the 1970s. Bernie has worked on syllabus development for both the NSW Board of Studies and ACARA. He has won two NSW Premier's History scholarships, an excellence in teaching award, and taught in England as a Commonwealth Exchange teacher. He has been a contributor to the Oxford Big Ideas History Australian Curriculum series.
Sample Pages