Oxford Big Ideas History 10 Australian Curriculum Teacher Kit + obook assess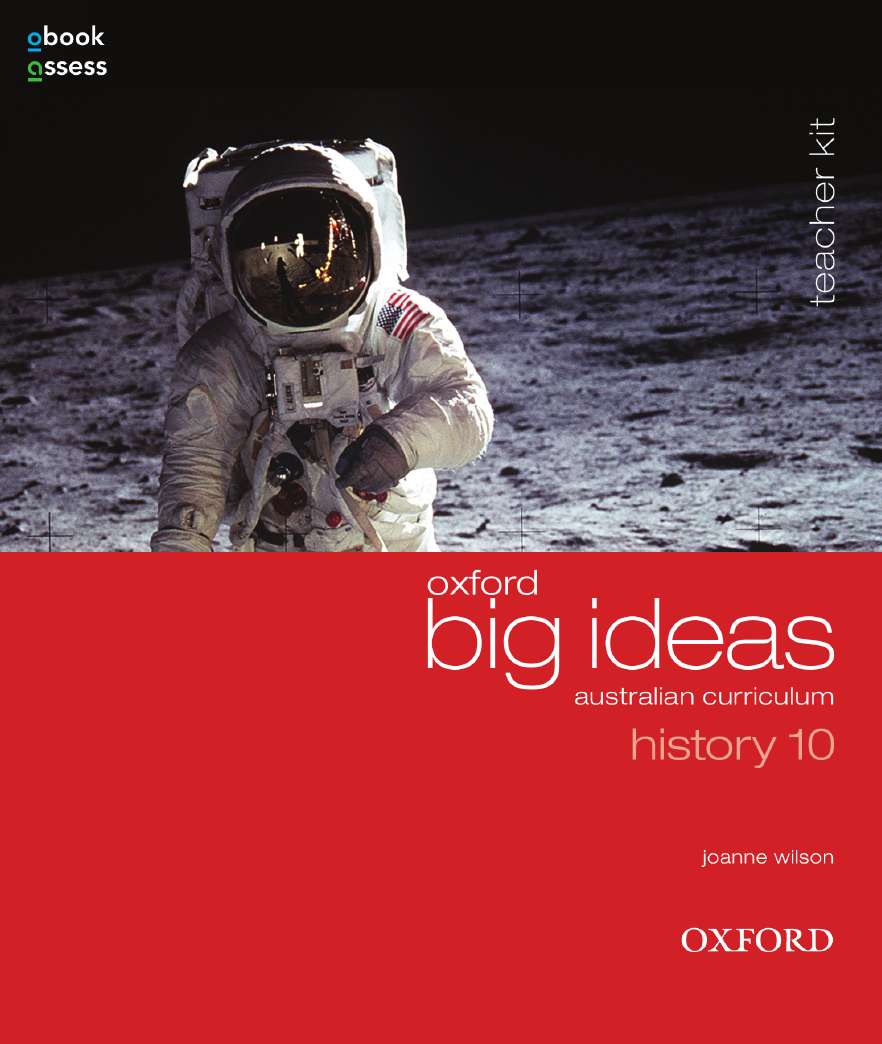 Oxford Big Ideas History 10 Australian Curriculum Teacher Kit + obook assess
| | |
| --- | --- |
| ISBN: | 9780195576986 |
| Binding: | Paperback + obook |
| Published: | 11 Apr 2013 |
| Availability: | 10 |
| Series: | |
$171.95 AUD
$197.99 NZD
Add To Cart
Description
Each Teacher Kit includes all pages from the student book scaffolded with wraparound notes on teaching strategies, lesson planning tips, assessment advice and suggested answers—everything you need to seamlessly integrate Oxford Australian Curriculum resources into your teaching program.

obook provides teachers with access to the Student book together with added extras such as teaching programs, lesson ideas, worksheets, class tests and answers to all activities in the Student book.

assess offers the ability to assign interactive quizzes and tests, gather results, and monitor student performance.
Contents
What is…Oxford Big Ideas History?
Using Oxford Big Ideas History
Australian Curriculum: History 10—Scope and sequence

Overview

1.0 The modern world and Australia: an overview
1.1 What were the significant events and key features of the inter-war years?
1.2 How did the nature of global conflict change during the 20th century?
1.3 How has Australian society been affected by other significant changes during the 20th century?

Depth studies

World War II
2.0 World War II (1939–1945)
2.1 What were the causes of World War II and what course did it take?
2.2 What were some of the most significant events of World War II
2.3 How did the events of World War II affect people around the world and in Australia?
2.4 How did the events of World War II shape Australia's international relationships?

Rights and freedoms
3.0 Rights and freedoms (1945–the present)
3.1 How have Indigenous peoples in Australia struggled for rights and freedoms?
3.2 How have Indigenous peoples in Australia achieved change and what were some of the significant events that influenced this change?
3.3 In what ways do activists continue to struggle for civil rights and freedoms in Australia and around the world?

The globalising world
4.0 Popular culture (1945–the present)
4.1 What was the nature of popular culture in Australia at the end of World War II?
4.2 What developments in popular culture most affected Australia after World War II?
4.3 How have the Australian music, film and television industries changed in Australia?
4.4 What has Australia contributed to international popular culture?

The environment movement [obook only chapter]
1 How did the environment movement start?
2 Why did the 20th century lead to a growing environmental awareness?
3 How did environmental issues and campaigns contribute to the growth of the environment movement in Australia and overseas?
4 How have Australian governments and international organisations responded to environmental threats?

5.0 Migration experiences (1945–the present)
5.1 How have key events influenced migration to Australia since World War II?
5.2 How have government immigration policies changed?
5.3 How did the Vietnam War affect migration to Australia?
5.4 How has migration shaped Australia's identity and global relationships?

*assess is available for selected chapters (not available for o book only chapters).
Authors
Joanne Wilson is a writer, publisher and teacher with many years' experience in the education sector. Having taught in both private and government schools, Joanne is an accomplished History teacher and has contributed to numerous textbooks and digital learning resources in the field of Humanities and Social Science.
Sample Pages