Legal Studies for VCE Units 1 & 2 Student book + obook assess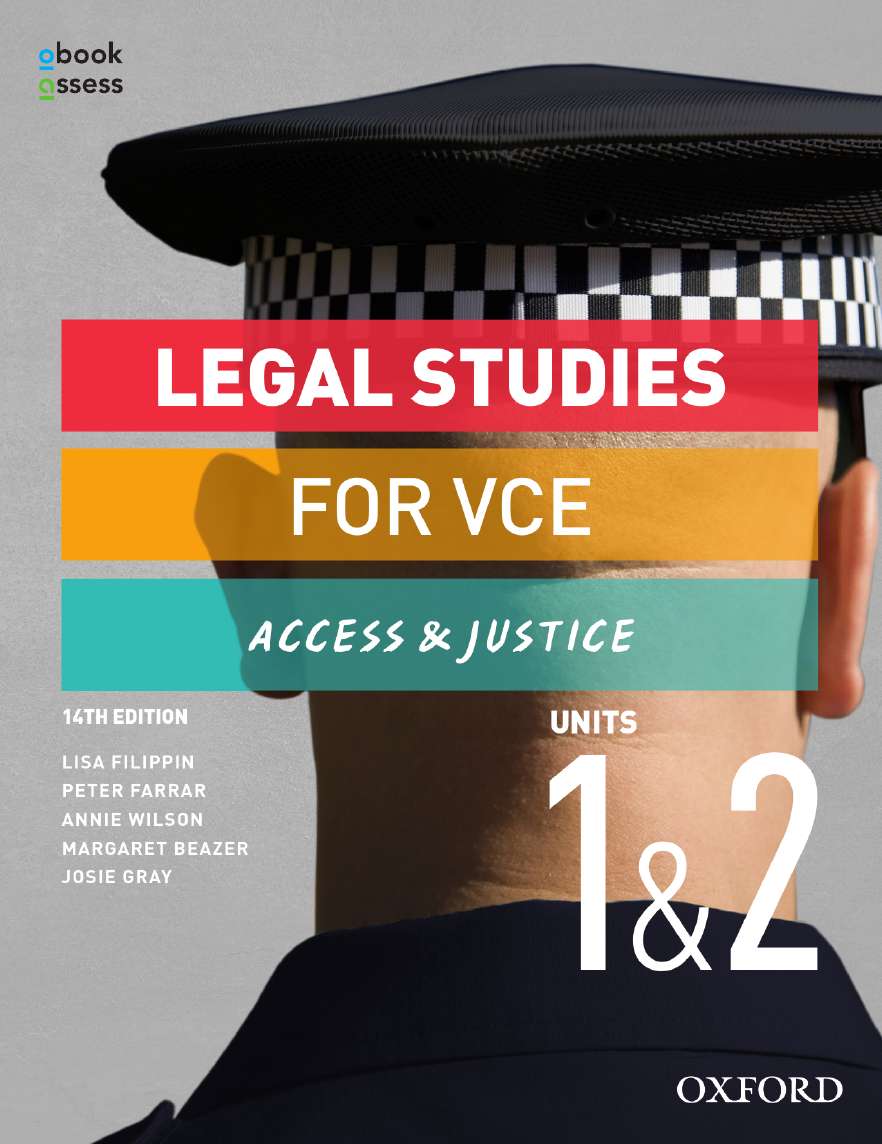 Legal Studies for VCE Units 1 & 2 Student book + obook assess
| | |
| --- | --- |
| ISBN: | 9780190326265 |
| Binding: | Paperback + obook |
| Published: | 12 Jan 2021 |
| Availability: | Forthcoming |
| Series: | |
$74.95 AUD
$85.99 NZD
Add To Cart
Description
Oxford's well-respected authors and award-winning publishing team have updated Legal Studies for VCE Units 1 & 2 Access & Justice 14E and Units 3 & 4 Justice & Outcomes 15E to incorporate up-to-date content, including coverage of recent case studies and legal reforms.

The series has been thoroughly revised with a range of added innovative features, providing an enhanced focus on exam and assessment preparation.

Legal Studies for VCE combines accessible language with unparalleled depth and extension opportunities across a suite of print and digital resources. All content in the series is:
explicitly aligned to the 2018–2022 VCE Legal Studies Study Design
laid out in manageable 2- to 8-page topic spreads
presented using clear language and an informal tone
accompanied by engaging visuals
supported by margin glossary definitions on every page.

Unprecedented digital support
New digital features include fresh video content and innovative markbook functionality that enables teachers to easily assess, track and report on student progress.
Comprehensive student and teacher digital support is provided on obook assess, including answers, worksheets, assess quizzes, chapter summaries, course planners, printable and editable teaching notes, practice exams and SACs with answers, and more.

A pathway to success for every student
A range of improved chapter features gives students of all abilities the best chance at experiencing success in VCE Legal Studies. Key features include:
The Legal toolkit in each Student book provides clear course information, study tips, exam advice and preparation, tips for mastering legal citation and career information.
An introductory chapter at the beginning of each unit covers core concepts and essetial prior knowledge to launch students successfully into the main course content.
Chapter openers cover outcomes, key knowledge and key terms from the Study Design.
NEW: Chapter reviews at the end of each chapter consist of three top revision tips, practice revision questions using task words (graded low, medium and high order) and a practice assessment task.
Unit reviews include a practice assessment for each area of study.
NEW: Hypothetical scenario and Actual scenario features help put content into context for students using syllabus/exam terminology. All actual scenarios are recent and relevant.
Check your learning questions levelled according to Bloom's taxonomy to allow for differentiation are found at the end of every topic.
Extract features provide excerpts from relevant legal documents.
Did you know? features provide interesting background information and additional context.
Study tips throughout each Student book alert students to important points and provide tips on how to improve their performance on assessment tasks.
Contents
Chapter 1: Legal toolkit
1.1 Understanding the VCE Legal Studies course
1.2 Setting yourself up for success in VCE Legal Studies
1.3 Tips for success on assessment tasks
1.4 Mastering legal citation
1.5 Careers in the law
UNIT 1: GUILT AND LIABILITY
Chapter 2: Introduction to Unit 1
2.1 An introduction to laws and to Australia's legal system
2.2 Parliaments and courts in Australia
2.3 The rule of law
Chapter 3: Legal foundations
3.1 Social cohesion and the rights of individuals
3.2 The principles of justice
3.3 Characteristics of an effective law
3.4 Sources of law
3.5 The relationship between parliament and the courts
3.6 Types of law
3.7 The distinction and relationship between criminal law and civil law
3.8 The Victorian court hierarchy
Chapter 3 review
Chapter 4: The presumption of innocence
4.1 The purposes of criminal law
4.2 The presumption of innocence
4.3 Key concepts of criminal law
4.4 Types of crime
4.5 The distinction between summary offences and indictable offences
4.6 Possible participants in a crime
Chapter 4 review
Chapter 5: Indictable offences
5.1 General defences to crime
5.2 Murder
5.3 Culpable driving
5.4 Rape
5.5 Arson
Chapter 5 review
Chapter 6: Summary offences
6.1 Defences to crime
6.2 Assault
6.3 Minor theft
6.4 Offensive behaviour
6.5 Graffiti offences
Chapter 6 review
Chapter 7: Civil liability
7.1 Purposes and types of civil law
7.2 Key concepts of civil law
7.3 Possible parties to a civil dispute
Chapter 7 review
Chapter 8: Tort law
8.1 Negligence
8.3 Defamation
8.4 Nuisance
Chapter 8 review
Chapter 9: Other areas of civil law
9.1 Discrimination
9.2 Void marriages
9.3 Online shopping
9.4 Workplace pay and conditions
Chapter 9 review
UNIT 2: SANCTIONS, REMEDIES AND RIGHTS
Chapter 10: Introduction to Unit 2
10.1 Revisiting the meaning of laws
10.2 Foundations of criminal law
10.3 Foundations of civil law
10.4 The relationship between criminal cases and civil disputes
Chapter 11: Sanctions
11.1 Introduction to sanctions
11.2 The principles of justice in criminal law
11.3 Institutions that enforce criminal law
11.4 Institutional powers and individual rights
11.5 The role and criminal jurisdictions of Victorian courts
11.6 The role of a jury in a criminal trial
11.7 The purposes of sanctions
11.8 Types of sanctions
11.9 Factors considered by judges in sentencing
11.10 Sentencing practices
11.11 Alternative approaches to sentencing
Chapter 11 review
Chapter 12: Recent criminal cases
12.1 Recent criminal case 1: A weekend at an AirBNB ends in murder
DPP v AK (Sentence) [2019] VSC 852 (20 December 2019)
12.2 Recent criminal case 2: The case that captivated Victoria
DPP v Ristevski [2019] VSCA 287 (6 December 2019)
12.3 Recent criminal case 3: The assault of a paramedic
DPP v Haberfield [2019] VCC 2082 (16 December 2019)
12.4 Recent criminal case 4: The trial and acquittal of Cardinal George Pell
DPP v Pell (Sentence) [2019] VCC 260 (13 March 2019);
Pell v The Queen [2019] VSCA 186 (21 August 2019);
Pell v the Queen [2020] HCA 12 (7 April 2020)
Chapter 13: Remedies
13.1 Introduction to remedies
13.2 The principles of justice in civil law
13.3 Methods used to resolve a civil dispute
13.4 Tribunals
13.5 The Ombudsmen
13.6 Complaints bodies
13.7 The role and civil jurisdictions of the Victorian courts
13.8 The role of the jury in a civil trial
13.9 The purposes and types of remedies
Chapter 13 review
Chapter 14: Recent civil cases
14.1 Recent civil case 1: The crime reporter who sued The Age
) YZ (a pseudonym) v The Age Company Limited [2019] VCC 148 (22 February 2019);
The Age Company Limited v YZ (a pseudonym) [2019] VSCA 313 (19 December 2019)
14.2 Recent civil case 2: Taxi v Uber Class Action
Andrianakis v Uber Technologies Inc. S ECI 2019 01926
14.3 Recent civil case 3: VCAT awards over $5m in damages
Owners Corporation No.1 of PS613436T v LU Simon Builders Pty Ltd (Building and Property) [2019] VCAT 286
14.4 Recent civil case 4: Rebel with a cause
Wilson v Bauer Media Pty Ltd [2017] VSC 521 (13 September 2017);
Bauer Media Pty Ltd v Wilson (No 2) [2018] VSCA 154 (14 June 2018)
Chapter 15: Rights
15.1 Introduction to rights
15.2 The protection of rights through statute law and the Victorian charter
15.3 The protection of rights through common law
15.4 The protection of rights through the Australian constitution
15.5 International treaties, declarations and the rights of Australians
15.6 The approach adopted by the United States in protecting rights
15.7 Possible reforms to the protection of rights in Australia
15.8 The Mabo Case – The protection of rights in Australia
Chapter 15 review
Authors
Lisa Filippin is an experienced solicitor, teacher, assessor and examiner. She is currently a practising solicitor, working predominantly in the areas of commercial litigation and insolvency. Prior to working as a solicitor, Lisa taught at Melbourne Girls Grammar in the areas of Legal Studies and Business Management and was also the Year 10 Coordinator. Lisa has held several roles involving exam development, assessment and curriculum development, and was involved in the re-accreditation of the VCE Legal Studies course in 2009–2010 and 2016–17.

Annie Wilson is an experienced VCE Legal Studies and Commerce teacher who has been passionately teaching and developing curriculum materials for over 30 years. She is the author of numerous textbooks and has prepared a range of teaching and learning resources for various publishers and subject associations including the Victorian Commercial Teachers Association (VCTA). Annie is currently teaching at Camberwell Girls Grammar School and is actively involved in providing professional development to VCE Legal Studies teachers and student revision lectures.

Peter Farrar has taught VCE Legal Studies for over 25 years. He is passionate about learning and teaching and is highly skilled at developing a range of learning materials to meet the needs of a diverse range of students. During his career, he has authored over 20 books and also served in numerous senior leadership roles. Peter is actively involved with the VCTA, and has been a regular presenter at Comview since 1992. He currently teaches at Star of the Sea College.

Margaret Beazer has been involved with Legal Studies in Victoria for many years. She has been writing Legal Studies text books since 1990 and ran her own publishing business for many years. Prior to publishing and authoring, Margaret taught Legal Studies at Monash High School and Trinity Grammar School; worked in curriculum development for the then Board of Studies; and was the Legal Studies State Reviewer for over 20 years.

Josie Gray has 30 years' experience in the planning and delivery of both academic and vocational education and training programs. She has taught business and law-related subjects to both school-age and adult learners. Josie taught VCE Legal Studies for many years before working as an Assistant Principal in the Victorian government school sector for 10 years, and as an educator in the Vocational Education and Training sector delivering law-related units. She is currently employed in the Victorian public sector where she designs, delivers and provides advice on professional development programs in education.
Sample Pages