Oxford Insight Mathematics 8 AC for NSW Student book + obook assess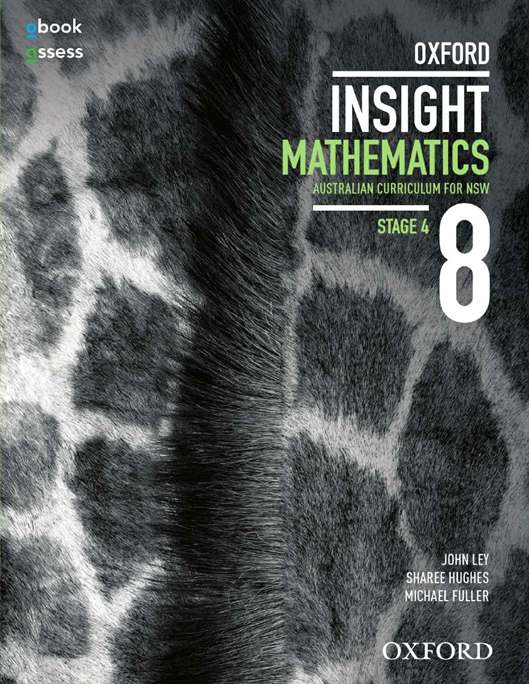 Oxford Insight Mathematics 8 AC for NSW Student book + obook assess
| | |
| --- | --- |
| ISBN: | 9780195577945 |
| Binding: | Paperback + obook |
| Published: | 6 Nov 2014 |
| Availability: | 448 |
| Series: | |
$79.95 AUD
$91.99 NZD
Add To Cart
Description
Oxford Insight Mathematics has been substantially revised to reflect the requirements of the Australian Curriculum: Mathematics in New South Wales.

Oxford Insight Mathematics supports all students to succeed. The principles underpinning the development and structure of the series are:
Peerless Mathematics content for student and educators
Clear and transparent identification of the desired understandings; content and instructional design mapped to deliver those understandings
Carefully considered introduction of concepts to optimise student understanding, retention and application
Inquiry focus to encourage students to discover patterns and concepts for themselves
Plenty of consolidation and review
Assessment

for, as

and

of

learning
The obook is a cloud-based web-book available anywhere, anytime, on any device, navigated by topic or by 'page view'. assess provides 24/7 inquiry-based online tutorials designed to support student comprehension of key mathematical concepts via eTutors, Guided Examples and Test Yourself functionality. assess allows teachers to manage their classes by assigning work, tracking progress and planning assessments and instruction accordingly.
Contents
1 Review of Year 7

2 Ratios and rates
Number & Algebra

3 Congruence
Measurement & Geometry

4 Number operations and index laws
Number & Algebra

5 Perimeter, area and capacity
Measurement & Geometry

Cumulative review chapters 2–5

6 Time
Measurement & Geometry

7 Percentages
Number & Algebra

8 Circles and cylinders
Measurement & Geometry

9 Data collection and analysis
Probability & Statistics

10 Pythagoras' theorem
Measurement & Geometry

Cumulative review chapters 6–10

11 Algebra
Number & Algebra

12 Probability and Venn diagrams
Probability & Statistics

13 Linear equations
Number & Algebra

14 Coordinate geometry and straight lines
Number & Algebra

15 Triangles and quadrilaterals
Measurement & Geometry

Cumulative review chapters 11–15
Authors
John Ley
John is a passionate and innovative mathematics educator. He is currently completing his PhD in mathematics education, while lecturing and tutoring at Australian Catholic University and the University of Western Sydney. John has held an array of teaching positions including Head of Mathematics, Assistant Principal and Acting Principal. An experienced senior marker for the HSC, John was a member of the 2012–2014 assessment committees, setting the HSC calculus course examinations. John is the lead author of the Oxford Insight Mathematics series for NSW.

Sharee Hughes
Sharee has been a teacher of Mathematics for 24 years specialising in the education of boys. She began teaching at Patrician Brothers Blacktown before leaving to start a family. Sharee is currently teaching at St Dominic's College Kingswood where she has been for over 10 years. In her role she specialises in junior school mathematics education.

Michael Fuller
Michael has been involved in Mathematics in NSW for many years. He held the position of Head of Mathematics at Killara High School in Sydney for 24 years. In his retirement, Michael is now a key author on the Oxford Insight Mathematics series for NSW.
Sample Pages