Amazing Science 9 Australian Curriculum Student Book + obook assess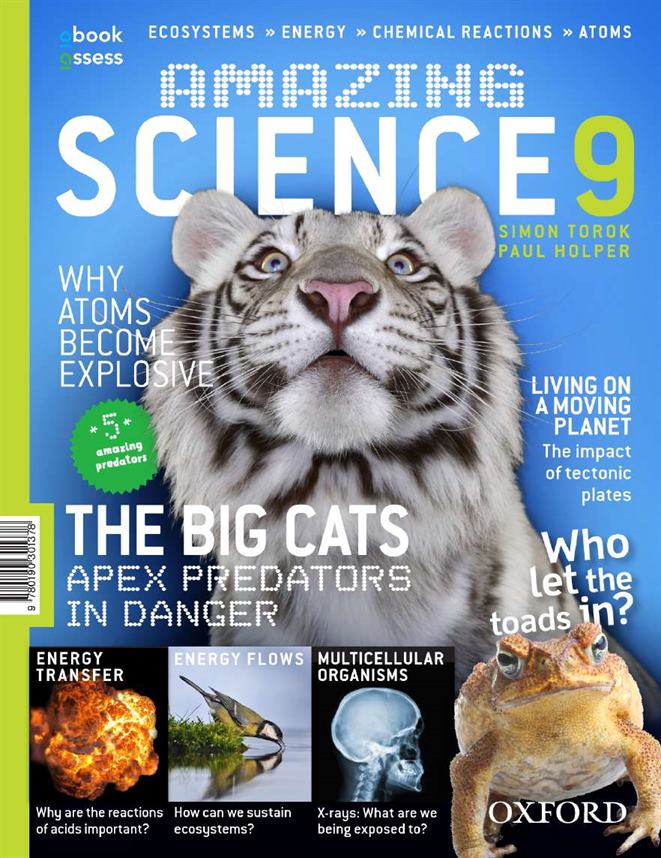 Amazing Science 9 Australian Curriculum Student Book + obook assess
| | |
| --- | --- |
| ISBN: | 9780190301378 |
| Binding: | Paperback + obook |
| Published: | 14 Dec 2015 |
| Availability: | 173 |
| Series: | |
$60.95 AUD
$68.99 NZD
Add To Cart
Description
A VISUAL APPROACH TO ENRICH UNDERSTANDING

Written and designed with the wider spectrum of students in mind, Amazing Science delivers a simple, highly engaging learning experience. Visually attractive in nature, Amazing Science introduces students to key scientific terms whilst relating them to their day-to-day lives.

Key features of the Student book + obook assess:
Magazine-style format, attractive to visual learners
One spread = one concept, succinctly linked to the curriculum
Supports the transition from Primary to Secondary learning
Written by experienced science educators and authors who understand the challenges of mixed-ability classrooms and are up-to-date with the latest research
Each chapter is made up of highly engaging spreads with content succinctly linked to the curriculum and questions to check understanding
Project-based to encourage students to conduct their own research projects
Content written to engage students with science and to spark curiosity
'Ask a scientist' feature boxes in every Student Book introduce students to young and dynamic Australian scientists from CSIRO, universities and research agencies. These features explain how current research is furthering scientific knowledge. They are supported by video interviews and worksheets.
Contents
Table of Contents

1 Multicellular Organisms
2 Dynamic Ecosystems
3 Atoms
4 Chemical Reactions
5 Planet Earth
6 Energy Transfer

Glossary
Authors
Simon Torok has worked in science education and communication for 20 years, holding positions as editor of children's science magazines and manager of climate change communication. He has a PhD in Earth Sciences from the University of Melbourne and a Graduate Diploma in Science Communication from the Australian National University. He has written and published more than 150 newspaper, magazine and scientific journal articles. With Paul Holper, he has co-authored 14 popular books on science and climate change, published by ABC Books and CSIRO Publishing.

Paul Holper is an experienced science educator and communicator, former secondary school teacher and VCE exam panel member. During 25 years at CSIRO, he held a number of senior positions, including managing the Australian Climate Change Science Program, the nation's largest such research activity. Prior to that he was Communication Manager for CSIRO Atmospheric Research. Paul now runs his own science and environment communication consulting business. He holds an honours degree in chemistry and qualifications in science communication and education. He has written 20 science books for children and for adults, including 14 with Simon Torok.