Oxford Psychology Units 1+2 Student book + obook assess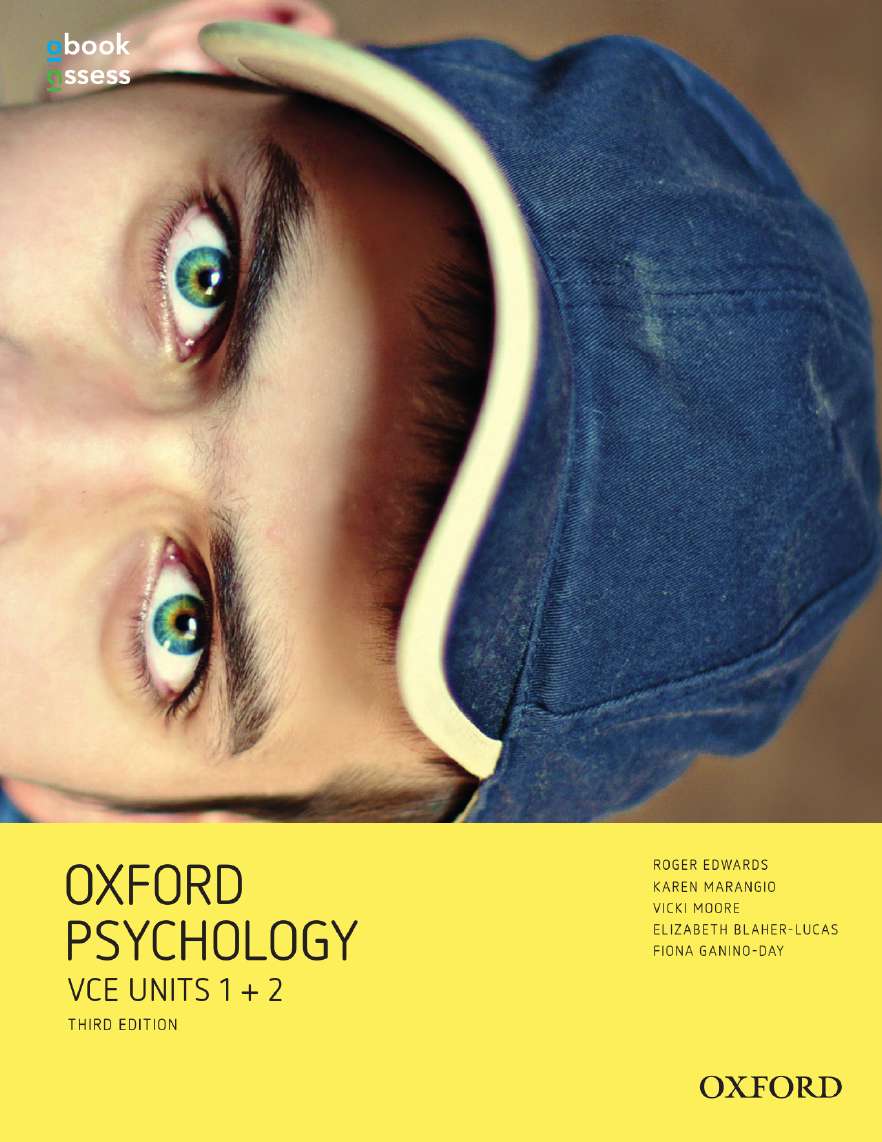 Oxford Psychology Units 1+2 Student book + obook assess
| | |
| --- | --- |
| ISBN: | 9780190303976 |
| Binding: | Paperback + obook |
| Published: | 27 Jan 2016 |
| Availability: | 672 |
| Series: | |
$94.95 AUD
$108.99 NZD
Add To Cart
Description
Oxford VCE Psychology Units 1 + 2 Third Edition has been fully revised to match the new VCE Psychology 2016/2017-2021 Study Design. The new edition includes the latest research in psychology and comes with obook assess - your complete online teaching and learning solution.
Key features:
New and enhanced content for the new course
New and enhanced digital content; study, revision and assessment
Over 600 auto-marking review questions; over 200 exam preparation and practice questions
Authoritative, accurate and up-to-date content and research
Chapter overviews clearly explain what each chapter covers and what students need to understand
'Investigate boxes' help enrich and extend students' knowledge
Assessment activities at the end of each Area of Study
Student Workbook updated to help students develop key skills and consolidate learning
Same peerless author team: Roger Edwards, Karen Marangio, Vicki Moore, Elizabeth Blaher-Lucas, Fiona Ganino-Day.
Contents
Introduction
Chapter 1 Research toolkit
Chapter 2 Introduction to psychology
Unit 1: How are behaviour and mental processes shaped?
Area of Study 1: How does the brain function?
Chapter 3 Understanding the role of the brain: approaches through time
Chapter 4 Central nervous system, peripheral nervous system & neurons: structure & function
Chapter 5 Hindbrain, midbrain & forebrain: structure, function & the role of the cerebral cortex
Chapter 6 Brain development from infancy through adolescence
Chapter 7 Malfunctioning brains: the impact of injury & understanding neurological disorders through animal studies
Area of Study 2: What influences psychological development?
Chapter 8 Hereditary & environmental interactions: twin & adoption studies
Chapter 9 Critical & sensitive periods in development
Chapter 10 Emotional, cognitive & psychosocial development across the lifespan
Chapter 11 The conceptualisation of normality & mental health
Chapter 12 Mental health as a product of internal & external factors
Chapter 13 Categories of psychological disorder
Area of Study 3: Student-directed research investigation
Unit 2: How do external factors influence behaviour & mental processes?
Area of Study 1: What influences a person's perception of the world?
Chapter 14 Sensation & perception: taste & vision
Chapter 15 The influence of biological, psychological & social factors on perception: taste & vision
Chapter 16 Fallibility & distortions of perception: taste & vision
Area of Study 2: How are people influenced to behave in particular ways?
Chapter 17 Social cognition: attitudes & stereotyping
Chapter 18 Group & individual behaviour: Asch, Milgram and Zimbardo
Chapter 19 Factors of helping & bullying behaviour
Chapter 20 The influence of the media on individual & group behaviour
Area of Study 3: Student-directed practical investigation
Authors
The Oxford Psychology writing team combines the practical experience of classroom teachers with the authority of Victoria's leading psychology educators. Each of the team shares a commitment to the discipline and a genuine desire for students to be successful.

Series Editor Roger Edwards has been involved with the VCE Psychology course since its inception. He taught VCE Psychology for fifteen years and then moved into teaching at Monash University in 2008. Roger is a member of the Australian Psychological Society and a psychologist in private practice. He is currently Supervising Psychologist at the Krongold Clinic, Monash University, Clayton.

Elizabeth Blaher-Lucas has taught VCE Psychology for the past 14 years in both state and independent schools. She currently teaches at St Michael's Grammar and recently completed further postgraduate studies in psychology.

Karen Marangio currently works in the Faculty of Education at Monash University, lecturing in Psychology and Science Education Methods and previously taught for almost 15 years at University of Melbourne. Her research interests include the progressions of student learning of psychology and developing the pedagogy of pre-service teachers. Karen has extensive experience of teaching psychology in secondary schools in a range of curricula across different year levels.

Vicki Moore taught senior humanities and psychology for 20 years at St Catherine's School. She has also been Psychology Methods Lecturer at Monash University, is a Member of the Australian Psychological Society and is currently a psychologist in private practice.

Fiona Ganino-Day has taught psychology in both state and independent schools. Her breadth of teaching experience has been exceptionally valuable in creating the student workbooks.
Sample Pages