New Century Physics for Queensland Units 1&2 3E Teacher obook assess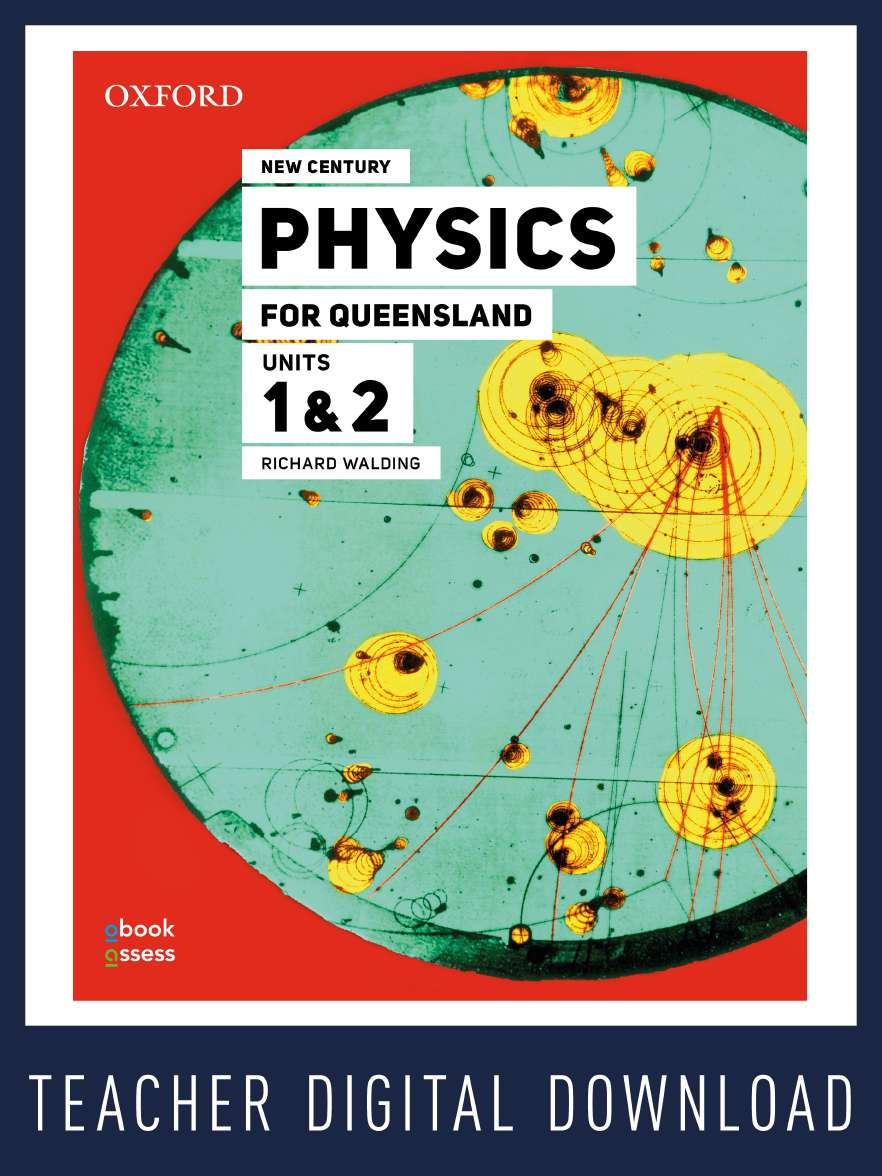 New Century Physics for Queensland Units 1&2 3E Teacher obook assess
| | |
| --- | --- |
| ISBN: | 9780190310202 |
| Binding: | obook code (digital) |
| Published: | 15 Jan 2019 |
| Availability: | Available |
| Series: | |
$299.95 AUD
$299.95 NZD
Add To Cart
Add To Cart
Contents
CHAPTER 0: Physics toolkit

UNIT 1 THERMAL, NUCLEAR AND ELECTRICAL PHYSICS
CHAPTER 1: Heat and temperature
CHAPTER 2: Specific heat capacity and calorimetry
CHAPTER 3: Energy in systems
CHAPTER 4: Nuclear model and stability
CHAPTER 5: Radioactive decay and half life
CHAPTER 6: Nuclear energy
CHAPTER 7: Current, potential difference and energy flow
CHAPTER 8: Resistance
CHAPTER 9: Circuit analysis and design

UNIT 2 LINEAR MOTION AND WAVES
CHAPTER 10: Linear motion
CHAPTER 11: Forces
CHAPTER 12: Momentum
CHAPTER 13: Work and energy
CHAPTER 14: Waves
CHAPTER 15: Sound
CHAPTER 16: Light
CHAPTER 17: Practical
Authors
Dr Richard Walding
Richard began his career as a scientist and has extensive experience teaching both Physics and Chemistry, including two decades as Head of Science. Richard is also a research fellow at Griffith University and for the past decade has been researching the history and applications of electromagnetic induction particularly as related to harbour defence. Richard was elected Fellow of both the Australian Institute of Physics and the Royal Australian Chemical Institute for his lifetime contribution to these disciplines. He was also awarded a Peter Doherty Award for work in STEM education.
Teacher Resources
Teacher access to obook assess is available for FREE to booklisting schools or schools that purchase a class set of 25 or more copies. Contact your Oxford Education Consultant to discuss your requirements and request a demonstration.

obook assess provides teachers with access to:
detailed course planners, teaching programs and lesson plans
answers to all questions and assessment tasks in the Student book
a range of lab tech notes and risk assessment templates to accompany all supplied mandatory and suggested practicals
printable (and editable) data tests with answers
printable (and editable) practice exam with answers.
Teachers also have access to the following student resources via obook assess:
a complete digital version of the Student book with added note-taking and bookmarking functionality
free Oxford Concise Dictionary look-up feature
targeted instructional videos by one of Queensland's most experienced Physics teachers designed to help students prepare for assessment tasks and exams
a set of summary notes for each chapter that form a springboard for student revision
additional case studies and opportunities for extension
a range of interactive, auto-correcting, multiple-choice assess quiz questions.