Chemistry for Queensland Units 1&2 Teacher obook assess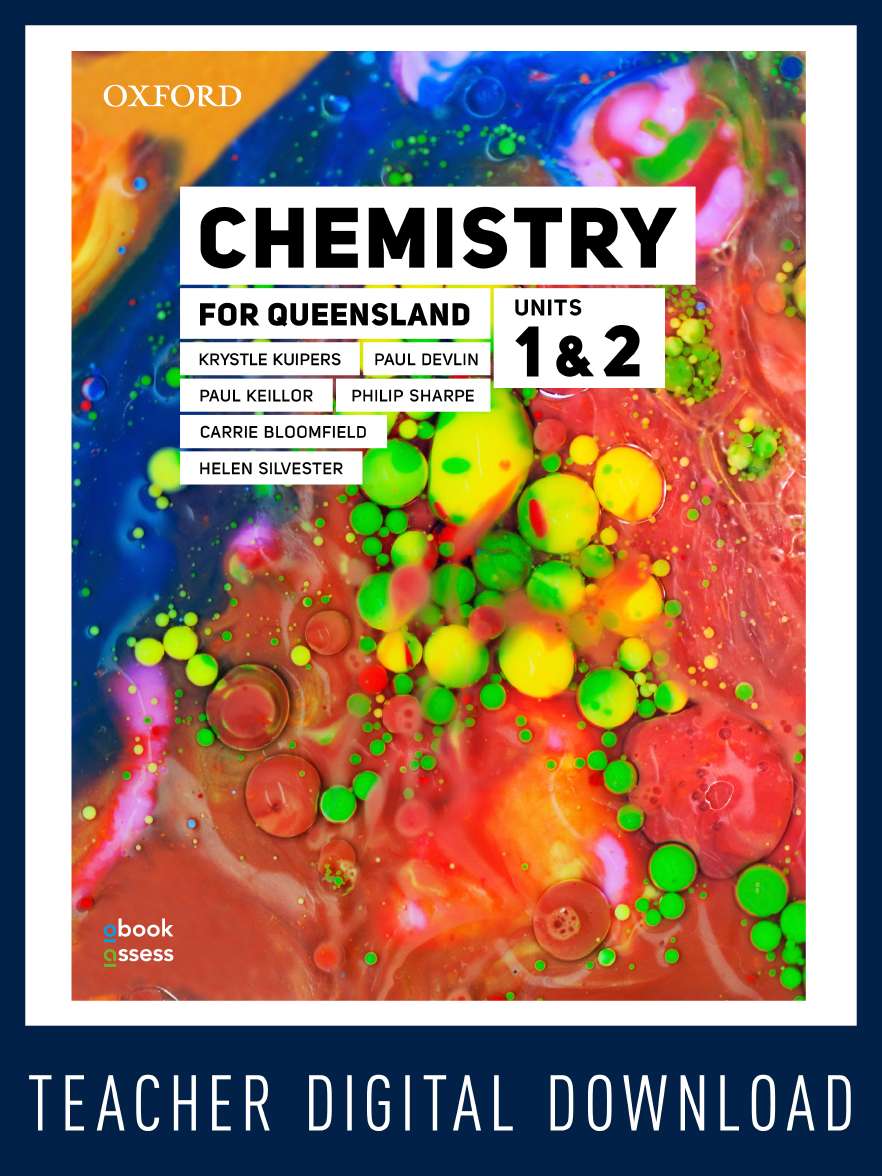 Chemistry for Queensland Units 1&2 Teacher obook assess
| | |
| --- | --- |
| ISBN: | 9780190313432 |
| Binding: | obook code (digital) |
| Published: | 15 Jan 2019 |
| Availability: | Available |
| Series: | |
$299.00 AUD
$343.99 NZD
Add To Cart
Description
This ISBN provides you with access to the obook assess digital Teacher dashboard supporting the Chemistry for Queensland Units 1 & 2 Student book + obook assess (ISBN: 9780190313395).

Teacher obook assess is available FREE to booklisting schools or schools that purchase a class set of 25 or more copies. Contact your Oxford Education Consultant via www.oup.com.au/contact to discuss your requirements and request a demonstration.

obook assess is a cloud-based obook that teachers and students can use anywhere, anytime on any device.

Teacher access to obook assess is available for FREE to booklisting schools or schools that purchase a class set of 25 or more copies. Contact your Oxford Education Consultant to discuss your requirements and request a demonstration.

obook assess provides teachers with access to:
detailed course planners and teaching programs
answers to all questions and assessment tasks in the Student book
a range of lab tech notes and risk assessment templates to accompany all supplied mandatory and suggested practicals
printable (and editable) data tests with answers
printable (and editable) practice exam with answers.
Teachers also have access to the following student resources via obook assess:
a complete digital version of the Student book with added note-taking and bookmarking functionality
free Oxford Concise Dictionary look-up feature
targeted instructional videos designed to help students develop manipulative skills and prepare for assessment tasks and exams
a set of summary notes for each chapter that form a springboard for student revision
additional case studies and opportunities for extension
a range of interactive, auto-correcting, multiple-choice assess quiz questions.
Contents
CHAPTER 1: Chemistry toolkit

UNIT 1
CHAPTER 2: Atom structure and the Periodic Table
CHAPTER 3: Introduction to bonding
CHAPTER 4: Isotopes
CHAPTER 5: Analytical techniques
CHAPTER 6: Compounds and mixtures
CHAPTER 7: Bonding and properties
CHAPTER 8: Chemical reactions
CHAPTER 9: Measurement uncertainty and error
CHAPTER 10: Fuels
CHAPTER 11: Mole concept and law of conservation of mass
Unit 1 Practice exam questions

UNIT 2
CHAPTER 12: Intermolecular forces
CHAPTER 13: Chromatography techniques
CHAPTER 14: Gases
CHAPTER 15: Aqueous solutions and molarity
CHAPTER 16: Solubility and Identifying ions in solution
CHAPTER 17: pH
CHAPTER 18: Reaction of acids
CHAPTER 19: Rates of chemical reactions
Unit 2 Practice exam questions

CHAPTER 20: Practical manual

Note: Contents subject to change prior to publication
Authors
Krystle Kuipers
Krystle is an experienced Chemistry teacher who is currently Head of Science at Varsity College. She is a QCAA panel member and is involved in monitoring and verifying assessment and marking for schools in her district. Krystle is also an experienced chemist with a broad range of academic experience.

Paul Keillor
Paul is an experienced teacher and chemist who is currently Head of Science at Ipswich Girls' Grammar. Paul has been involved in reviewing the new senior syllabus as a QCAA panel member for his district.

Philip Sharpe
Philip is a lecturer in the School of Chemistry and Molecular Biosciences at The University of Queensland. He was part of the team that received a 2017 Australian Award for University Teaching and has also received individual recognition for his teaching. He is a member of the Queensland Royal Australian Chemical Institute (RACI) Chemical Education group.

Carrie Bloomfield
Carrie is an expert Chemistry teacher and Head of Science. She has previously been involved as a Chemistry exam assessor interstate. Carrie has further used her chemistry qualifications in the mining, aquaculture and climate change sectors.

Helen Silvester
Helen has been an educator for over 20 years and has held Head of Science positions in a number of schools. She was shortlisted for the 2014 Prime Minister's Secondary Science Prize for Excellence in Science Teaching in Secondary Schools. Helen is also author of the award-winning Oxford Science series.

Series reviewer: Paul Devlin
Paul has a wealth of experience teaching senior Chemistry. He is actively involved as district panel chair for the new QCAA senior syllabus.