Oxford Insight Science 7 AC for NSW Student book + obook assess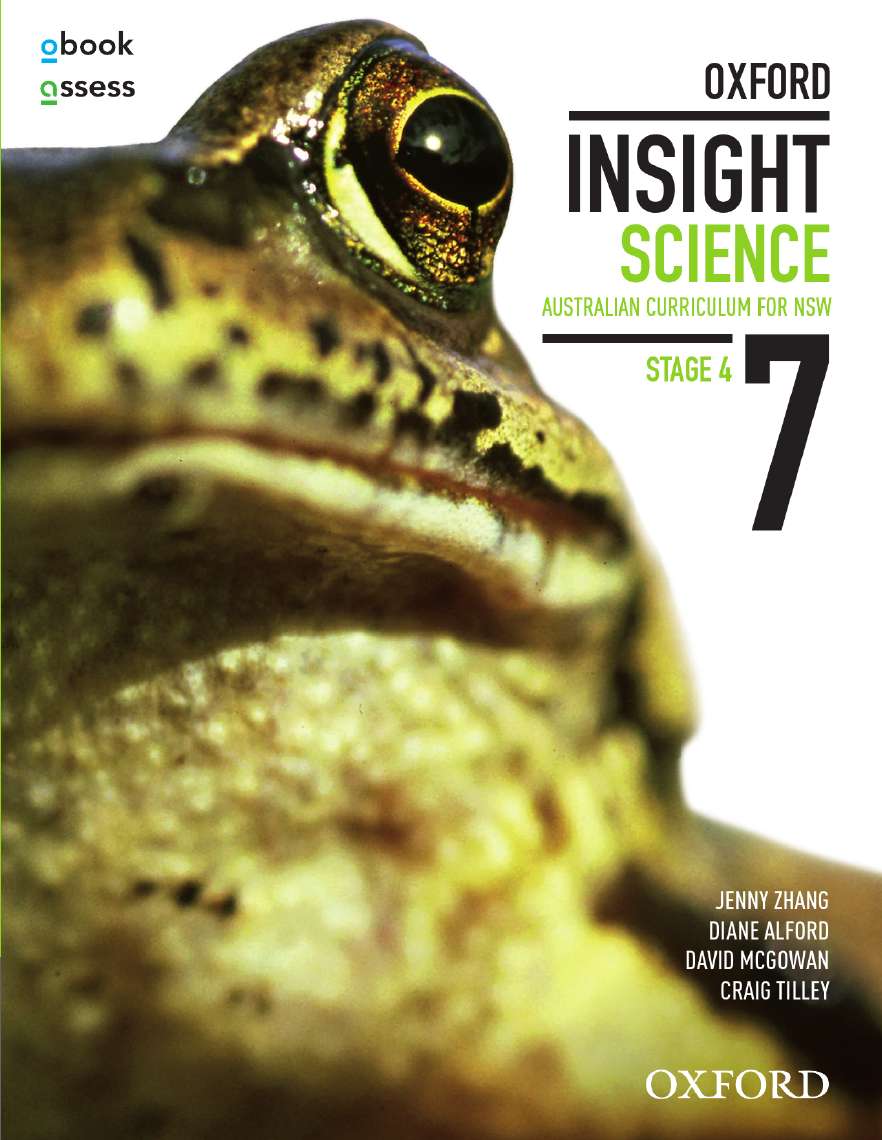 Oxford Insight Science 7 AC for NSW Student book + obook assess
| | |
| --- | --- |
| ISBN: | 9780195577549 |
| Binding: | Paperback + obook |
| Published: | 25 Sep 2013 |
| Availability: | 784 |
| Series: | |
$73.95 AUD
$84.99 NZD
Add To Cart
Description
Written by experienced NSW teachers, the student book is structured around key inquiry questions, and chapter content is organised according to syllabus outcomes.

Student understanding is constantly checked as they progress through the book by:
Question blocks – constantly review students' understanding of key concepts throughout each chapter
Checkpoints – offer a range of question types to explore depth of understanding
Chapter Reviews – review understanding, encourage students to reflect on what has been learnt and offer research projects
Specially-commissioned step-by-step photography in the student book and video lab experiment demonstrations in the obook were all carried out by an experienced science teacher, who has more than 20 years' experience in the Science classroom.

Risk assessments for all experiments written by a NSW lab technician, are also included.
What is obook assess?
The obook is a cloud-based web-book available anywhere, anytime, on any device, navigated by topic or by 'page view'. As well as containing the student text and study tools, this obook offers a Virtual Laboratory containing specially-commissioned Australian-made lab experiment videos, drag & drops and other interactives.
assess is an indispensable online assessment tool, explicitly mapped to the NSW Syllabus for the Australian Curriculum that drives student progress through tailored instruction.
Contents
Correlation to the syllabus
What is Insight Science?
Answering science questions
1. Curiosity, wonder and questioning
1.1 Questioning in science
1.2 Exploring science safely
1.3 Science skills and accuracy
2. Classification
2.1 Classifying living things
2.2 Using keys as tools for classification
2.3 Classification today
3. Cells
3.1 Looking at cells
3.2 Cell structure and function
3.3 Different types of cells
4. The nature of matter
4.1 States of matter
4.2 Physical properties of matter
4.3 Heating matter
5. Mixtures
5.1 Types of mixtures
5.2 Separating mixtures
5.3 Separating solutions
6. The Earth, Sun and Moon
6.1 Interactions between the Earth, the sun and the moon
6.2 Understanding the solar system
6.3 Learning about space
7. The Earth's resources
7.1 Types of resources
7.2 Managing resources
7.3 Water as a resource
8. Forces
8.1 Types of forces
8.2 Gravity as a force
8.3 Magnetism and electrostatic forces
Authors
Jenny Zhang is a science teacher at St George Girls High School. She completed a degree in Advanced Science majoring in Microbiology and Genetics. She went on to complete a degree in Science Education. Jenny has always had a keen interest in teaching and her passion for science communication has allowed her educate a great number of students in many fields of science. She is currently furthering her education by completing a M.Sc in Palaeobiology. Jenny's non academic interests include travelling, taekwondo, and reading.

Diane Alford is a retired Head Teacher of Science. She has taught in a wide range of rural and metropolitan high schools in NSW, was Education Officer at the Royal Botanic Gardens, Sydney and Science Curriculum Consultant in Ryde and Granville Districts as well as Metropolitan West Region over a 35-year period.

David McGowan is the Assistant Head of the Science Department at Knox Grammar School in Sydney. David completed his Bachelor of Science and Master of Science degrees at Macquarie University, and completed his Diploma of Education at Sydney Teachers College. David has worked in both NSW state and private school systems over a 27 year period. He has experience as Computer co-ordinator/Network manager and Head of Computing Studies, using his skills to integrate ICT effectively into science teaching practices.

Craig Tilley has taught general Science and senior Physics at Shore School, NSW and at Melbourne Grammar, Mentone Grammar and Mentone Girls Grammar Schools in VIC. He has been a VCAA exam marker for many years and has authored numerous Science and Physics textbooks.
Sample Pages