Oxford Insight Science 10 AC for NSW Student book + obook assess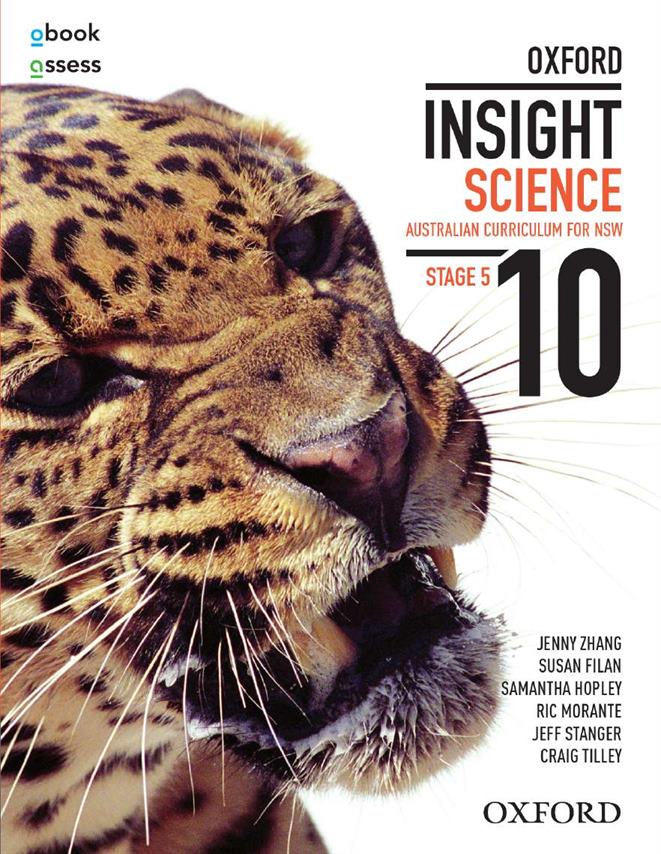 Oxford Insight Science 10 AC for NSW Student book + obook assess
| | |
| --- | --- |
| ISBN: | 9780195577570 |
| Binding: | Paperback + obook |
| Published: | 23 Jan 2015 |
| Availability: | 633 |
| Series: | |
$75.95 AUD
$87.99 NZD
Add To Cart
Description
Written by experienced NSW teachers, the student book is structured around key inquiry questions, and chapter content is organised according to syllabus outcomes.

Student understanding is constantly checked as they progress through the book by:
Question blocks – constantly review students' understanding of key concepts throughout each chapter
Checkpoints – offer a range of question types to explore depth of understanding
Chapter Reviews – review understanding, encourage students to reflect on what has been learnt and offer research projects
Specially-commissioned step-by-step photography in the student book and video lab experiment demonstrations in the obook were all carried out by an experienced science teacher, who has more than 20 years' experience in the Science classroom.

Risk assessments for all experiments written by a NSW lab technician, are also included.
What is obook assess?
The obook is a cloud-based web-book available anywhere, anytime, on any device, navigated by topic or by 'page view'. As well as containing the student text and study tools, this obook offers a Virtual Laboratory containing specially-commissioned Australian-made lab experiment videos, drag & drops and other interactives.
assess is an indispensable online assessment tool, explicitly mapped to the NSW Syllabus for the Australian Curriculum that drives student progress through tailored instruction.
Contents
1. Genetics and biotechnology
2. Evolution
3. Chemical reactions
4. Using chemistry
5. Objects in motion
6. The universe
7. Global systems
8. Independent research project
Authors
Jenny Zhang is a science teacher at St George Girls High School. She completed a degree in Advanced Science majoring in Microbiology and Genetics. She went on to complete a degree in Science Education. Jenny has always had a keen interest in teaching and her passion for science communication has allowed her educate a great number of students in many fields of science. She is currently furthering her education by completing a M.Sc in Palaeobiology. Jenny's non academic interests include travelling, taekwondo, and reading.

Susan Filan teaches secondary Science and Earth & Environmental Science at Abbotsleigh in Sydney. She received degrees from Mount Holyoke College and Harvard University before working in medical research for many years. Susan has enjoyed teaching Science in universities and high schools in the USA and Australia.

Ric Morante is nationally recognised as an expert science communicator and program developer, and has contributed to the 'Inspiring Australia' Expert Working Group on Science Education and currently teaches at Hurlstone Agricultural High School.
His past roles include Senior Curriculum Support Officer Science K-12 and Senior Curriculum Adviser Science 7-12 for NSW DEC, Chief Learning Design Officer for the Centre for Learning Innovation, lecturer in postgraduate certificate in Physics (Australian Catholic University), lecturer in Diploma of Fire Technology (Petersham TAFE).

Jeff Stanger is the Head of Science at St George Girls High School and an Astronomy Educator at Sydney Observatory. He is involved in many science education projects and organisations. These include volunteering with the Science Teachers Association of NSW and as an Honorary Associate of the SUPER group in the School of Physics at the University of Sydney.

Sam Hopley is an experienced science teacher and author with a passion for Biology and Environmental Science, which she studied at the University of Melbourne. She has taught at a variety of different schools and with students with diverse ability levels.
Sample Pages