NSW Stage 6 Ancient & Modern History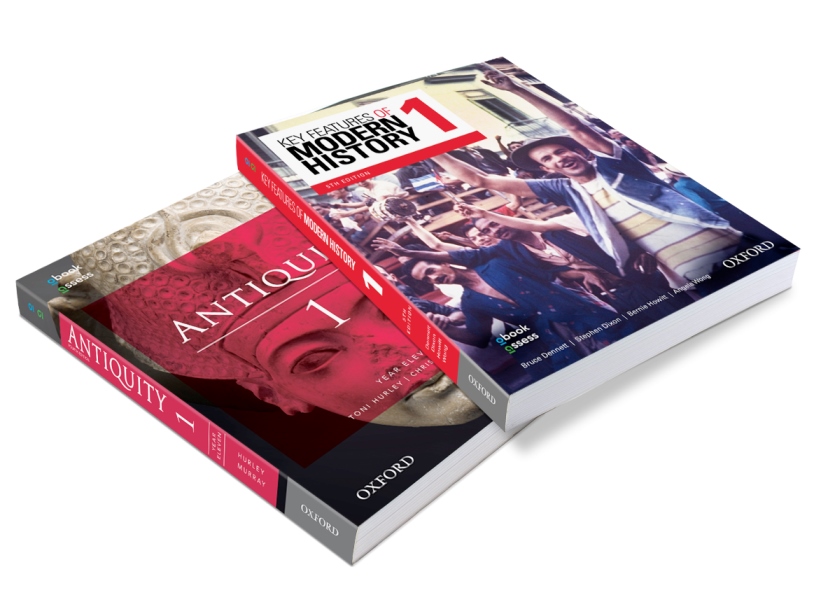 New South Wales Ancient and Modern History
Key Features of Modern History
Antiquity | Stage 6

Are you ready for the 2018 Stage 6 syllabus?
OXFORD PROFESSIONAL DEVELOPMENT
Oxford Stage 6 History Workshops
15, 16 & 30 August 2017
Chatswood, Bellevue Hill & Bankstown
Join Oxford's team of expert authors as they outline how you can effectively implement the new Stage 6 syllabus in your classroom.
Download your free course planners

Confidently plan for the forthcoming updates to the structure and content of the Ancient and Modern History Stage 6 syllabuses.
New South Wales' most trusted Ancient and Modern History series have been updated for the 2018 Stage 6 syllabuses. Antiquity 1 and Key Features of Modern History 1 each offer unparalleled depth and coverage in easy-to-read, easy-to-understand and easy-to-master formats.
Key enhancements
All content has been explicitly aligned to the new 2018 Ancient and Modern History Stage 6 syllabuses
Trusted, in-depth and appropriately levelled content has been developed by expert teachers
A new, simplified structure organises content into manageable spreads and topics
Unambiguous language is used throughout with visuals to support learning
obook assess provides comprehensive student and teacher digital support, including answers to every question in the book, assessment and exam preparation support, videos and more
A pathway to success for every student
New: 'Focus questions', 'Key concepts and skills', and 'Learning goals' are clearly stated at the beginning of each chapter to guide teachers and students through the content
New: 'Check your learning' questions for each topic allow students to review and expand on what they have learned
New: 'Understanding and using the sources' questions throughout each chapter enhance student understanding of how to use and critically analyse historical sources
New: A 'Profile' for each chapter allows for more in-depth learning about a historically significant person, event or phenomenon
New: Bolstered by a digital platform, teachers will be equipped with an array of resources to effectively deliver the course, and students will be able to interact with content using a variety of digital tools
Available titles
Sample chapters
PART B: INVESTIGATING ANCIENT HISTORY – CASE STUDIES
Chapter 8: Tutankhamun's tomb
Chapter 9: Thera
Chapter 10: Troy
Chapter 11: The Celts
Chapter 12: Ancient Australia: Lake Mungo
Chapter 13: Ashoka
Chapter 14: Persepolis
Chapter 15: Palmyra and the Silk Road

PART C: FEATURES OF ANCIENT SOCIETIES
Chapter 16: Women in ancient Greece and ancient Rome
Chapter 17: Death and funerary customs: Old Kingdom Egypt
Chapter 18: Weapons and warfare: Assyria

PART A: INVESTIGATING MODERN HISTORY – THE NATURE OF MODERN HISTORY
Chapter 1: The investigation of historic sites and sources: The trenches of World War 1 and the archaeology of Fromelles
Chapter 2: The contestability of the past: Pearl Harbor
Chapter 3: The construction of modern histories: the Holocaust
Chapter 4: History and memory: autobiography
Chapter 5: The representation and commemoration of the past: film, television and history
Chapter 6: Historical investigation

PART A: INVESTIGATING MODERN HISTORY – CASE STUDIES
Chapter 7: Terrorism
Chapter 8: The American Civil War View
Chapter 9: The decline and fall of the Romanov dynasty
Chapter 10: The Cuban Revolution
Chapter 11: The Boxer Rebellion in China
Chapter 12: The origins of the Arab–Israeli conflict

PART C: THE SHAPING OF THE MODERN WORLD
Chapter 13: World War I
Chapter 14: The French Revolution
Chapter 15: The age of imperialism