Oxford Maths
Years 7–10
Coming soon for the Victorian Curriculum
Access experts' insights on how to address the gap in secondary Maths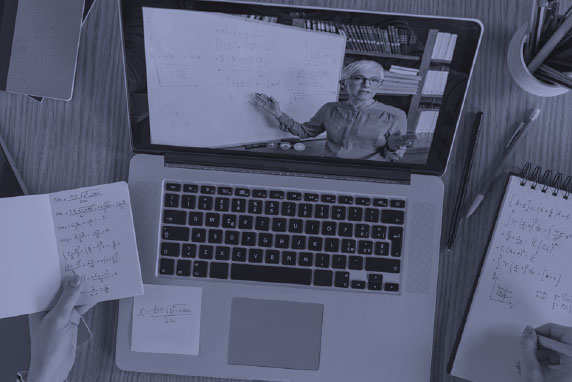 Diagnose and address gaps in students' knowledge
Oxford Maths 7–10 for the Victorian Curriculum utilises an innovative suite of print and digital resources to guide students on a focused mathematics journey.

Each chapter opens with a diagnostic test to help teachers identify and address gaps in students' knowledge, then targets key learning points by recommending interactive skillsheets, before diving into rich textbook content. Understanding is again tested midway through each chapter, and again at the chapter conclusion, to ensure that students' remain on-track and can consolidate their learning.

Oxford Maths 7–10 features an innovative reporting system that makes it easy for you to identify misconceptions and deliver differentiated, personalised mathematics learning experiences, build students' confidence, and save time lesson planning.
Deliver differentiated learning
Diagnostic tests help teachers to identify misconceptions and provide students with interactive skillsheets to address gaps in knowledge.


Provide inter-year level access across Years 7–10
Oxford Maths 7–10 empowers teachers to support all students with easy access to review and extension material across the entire series.


Save time on tracking and reporting
Innovatative new digital functionality generates instant, meaningful data for teachers, providing valuable insight into student progress.


Identify gaps and keep students on-track with three stages of testing
Each chapter begins with a diagnostic pre-test to assess Students' ability level for each prerequisite skill, reporting at three levels. Pre-tests locate gaps in understanding and identify common misconceptions, feature a range of question types, and are auto-marked to provide instant feedback.

Mid-chapter tests and end-of-chapter tests keep students on-track as they progress through each topic, identifying and reporting progress against key skills.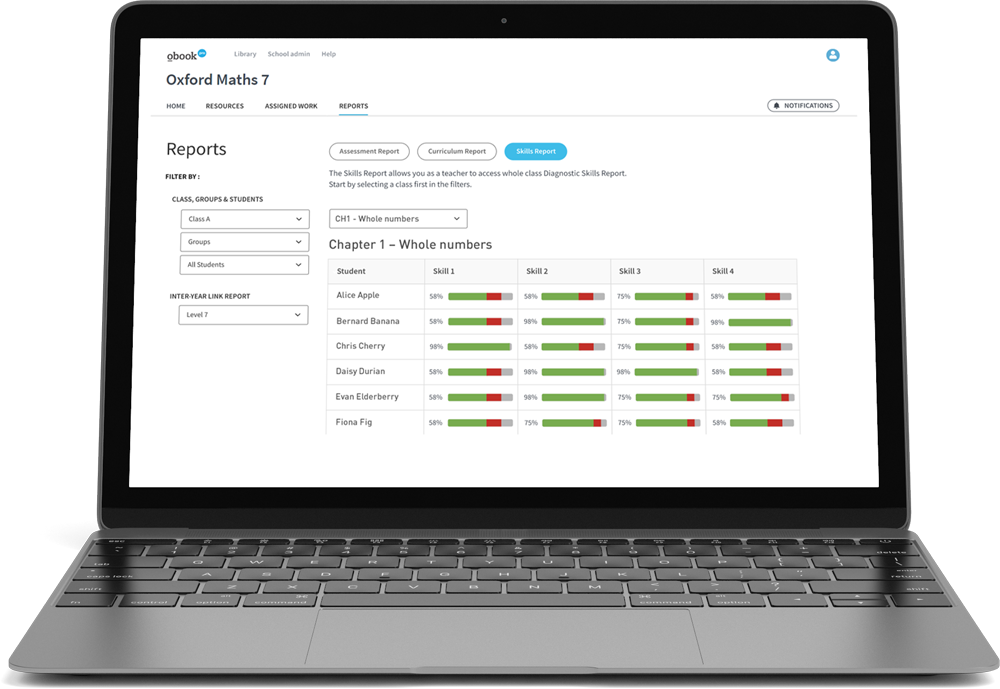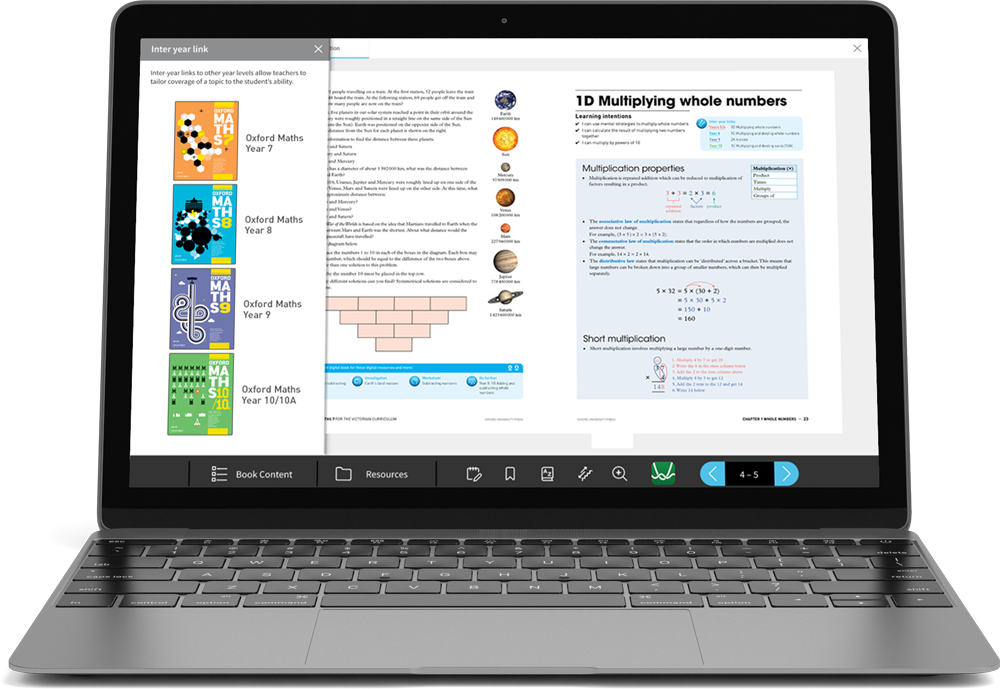 Deliver differentiated lessons across Years 7–10
Oxford Maths 7–10 provides students and teachers with inter-year links, delivering content and linking concepts across the entire series. Inter-year level access enables students of all abilities to access both review and extension material.
Engage students with captivating Student Book content
Oxford Maths 7–10 Student Books feature a carefully sequenced flow of mathematical concepts to optimise student understanding of key concepts. Key Student Book features include:
New theory backed by the latest pedagogical research
Key concepts explained using simple language to aid student understanding
Learning intentions for each section are provided in clear English
Precise diagrams to help bring the theory to life
Helpful hints provide additional strategies for tackling problems
Printable investigations prompt students to apply mathematical concepts in the context of real-world scenarios
Checkpoint questions for each topic allow students to review what they have learned
Chapter summaries condense theory into an easily accessible format
Semester reviews consolidate understanding across the course.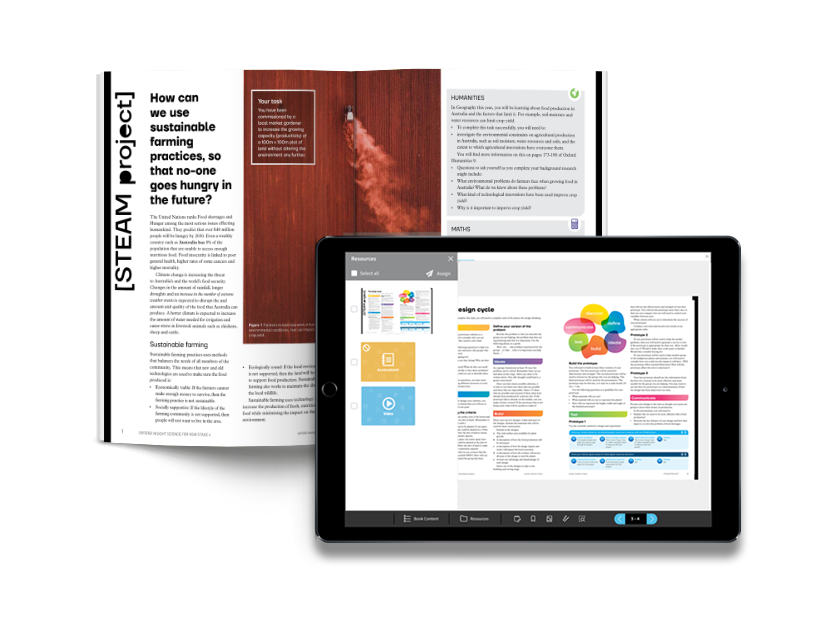 Take the hard work out of STEAM
In an Australian first, the Victorian editions of Oxford Maths 7–10, Oxford Science 7–10 and Oxford Humanities 7–10 each feature fully scaffolded, curriculum-aligned STEAM projects.

Each cross-curricular project covers Science, Humanities and Maths curriculum, and is accompanied by a comprehensive suite of teacher resources, including videos, teacher notes, implementation advice and assessment.

These common STEAM projects encourage students to work collaboratively, make connections between learning areas, and use design thinking to solve real-world problems.
Experience enhanced digital support
Oxford Maths 7–10 print resources are supported by Oxford's new obook pro digital format for teachers and students.

An innovative upgrade to existing obook capabilities, obook pro features market-leading interactive resources and enhanced assessment, tracking and reporting functionality, all hosted on the revamped Oxford Digital platform.

The upgraded Oxford Digital platform features:
enhanced eReader functionality
integrated assessment features with a wide variety of question types
tracking and reporting functionality that makes it easy to monitor student progress and achievemen against curriculum content descriptions
Clear learning pathways for students.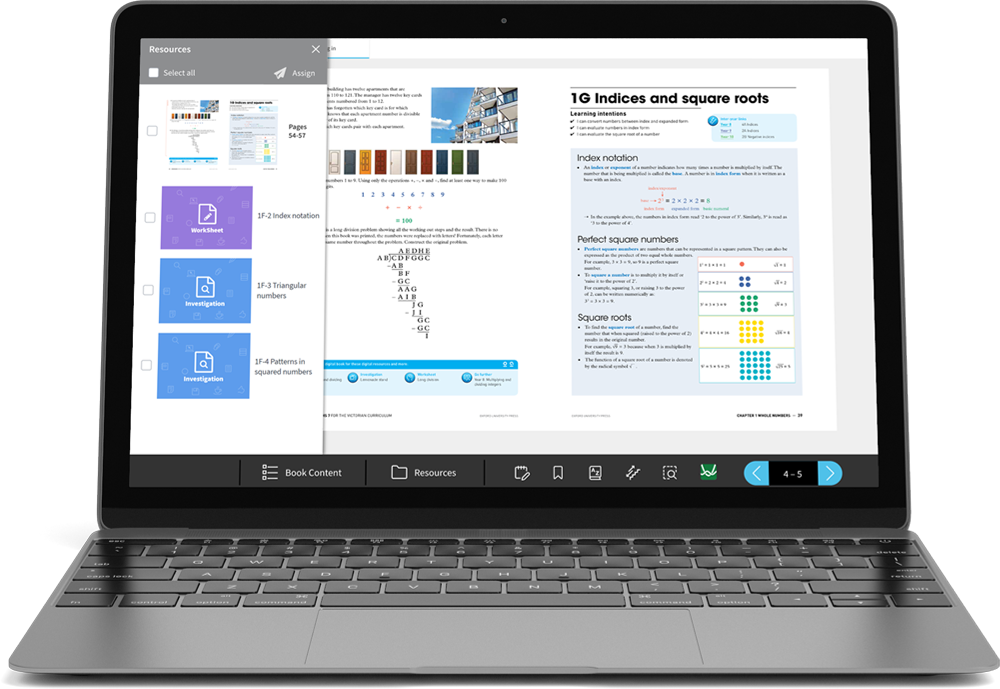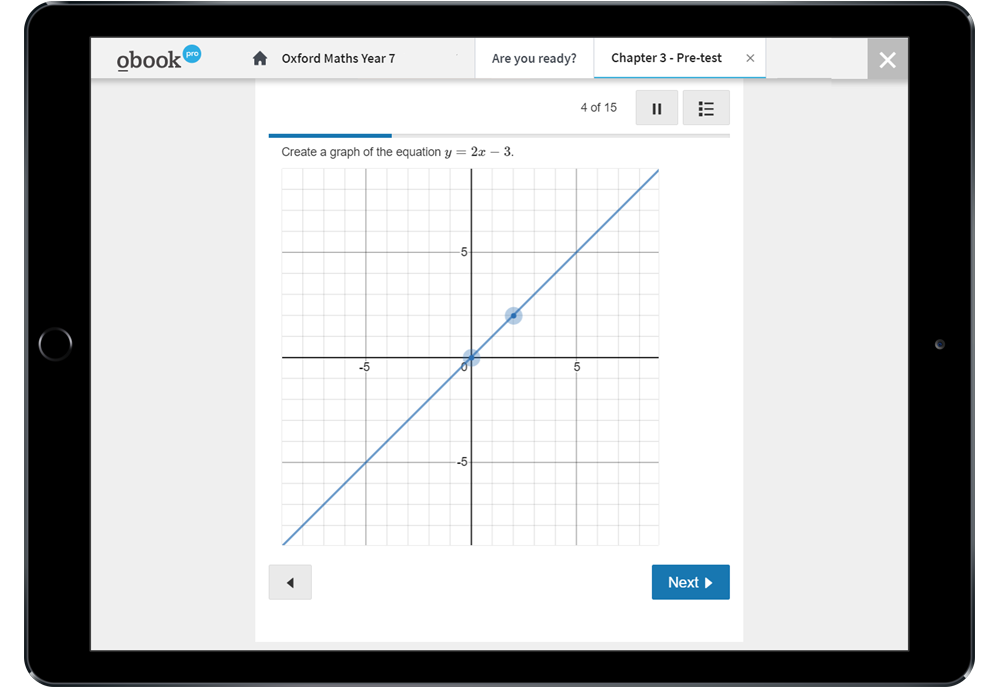 Digital resources for students
Each Student obook pro offers:
a complete digital version of the Student Book with note-taking and bookmarking functionality
integrated Desmos functionality
innovative Quizlet content including real-time online quizzes
targeted instructional videos
three stages of automatically-marked tests for each chapter (pre-, mid- and end-of-chapter)
Learning pathway reports
Interactive skillsheets
a history of all assessment results to track progress
weblinks to more helpful resources.
Focus on teaching - administration is taken care of!
Free teacher resources* | Free account set-up
With Teacher obook pro, teachers can set up classes, assign work, monitor student progress and graph results. In addition to the student resources, each Teacher obook pro offers:
innovative assessment reporting functionality.
worked solutions for every Student Book question
chapter tests for every chapter in the Student Book (excluding Computational Thinking)
Curriculum reports that provide an overview of student understanding of key knowledge areas
detailed course planners, teaching programs and lesson plans
answers to all questions and assessment tasks
reports tracking student progress and success against Study Design key knowledge
* where the Student Book is added to the school booklist or a class set of more than 25 copies is purchased.
*where the Student Book is added to the school booklist or a class set of more than 25 copies is purchased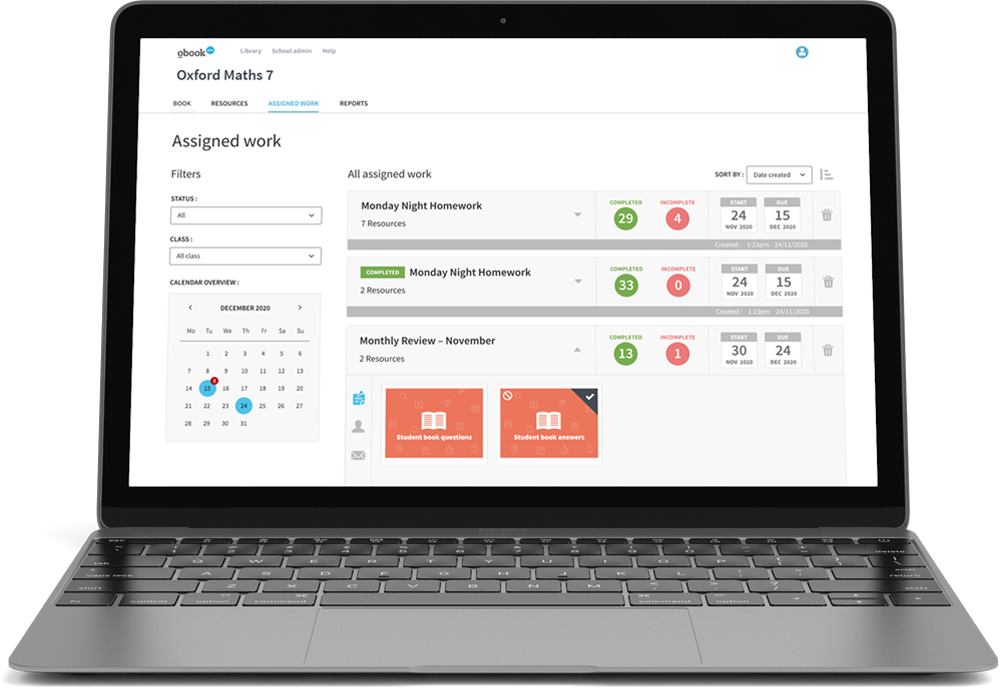 Learning Pathway reports personalise student skill development
Upon completion of a pre-test, students recieve a Learning Pathway Report grading their approximate competency level against the chapter's prerequisite skills.

The Learning Pathway Report recommends Interactive Skillsheets to address gaps in knowledge, provides a personalised plan for completing the exercises in the chapter, and recommends other digital resources to support progress.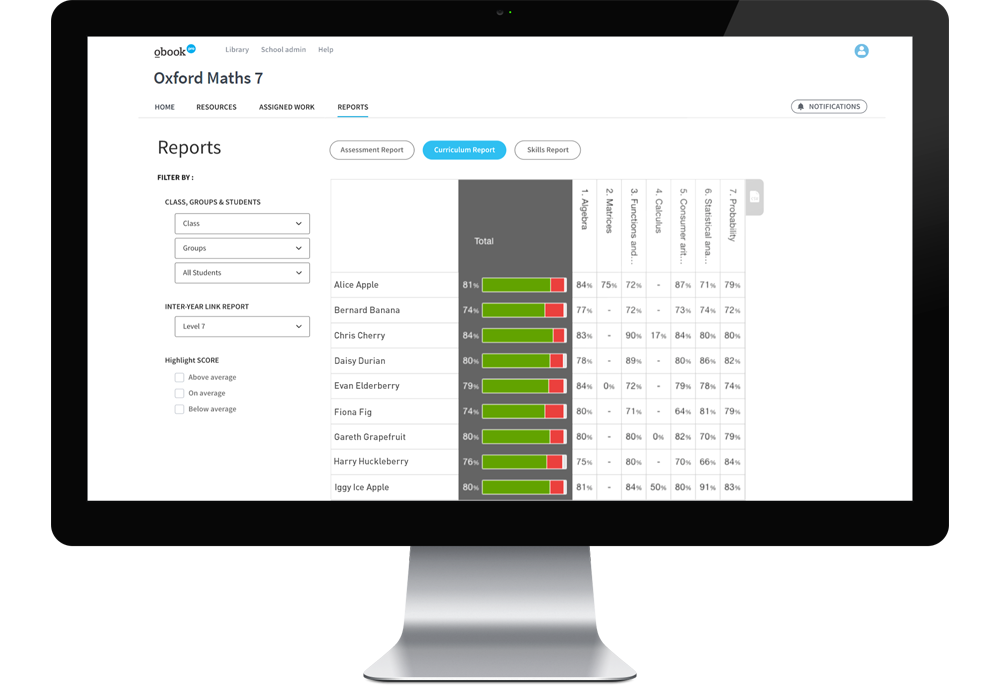 Save time with Skills
and Curriculum reports
All diagnostic and chapter tests generate instant, meaningful data for teachers. Skills reports link test results to key skills, providing valuable insight into student strengths and weaknesses.

Curriculum reports chart student results against VCAA curriculum codes, providing teachers with key data for reporting. These reports save teachers time and support lesson planning, providing insights into student achievement at all stages of the course, with access to individual and class perspectives.
Partner with industry leaders to boost student results.
Oxford Maths 7–10 drives student engagement with fully-integrated content and tools from the Australian Maths Trust, Desmos and Quizlet.

Oxford Maths 7–10 features integrated Desmos functionality, providing students with a powerful suite site of maths tools, including the renowned Desmos Graphing Calculator and Scientific Calculator.

Desmos tools can be accessed directly from the Student obook, enabling students to focus on problems without interruption.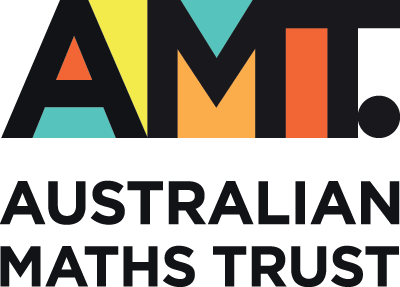 Oxford University Press is proud to announce our exclusive partnership with the Australian Maths Trust (AMT), an organisation dedicated to empowering students to become better problem solvers in school, so they can be creative solution finders in the future.

Each Student Book contains two double-page spreads of curriculum-aligned AMT problem-solving challenges.

We've partnered with Quizlet to offer free access to additional online content.

Quizlet drives engagement as students compete in real-time online quizzes with live leaderboards and fun study activities.
Professional Development for Teachers
The knowledge and skills gap in Australian secondary mathematics classrooms
OUP market research has revealed a knowledge and skills gap in Mathematics following students transition from primary to secondary school, which can have long-term consequences longer-term learning, but what can be done to address this issue?


Featuring:
Janine Sprakel (AMT)
Peter Sullivan (Monash University)
Kim Beswick (UNSW)
Patrick Mete (Haileybury)
Simone Zmood (Monash University)
Lee Walker (Oxford University Press)
Successfully differentiating Maths lessons to address gaps in understanding


Tom Christiansen and Alex Blanksby discuss strategies for addressing gaps in understanding in Years 7-10.
Cross-curricular learning through STEAM
STEAM expert Helen Silvester, Humanities educator Katrina Davey and Maths educator Edward Shin discuss a cross-curricular approach to delivering STEAM.
0
0.00