Mathematics Standard for Stage 6: obook sample request
obook sample request
Oxford Insight Mathematics Standard Year 11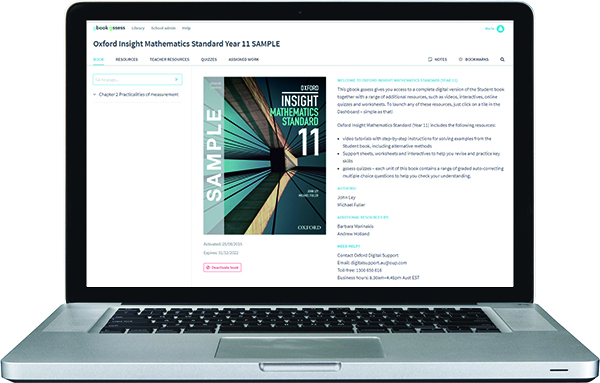 Oxford Insight Mathematics Standard Year 11 is supported by a wealth of engaging and relevant digital resources via obook assess, Oxford's award-winning digital platform.
Please complete the form below to sample these resources on Oxford Digital.
The full version of Oxford Insight Mathematics Standard Year 11 student and teacher obooks will include a wealth of digital resources:
Students receive:
a complete digital version of the Student book with notetaking and bookmarking functionality
targeted instructional videos by a team of Australia's most experienced mathematics teachers designed to help students prepare for exams and assessment tasks
interactives
a range of support sheets for every chapter, designed to consolidate and extend understanding of key points from the syllabus
investigations (including problem solving tasks and application tasks)
a range of worksheets for additional practice in each chapter
spreadsheets for students to develop their ICT capacity and cover key syllabus applications
interactive auto-correcting multiple-choice quizzes.
With obook assess, students can:
access their Student book
access rich, interactive content
access work assigned by their teacher: reading, homework, tests and assignments
use their cloud-based obook anywhere, any time, on any device.
In addition to the student resources, teachers receive:
detailed planning resources, including work programs
answers to every question in the Student book
printable and editable chapter tests (with exam-style questions) with answers
practice exam with answers.
With obook assess, teachers can:
set up classes
access editable tests
set assignments
monitor progress and graph results
create groups within classes and assign work or tailor instruction to meet the different needs and abilities of different students
view all available content and resources in one place.