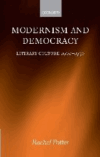 ISBN: 9780199273935
Published: 1 Aug 06
Availability: Contact Customer Service
Hardback
AU$167.95
NZ$195.99
Modernism and Democracy
Literary Culture 1900-1930
Anglo-American modernist writing and modern mass democratic states emerged at the same time, during the period of 1900-1930. Yet writers such as T. S. Eliot, W. B. Yeats, Ezra Pound, Wyndham Lewis, and Ford Madox Ford were notoriously hostile to modern democracies. They often defended, in contrast, anti-democratic forms of cultural authority. Since the late 1970s, however, our understanding of modernist culture has altered as previously marginalised writers, in particular women such as Gertrude Stein, Djuna Barnes, H.D., and Mina Loy, have been reassessed. Not only has the picture of Anglo-American modernist culture changed significantly, but the understanding of the relationship between modernist writing and politics has also shifted.

Rachel Potter here reassess the relationship between modernism and democracy by analysing the wide range of different reactions by modernist writers to the new democracies. She charts the changes in the ideas of democracy as a result of the shift from liberal to mass democracies after the First World War and of women's entrance into the political and cultural spheres. By uncovering hitherto-unanalysed essays by a number of feminist writers she argues that in fact there was a widespread scepticism about the consequences of mass democracy for women's liberation, and that this scepticism was central to the work of women modernist writers.
Discusses the relationship between modernist writing and ideas of democracy
Focuses on a number of previously marginalised women writers, alongside more canonical figures such as T. S. Eliot, W. B. Yeats, and Ezra Pound
Introduction
1: 'No artist can ever love democracy': Modernism and Democracy 1907-1914
2: Modernist Literature: Individualism and Authority
3: H.D.: Egoist Modernist
4: T.S. Eliot, Women, and Democracy
5: Mina Loy: Psycho-Democracy
Conclusion

Rachel Potter , Queen Mary, University of London
After completing her Ph.D. in English at Cambridge University in 1998, Rachel Potter was a lecturer in Modernist Literature at the University of Southampton before becoming a lecturer in Modernist Literature at Queen Mary, University of London.