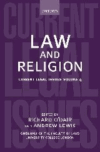 ISBN: 9780199246601
Published:
Availability: Contact Customer Service
Hardback
AU$205.95
NZ$265.99
Law and Religion Current Legal Issues Volume 4
Current Legal Issues 2001 Volume 4
This is the fourth volume of a series entitled `Current Legal Issues' that are published each Summer as a sister volume to `Current Legal Problems'. The interaction of religious practice and the law raises a number of difficult and fascinating issues. What exactly do we mean by religious faith? To what extent are the Courts competent to pass judgement on disputes arising within religious organisations? Are some religious faiths more legitimate than others? Should the law grant special privileges to religious believers? – for example exemption from provisions in human rights legislation which would otherwise restrict their activities.
Fourth volume in the series whose sister publication `Current Legal Problems' is very well known and highly regarded
Interdisciplinary with a wide range of material covering law and religion
Will appeal to a broad audience in the fields of law and religion
Richard O'Dair: Editorial Introduction
Howard M. Ducharme: The Image of God and the Moral Identity of Persons: An Evaluation of the Holistic Theology of Persons
Calum Carmichael: The Divine in the Law
Gary Watt: Giving unto Caesar: Rationality, Reciprocity, and Legal Recognition of Religion
Anthony Bradney: Politics and Sociology: New Research Agendas for the Study of Law and religion
Steven D. Smith: Law as a Religious Enterprise: Legal Interpretation and Scriptural Interpretation
Bernard S. Jackson: Historical Observations on the Relationship between Letter and Spirit
Jeanne Gaakeer: `Batter My Heart': On the Three Disciplined Search for Meaning
Edward M. Andries: Postmodernism, Hermeneutics, and Authenticity: Interpreting Legal and Theological Texts in the 21st Century
Robert Gleave: The `First Source' of Islamic Law: Muslim Legal Exegesis of the Qua'an
Matthijs de Blois: Law and Religion: The Case of the History of Human Rights: Freedom of Religion as the Fruit of the Radical Reformation
Javier Martinez-Torron: The European Court of Human Rights and Religion
Malcolm D. Evans: Human Rights, Religious Liberty, and the University Debate
Julian Rivers: Religious Liberty as a Collective Right
Ian Leigh: Clashing Rights, Exemptions, and Opt-Outs: Religious Liberty and `Homophobia'
Rex J. Ahdar: Religious Group Autonomy, Gay Ordination and Human Rights Law
Sophie C. van Bijsterveld: Freedom of Religion: Legal Perspective on Religion
Steven H. Resnicoff: Professional Ethics and Autonomy: A Theological Critique
J. David Bleich: Clergy Privilege and Conscientious Objection to the Privilege
Michael Freeman: Is the Jewish `Get' any Business of the State?
Perry Dane: The Intersecting Worlds of Religious and Secular Marriage
Mark Hill: Judicial Approaches to Religious Disputes
Norman Doe and Anthony Jeremy: Justifications for Religious Autonomy
Peter W. Edge: Religious Remants in the Composition of the United Kingdom parliament
Augur Pearce: Religious Denomination or Public Religion?: The Legal Status of the Church of England
David Harte: Defining the Legal Boundaries of Orthodoxy: For Public and Private Religion in England
Danesh Sarooshi: International Law and Peace between the Nations: The Contribution of the Baha'i Faith
Reid Mortensen: A Voyage in God's Canoe: Law and Religion in Melanesia
Paul Beaumont: Christian Perspectives on the Law: What Makes them Distinctive?
Piotr Mazurkiewicz: Radical Change in the Legal Regulation of Religious Affairs as Exemplified by Post-Communist Poland

Richard O'Dair , Senior Lecturer in Laws, University College London
Edited by Andrew Lewis , Senior Lecturer in Laws, University College London
Andrew Lewis is Senior Lecturer in Laws at University College London Richard O'Dair is Senior lecturer in Laws at University College London
`This collection will quickly establish itself as compulsory reading for practitioners working close to the law-religion dividing line: it provokes thought on issues like the difference in legal treatment of established churches and those regarded as private law constructions, and it offers a substantial and useful listing of case-law and national legislation.' Expository Times
`... a fascinating volume to dip in to, examining the interaction of religious practice and the law, raising a number of difficult and fascinating questions.' Church Review
`This book makes a good read, not just for lawyers and theologians, but for anyone intrigued by the tensions between law and religion.' Church Times