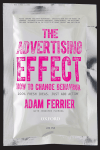 ISBN: 9780195593921
Published: 28 May 14
Availability: 999
Paperback
AU$49.95
NZ$56.99
Related Titles
The Advertising Effect
How to Change Behaviour
Want to know how to influence other people's behaviour?
In The Advertising Effect, respected advertising insider, Adam Ferrier, reveals the ten techniques used by some of the best-known brands across the globe. These techniques are grounded in psychological theory with award winning real world examples and explore how the most effective way to change behaviour is through action rather than the conventional advertising practices (emotional or rational persuasion).
This is the ultimate insider's guide, to the ultimate behaviour change industry – advertising.
Expose the techniques that advertisers use to get consumers to buy.
Examples and case studies illustrate successful strategies and includes award winning campaigns such as Rename Speed, Steal Banksy and Share a Coke.
Includes insights from some notable people in advertising, philosophy and behavior change including Alain De Botton, Andrew Denton, David Nobay, Faris Yakob and Bob Garfield.
Read Adam Ferrier's Q&A with Marketing magazine
Weblinks from The Advertising Effect
Part 1: Which Behaviour to Change?
1. The Dark Arts: An advertising and influence overview
2. Definition: Defining the behaviour you want to change
3. Thoughts, Feelings, Actions: Using action to change behaviour
4. Action Spurs: Sometimes we need a little kick

Part 2: Motivation Action Spurs
5. Reframing: It's not what you say, it's how you say it.
6. Evocation: Can you feel it?
7. Collectivism: Everyone else is doing it
8. Ownership: What do you think?

9. Play: The world is a game
10. Utility: No more empty promises

11. Modeling: Monkey see. Monkey do.
Part 3: Ease Action Spurs
12. Skill Up: How to stop "I don't know how"

13. Eliminate Complexity: Knock down hurdles
14. Commitment: How a small request leads to a bigger agreement
Part 4: How to be Good
15. Use your powers for good
Adam Ferrier is Chief Strategy Officer/Owner of independent advertising agency, Cummins & Parteners. Prior to this Adam co-founded and sold Naked Communications Australia, one of Australia's most influential agencies. He's also a registered psychologist and one of Australia's most respected and successful advertisers.
Jennifer Fleming is best-selling author of several books including Spotless: room-by-room solutions for domestic disasters, Spotless 2, Spotless A-Z, Speedcleaning, How to be Comfy, Save: your money, your Time, your Planet and The Feel Good Body. She's also a senior producer and presenter at ABC Radio.
Read a sample chapter from The Advertising Effect: