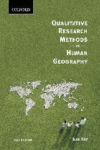 ISBN: 9780195430158
Published: 15 Mar 10
Availability: Contact Customer Service
Paperback
AU$107.95
NZ$145.99
Qualitative Research Methods in Human Geography
Third Edition
Qualitative Research Methods in Human Geography is a practical, in-depth guide to understanding and conducting qualitative research in human geography. Reflecting both established and modern methods, and written by some of the most authoritative voices in the discipline, the text teaches students how to plan, execute, interpret, and effectively communicate qualitative research. Organized into three parts (introducing, doing, and interpreting), the new third edition is a comprehensive, engaging resource for both students and new researchers in the field.

Canadian. The only research methods text for human geographers to include Canadian content, making the material relevant to students in this country.
Authoritative. Classroom tested and edited by an award-winning instructor-contributors are among the most respected in the field of human geography.
Practical "how-to" approach. Focuses on the actual practice of research in human geography, helping students grasp complex concepts and apply them to their own work.
Engaging. Personal anecdotes connect theory to real-life situations, making the text readable and accessible for students.
Helpful pedagogy. Boxes outlining key practices, tips, and important points about methodology, as well as figures, content summaries, key terms, and recommended resources for further reading, help students understand key concepts.
Edited by an award-winning teacher and classroom tested
Detailed Table of Contents
List of Boxes and Figures
Notes on Contributors
Preface
Part 1: Introducing Qualitative Research in Human Geography
1: Hilary P. M. Winchester and Mathew Rof: Qualitative Research and Its Place in Human Geography
2: Robyn Dowling: Power, Subjectivity, and Ethics in Qualitative Research
3: Richie Howitt and Stan Stevens: Cross-cultural Research: Ethics, Methods, and Relationships
4: Matt Bradshaw and Elaine Stratford: Qualitative Research Design and Rigour
5: Jamie Baxter: Case Studies in Qualitative Research
Part 2: 'Doing' Qualitative Research in Human Geography
6: Kevin Dunn: Interviewing
7: Karen George and Elaine Stratford: Oral History and Human Geography
8: Jenny Cameron: Focusing on the Focus Group
9: Michael Roche: Historical Research and Archival Sources
10: Pauline M. MfGuirk and Phillip O'Neill: Using Questionnaires in Qualitative Human Geography
11: Gordon Waitt: Doing Foucauldian Discourse Analysis - Revealing Social Identities
12: Robin A. Kearns: Seeing with Clarity: Undertaking Observational Research
13: Sara Kindon: Participatory Action Research
Part 3: 'Interpreting and Communicating' the Results of Qualitative Research in Human Geography
14: Meghan Cope: Coding Qualitative Data
15: Robin Peace and Bettina van Hoven: Computers, Qualitative Data, and Geographic Research
16: Janice Monk and Richard Bedford: Writing a Compelling Research Proposal
17: Juliana Mansvelt and Lawrence D. Berg: Writing Qualitative Geographies, Constructing Geographical Knowledges
18: Dydia DeLyser and Eric Pawson: From Personal to Public: Communicating Qualitative Research for Public Consumption
Glossary
References
Index

Edited by Iain Hay , Professor of Human Geography, School of Geography, Population and Environmental Management, Flinders University
Iain Hay is Professor of Human Geography at Flinders University, South Australia and the Australian Learning and Teaching Council's Discipline Scholar for the Arts, Social Sciences and Humanities. His principal research interests revolve around geographies of domination and oppression, work for which he received a LittD from the University of Canterbury in 2009. He is author or editor of eight books - several of which have gone multiple editions - and more than 75 scholarly chapters and papers in journals such as Geografiska Annaler B, Political Geography, Professional Geographer, and Progress in Human Geography. In 2006 Iain was named Australian University Teacher of the Year. He was admitted as a Senior Fellow of the Higher Education Academy in 2008 and as a Fellow of the Australian College of Educators in 2009. He is currently Vice President (President-Elect) of the Institute of Australian Geographers.