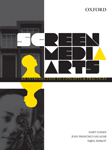 ISBN: 9780195562446
Published: 29 Oct 08
Availability: 199
Paperback + CD
AU$69.95
NZ$79.99
Screen Media Arts
An Introduction to Concepts and Practices
Screen Media Arts is an introduction to screen media production and screen media concepts for students seeking a comprehensive but contemporary take on International and Australian film and screen media.
The approach of this book is to offer both a conceptual and technical introduction to media production in which theory and practice are given equal emphasis. The book is divided into several sections with case histories and production examples drawn from the history of media – photography and photo media, cinema and video, digital media and the Internet.
Significantly the book includes an embedded DVD with production exercises and demos (the DML or digital media lab) and provides the reader with links and many other resources for media production practice. The book also provides historical and conceptual contexts for selected practices and techniques and key information about the media production industries in Australia.
Screen Media Arts was launched in November by Associate Professor Peter Hutchings, who is Deputy Director of Programs and Networks at the Australian Learning and Teaching Council. Read the Launch Introduction online.
Digital Media Lab DVD instructions
Winner of an Australian Educational Publishing Award 2009
Oxford University Press is proud to announce that Screen Media Arts was the winner of the Tertiary (Wholly Australian) Teaching and Learning category. The judges commented that the text was "a contemporary analysis of the field, with a great repository of different media types to assist student learning and to expose them to the working of the media industry. The excellent 'live' scenarios on the accompanying DVD integrate well with the text, and the learning experience of the students."
Congratulations to Hart Cohen, Juan Francisco Salazar and Iqbal Barkat.

Case studies throughout text link theory to practical skills.
Incorporates the work of contemporary cultural and social thinkers (Susan Sontag, Michael Renov, Henry Jenkins, Ross Gibson) to provide context.
Embeds a digital media lab on DVD to enhance interactive learning for teaching production.
Links to a content-rich website with learning support tools and extended media materials.
Takes a contemporary approach to screen media content with an emphasis on new media forms and the digital revolution in screen media.

PART 1 KEY CONCEPTS IN SCREEN MEDIA ARTS

Photograph and Image: Interpretation and Representation
Narrative Forms and Screen Media Arts
Contemporary Genres
Audiences and Interactivity

PART 2 STAGES AND TECHNIQUES IN SCREEN PRODUCTION
Preproduction
Legal Issues in Media Production
The Production Process and Directing
Editing
Distribution

PART 3 HISTORIES AND CULTURES OF SCREEN MEDIA ARTS
The International Cinema Screen
The Experimental Screen
The Documentary Screen
The Animated Screen
The Community Screen

PART 4 THE FUTURE SCREEN
Interfacing Digital Media Arts
New Media/Social Media
Aspects of the Present and the Future in Screen Media

INDEX
CONTENTS (modules) OF THE DVD
Cinematography
Directing
Editing (Final Cut Pro)
New Media
Preproduction
Production
Scriptwriting
Sound
Hart Cohen , Associate Professor, School of Communication Arts, University of Western Sydney, Australia
Juan Salazar , Dr, Lecturer, School of Communication Arts, University of Western Sydney, Australia
Iqbal Barkat , Lecturer, School of Communication Arts, University of Western Sydney, Australia