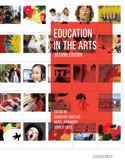 ISBN: 9780195574609
Published: 1 Dec 11
Availability: 40
Paperback
AU$89.95
NZ$102.99
Related Titles
Education In The Arts
Second Edition
Engage * Create * Reflect * Teach * Learn
This is a book about the principles and practice that underpin teaching and learning in the arts. It enables primary school teachers to work across a number of art forms, including drama, art, music, media, technology and dance. It also addresses the need for all teachers to be able to teach the arts, not just art, music or drama specialists. It is grounded in theory and research, with links to teaching practice, allowing students to apply what they are learning to new contexts, and encouraging them to become reflective practitioners. Students can continue to use this book as they become practising teachers, drawing on how to implement the various arts practices in a school setting.

New to this Edition
3 new chapters:
Chapter 10. Dance: Art Embodied
Chapter 11. Media Arts and Learning in the Digital World.
Chapter 14. Support and Partnerships for the Teacher (shows teachers working in partnership with the outside world, eg: parents, specialists, professionals, other schools, government etc).
More questions with each case study.
Integrates the creative arts to develop expertise in becoming a teacher for all areas of art.
Includes a focus on drama which is often under-represented in other texts.
Includes coverage of Indigenous Arts Education.
Combines education theory with practical examples and real case studies.
Case studies give students authentic examples from Arts Education.
Equips students to become 'reflective practitioners', thinking about their teaching, constantly evaluating, improving, and engaging in teaching-led research.
Part One: Key principles
The Arts and Creativity: A Manifesto for Schools
1. Art, Creativity, and Motivation
2. Learning in the Arts
3. Arts Education as Intercultural and Social Dialogue
4. Generic skills and Multiple Literacies
5. Teaching for the Aesthetic, Teaching as Aesthetic
6. Shower Singing and Other Essentials
Part Two: Teaching the Art Forms
7. Drama: Social Dreaming in the 21st Century
8. Making Music and Cultural Connections
9. Learning In and Through the Visual Arts
10. Dance: Art Embodied
11. Media Arts and Learning in the Digital World
Part Three: Integrating the Arts
12. Integrating the Arts
13. Learning and Teaching through the Arts
14. Support and Partnerships for the Teacher
Reflections: Art is a Place You Can Go
Glossary
Christine Sinclair - Head of Drama Education, Graduate School of Education, University of Melbourne
Neryl Jeanneret - Head of Music Education, Graduate School of Education, University of Melbourne
John O'Toole - Honorary Professorial Fellow, University of Melbourne
Christine Sinclair, Head of drama education in the Graduate School of Education at the University of Melbourne Neryl Jeanneret, Head of Music Education in Arts Education in the Graduate School of Education at the University of Melbourne John O'Toole, Honorary Professorial Fellow of The University of Melbourne where he was Foundation Chair of Arts Education