Literacies in Early Childhood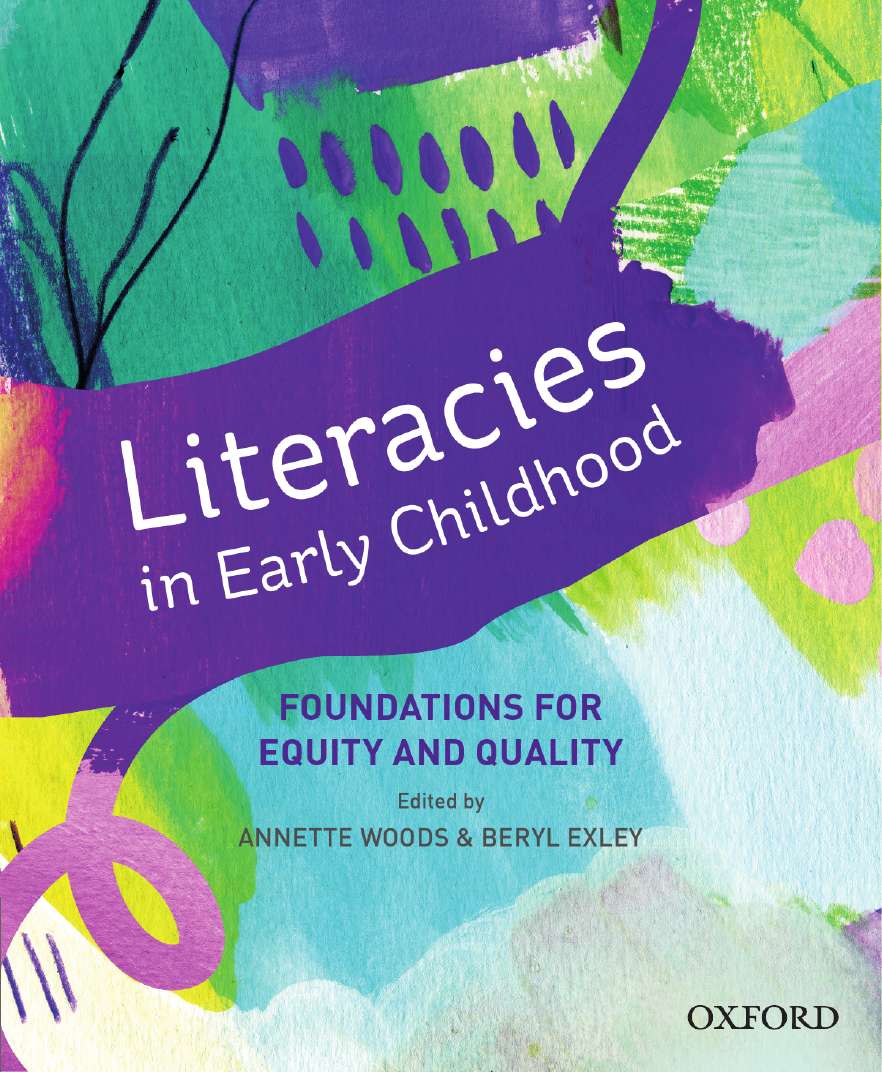 Literacies in Early Childhood
| | |
| --- | --- |
| ISBN: | 9780190305147 |
| Binding: | Paperback |
| Published: | 5 Dec 2019 |
| Availability: | 18 |
| Series: | |
$106.95 AUD
$122.99 NZD
Add To Cart
Other options: Ebook $96.95 AUD $110.99 NZD Ebook Rental $55.95 AUD $63.99 NZD
Request an inspection copy
Description
A collection of expert voices on the theoretical frameworks and approaches for teaching literacy in the early childhood years.

Literacies in Early Childhood: Foundations for Equity and Quality is a rigorous and engaging foundational text that offers access to a broad range of voices and perspectives on quality literacy learning and teaching, and on how equity and literacy come together in education. It takes a deliberately balanced approach to literacy learning in early childhood education, and values the child as a learner and respects the teacher as a professional.

Structured across four parts, it aims to open discussion and encourage quality and equity in literacy education across schools and early childhood education contexts. Part 1, Understandings of Literacy, provides a foundation for thinking about definitions of literacies. Part 2, Transitions, Quality and Equity, offers a range of theoretical tools and practical examples of how teachers, educators and diverse groups of students can work together. Part 3, Practical Considerations and Theoretical Conundrums, focuses on the engagement of young children in literacy learning, offering case studies and examples from contemporary research and practice. The final part, The Intellectual and Political Work of Literacy Teaching, analyses what it means to be a literacy teacher in today's contexts.


KEY FEATURES:
A broad coverage and range of expert voices draws together the best literacy researchers across early childhood and primary
A multi-authored book allows for diverse perspectives on contemporary issues in literacy and education
Covers the birth-8 age range providing balanced consideration of ECE and early primary with experts drawn from both fields
Focuses on equity and social justice as key components of thinking about literacy teaching and learning
Case studies provide real-world examples and help students make the theory to practice connection.
Contents
TABLE OF CONTENTS

PART 1: UNDERSTANDINGS OF LITERACY

1. Bringing Together What We Know about Literacy and Equity: A Discussion About What's Important
Annette Woods and Barbara Comber
2. 'I didn't know how to take it a step further': Teachers and Young Children Becoming Critical
Kerryn Dixon and Hilary Janks
3. Reading and Viewing Children's Picture Books with Grammar in Mind
Kylie Bradfield and Beryl Exley
4. Literacy as Process
Karen Dooley
5. Putting the Jigsaw Together: Reading and the Teaching of Phonics in the Early Years
Stacey Campbell
6. How We Live Now: Striving for Resilient Repertoires of Literacy
Jennifer Rowsell

PART 2: TRANSITIONS, QUALITY AND EQUITY

7. 'It's much more than getting ready to go to school': Thinking About Young Aboriginal
and Torres Strait Islander Children Learning Literacy
Dixie Sarmardin, Rachel Leske, Annette Woods and Karen Thorpe
8. Early Years EAL/D Learners: Proficiencies, Trans-languaging and Pedagogic Identities
Beryl Exley, Cynthia Brock, Pauline Harris and Ufemia Camaitoga
9. Critiquing Literacy Intervention Solutions: What Can a Balanced Approach Tell Us?
Louise Mercer
10. Diversity Goes to School: Ways Forward for Literacy Teaching in the Early Years
Beryl Exley & Kerry Taylor-Leech

PART 3: PRACTICAL CONSIDERATIONS AND THEORETICAL CONUNDRUMS

11. New Texts, New Kids, New Ways of Thinking: Engaging Young Children with
Digital Texts in the Home
Susan Danby
12. Writing in the Early Years
Noella M. Mackenzie
13. Becoming a Reader in the Early Years
Susan Hill
14. Thinking about Mode in Becoming Literate: Oral and Visual Pathways to Print
Georgina Barton
15. Using Multiliteracies as a Lens to Explore Young Children's Engagement with Multimodal Texts
Cynthia Brock and Pauline Harris
16. Playing with Literacy: Quality Literacy Opportunities in the Early Years
Lisa Kervin and Irina Verenikina
17. Literacy Practices through Digital Making and Play
Michael Dezuanni
18. Assessment as Discursive Practice in the Early Years
Anthony Shearer and Val Klenowski

PART 4: THE INTELLECTUAL AND POLITICAL WORK OF LITERACY TEACHING

19. Academic Research and Public Debates: A Media Analysis of the Proposed
Australian Phonics Check
Aspa Baroutsis and Annette Woods
20. Spaces, Places, Bodies and Things: Sociomaterial Perspectives on
Young Children's Literacy Practices
Cathy Burnett and Karen Daniels
21. Learning Over Time: Rethinking Development
Catherine Compton-Lilly
22. Knowing Teaching through Researching and Reflecting on Practice
Robyn Henderson
Authors
Annette Woods is a Professor in the Faculty of Education at Queensland University of Technology. She teaches and researches in the areas of literacies, social justice, curriculum, pedagogy and assessment, and school reform. Her current research projects include a sociomaterial investigation into learning to write in the early years of school; a study of the implications of bringing literacy and sustainability together as children in kindergarten name their worlds, and research with teacher researcher partners on bringing imagination as a concept to the curriculum. She was a teacher across early childhood, primary and adult literacy contexts for many years before entering the academy. In 2018-2019 she was the President of the national research body, Australian Association for Research in Education (AARE).

Beryl Exley is a Professor who works as a teaching and research academic within the School of Education and Professional Studies at Griffith University in Queensland, Australia. She is an experienced early years and primary years classroom teacher and teacher educator with an interest in English Curriculum and Literacies Education. She has authored and co-authored numerous chapters and journal articles on literacy as a social justice issue and pedagogical approaches for high quality learning and teaching in schooling. Beryl has served on the National Council of the Australian Literacy Educators' Association since 2005 and is currently the National President (2018-2019). She is also past-chair of the International Development in Oceania Committee, a standing committee of the International Literacy Association.
Request an inspection copy