Understanding Development and Learning eBook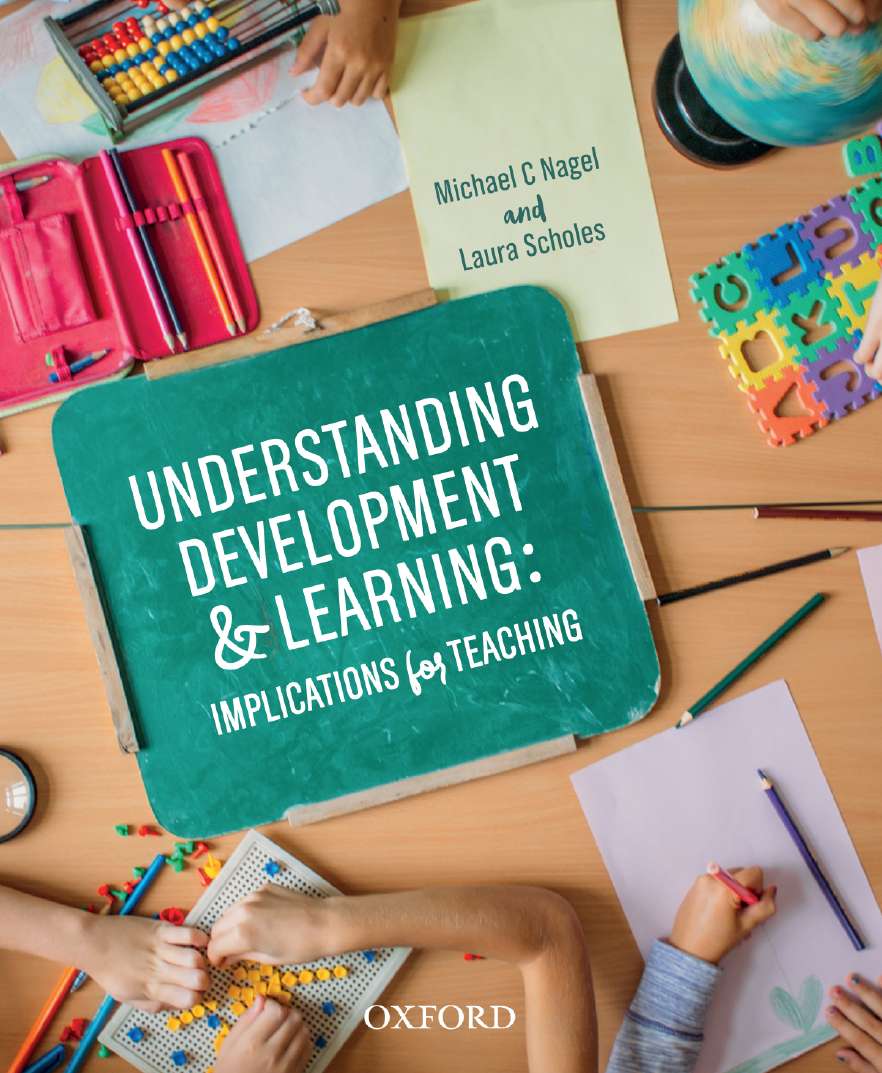 Understanding Development and Learning eBook
| | |
| --- | --- |
| ISBN: | 9780190306335 |
| Binding: | Ebook |
| Published: | 8 Sep 2016 |
| Availability: | Available |
| Series: | |
$87.95 AUD
$100.99 NZD
Add To Cart
Description
Understanding Development and Learning: Implications for Teaching opens up the landscape of educational psychology to pre-service teachers and how they can use its principles to foster learning.
The text focuses on creating a better understanding of how we learn and how this information can be used to create more effective teaching methods, curricula, and educational policy. It features contemporary research, such as neuroscience, at the nexus of learning and development alongside traditional theories. It offers a greater scope into the developmental characteristics of children and how these impact on learning and behaviour across all sectors of education focusing on the science of learning.
It also incorporates theoretical and practical content related to the socio-environmental factors that impact on development, behaviour and learning. It investigates how to apply psychological principles to educational contexts in order to enhance learning and teaching quality and encourages reflective practice, helping pre-service teachers develop their personal philosophy of learning and teaching.
Key Features
Features throughout are focused on practical application of theory and encouraging reflective practice.
'Setting the Scene' case examples with analysis demonstrates the main concept of each chapter, prompting the question, 'what does this topic mean to you?
Glossary Margin Notes throughout help students learn key terms

Intra chapter linkage margin notes – to assist navigation

'Something to Think About' showcases research; with accompanying 'Ask Yourself ' questions to test understanding and application to classroom experience
'Implications for Teaching ' features examples of how research can influence (or has influenced) teaching practice with 'Ask Yourself' questions for readers to test understanding
Practical Activities at the end of each chapter are exercises to use in the classroom
Study Questions with 'Something to Think about' sections to encourage students to reflect on their own behaviours.
Contents
Chapter 1: What Is Learning?
Defining teaching
Defining learning
A brief history of 'learning' and 'teaching' in Western schools
Theories of 'learning', past and present
Chapter 2: The Links between Human Development and Learning
Basic issues in human development
Domains of human development
Chapter 3: Understanding Brain Development
The developing brain—the early years
Structures of the brain
The developing brain and adolescence
Chapter 4: Learning, Thinking and Intelligence
Measuring intelligence
Notions of multiple intelligences
The neuroscience of intelligence
Controversies over intelligence
Chapter 5: Language Development and Learning
Language development in children
Traditional theories of language development
Language and the brain
Maturation and biological sex differences
Enhancing language development
Chapter 6: Memory and Learning
The neurobiology of memory
Systems and stages of memory
What hinders memory and why we forget
Enhancing memory: educational and pedagogical considerations
Chapter 7: Motivation and Learning
The neurobiology of motivation
The psychology of motivation
Understanding contemporary learners
Motivation in school: affective and effective considerations
Chapter 8: Inclusive Learning
Those who can, do
Different brains, different learners
Reaching the hard-to-reach student
Extending the exceptional learner
Chapter 9: Sociocultural Factors of Learning
Some background
Vygotsky
Sociocultural theory of cognitive development
Bronfenbrenner
Ecological systems theory
Bio-ecological model
Gender, socio-economic background and culture in the classroom
Chapter 10: Nurturing Learning
The perils of standards and testing
Enrichment does not mean more!
Homework: a necessary evil?
Stress and learning do not mix
Rising to the challenges
The creative arts and learning
The brain, movement and learning
Glossary
References
Index
Authors
Dr Michael C Nagel is an Associate Professor in the School of Education at the University of the Sunshine Coast
Dr Laura Scholes is a Research Associate in the School of Early Childhood in the Faculty of Education at the Queensland University of Technology
Lecturer Resources
The following resources are available for lecturers who prescribe Understanding Development and Learning for their course:
Instructors Resources

Manuel

Testbank

PowerPoints
For more information about the resources for Understanding Development and Learning, please contact your Oxford Territory Manager.
Request an inspection copy