Literacy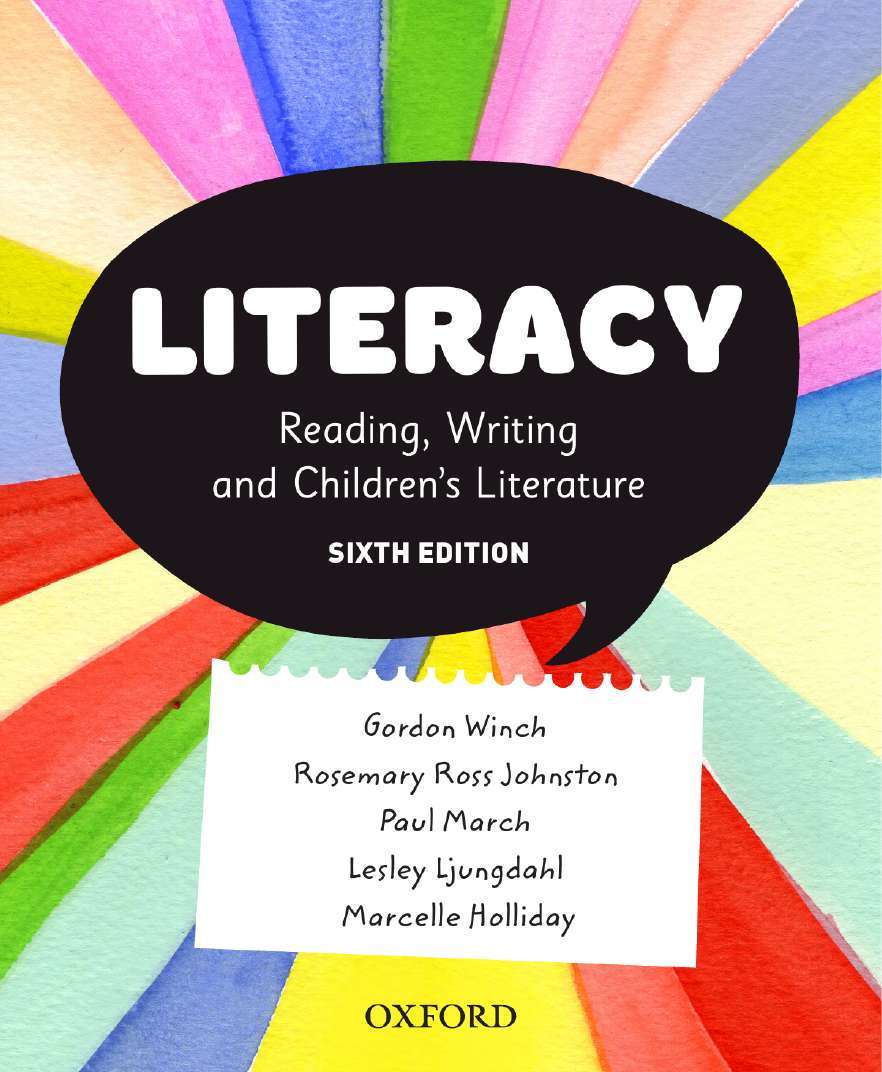 Literacy
| | |
| --- | --- |
| ISBN: | 9780190310561 |
| Binding: | Paperback |
| Published: | 2 Jan 2020 |
| Availability: | 629 |
| Series: | |
$116.00 AUD
$132.99 NZD
Add To Cart
Other options: Ebook $105.00 AUD $120.99 NZD Ebook Rental $58.00 AUD $66.99 NZD
Request an inspection copy
Description
The most comprehensive literacy text for pre-service teachers.

Literacy: Reading, Writing and Children's Literature, sixth edition, is the most comprehensive text for pre-service teachers to learn how to teach literacy. It covers the whole literacy curriculum: reading, writing, speaking, listening and viewing, and illustrates how pre-service teachers can use theory in their classrooms.

This new edition has been completely revised and streamlined to create stronger links from education to professional practice. It reflects the changing nature of literacy in the modern world and the impact of technology on teaching and learning. This accessible text is rich with practical examples, classroom scenarios, and revision questions to help readers put theory into practice. Teaching examples highlight effective assessment practices and demonstrate how to teach to a range of learning abilities from beginner through to accomplished.

NEW TO THIS EDITION
Case studies at the start of each chapter give an introduction to chapter discussion and share practical ideas
Issues for discussion encourage pre-service teachers to reflect on what they have learned in the chapter. These can also be used for tutorial activities
In the classroom activities have been updated with current examples to provide relevant real-world examples
Literacy across the curriculum and Ideas bank provide examples of how literacy can be taught in different areas of the curriculum, including science, assessment, health and physical education, and visual literacy
A new chapter on Sustainability and a revised chapter on Aboriginal and Torres Strait Islander and Asia address the cross-curriculum priorities
The updated Oxford Wordlist, which includes the 500 words most frequently used by children in their first three years of school.
Contents
1.Literacy in the Modern World
2.Oral Language
Gordon Winch and Marcelle Holliday

PART 1: READING
3.A Balanced View of Reading
Gordon Winch and Marcelle Holliday with Andrew Eyers
4.Towards a Model of Reading
Marcelle Holliday and Gordon Winch with Jann Carroll
5.Word Recognition: Phonics, Phonemes and Phonemic Awareness
Gordon Winch and Marcelle Holliday
6.Comprehension: The Meaning of Text
Gordon Winch and Marcelle Holliday with Andrew Eyers
7.The Reader and the Text
Gordon Winch and Marcelle Holliday with Andrew Eyers
8.Assessment in Reading
Gordon Winch and Marcelle Holliday
9.The Effective Teaching of Reading
Gordon Winch and Marcelle Holliday with Jann Carroll
10.Learning to Read: The Child before School
Gordon Winch and Marcelle Holliday with Maria Nicholas
11.Learning to Read: The Early School Years
Gordon Winch and Marcelle Holliday with Jann Carroll
12.Learning to Read: The Primary School Years
Gordon Winch and Marcelle Holliday with Andrew Eyers
13.Managing the Literacy Classroom
Gordon Winch and Marcelle Holliday

PART 2: WRITING
14.The Role of Writing
Lesley Ljungdahl and Paul March with Andrew Eyers
15.The Importance of Writing in Our Society
Lesley Ljungdahl and Paul March with Andrew Eyers
16.The Writing Developmental Continuum
Lesley Ljungdahl and Paul March with Jill Colton
17. Grammar
Lesley Ljungdahl
18. Punctuation
Lesley Ljungdahl
19.Spelling
Lesley Ljungdahl
20.Handwriting
Lesley Ljungdahl with Jill Colton
21.Assessment of Writing
Lesley Ljungdahl
22.Multiliteracies and Technology
Lesley Ljungdahl with Jann Carroll
23.Teaching Writing in the Classroom
Lesley Ljungdahl and Paul March

PART 3: LITERATURE
24.Literature and the Curriculum
Rosemary Ross Johnston
25.Starting Out: Introducing the Book
Rosemary Ross Johnston
26.Early Childhood Literature and Engaged Play
Rosemary Ross Johnston
27.Increasingly Informed and Literary Ways
Rosemary Ross Johnston
28.Picturebooks and Poetry: Visual and Verbal Arts
Rosemary Ross Johnston
29.Visual Literacy: Reading the World of Signs
Rosemary Ross Johnston
30.Developing Critical and Cultural Literacy with Fairytales
Rosemary Ross Johnston
31.Stories: A Rich Resource for EAL/D and Indigenous Students
Rosemary Ross Johnston
32.Cross Curriculum Priorities: Aboriginal and Torres Strait Islander Culture, and Asia
Rosemary Ross Johnston
33.Cross Curriculum Priority: Sustainability and the Environment
Rosemary Ross Johnston
34.Literature Across the Curriculum: General Capabilities
Rosemary Ross Johnston
35.Literature Matters! Deep Literacy and a Nation of Readers
Rosemary Ross Johnston
Authors
Gordon Winch was previously Head of the Department of English at Kuring-gai College of Advanced Education, and is currently a full-time author. He has taught in primary and secondary schools in Australia and overseas and holds a PhD in English and Education from the University of Wisconsin. His academic texts include Teaching Reading: A Language Experience, written and edited with Valerie Hoogstad, and Give Them Wings: The Experience of Children's Literature, written and edited with Maurice Saxby. He has written for children: Barrington's Board Shorts, Popcorn and Porcupines, Samantha Seagull's Sandals and Enoch the Emu, and more recently Rodney Thinks of Food (2002) and Koala Sees the World (2003). Samantha celebrated her birthday in 2010 with a 25-year anniversary edition. A collection of his comic verse, Rhinos, Toucans and Woolly Dogs, came out in the same year. His new short chapter books include the Matilda Mudpuddle series for primary school children, Koala Sees the World (2003), Do You Know Millie and Apollo the Powerful Owl (2012). Gordon's educational books on literacy for children include the Reading Rigby program, the Go Books Reading series, the Read Well, Write Well and Spell Well series with Greg Blaxell, and more recently Growing Up With Grammar, Conquering Comprehension and The Primary Grammar Dictionary. He was a member of the Strategy Group of the Dymocks Literacy Foundation and on the selection panel of the Premier's Literacy Challenge, New South Wales. Gordon saw the need for a professional organisation for primary school teaching of English, and was one of the founders and the first president of PETA, a position he held for six years. Gordon continues to write and be published: Can you Find Me? was selected by the Children's Book Council of Australia as a Notable Book.and was short-listed for three other awards. It was translated in to Mandarin in 2018.

Professor Rosemary Ross Johnston AM (Professor of Education and Culture) has held management positions at the University of Technology Sydney (UTS) and is Founding Director of the International Centre for Youth Futures. She has been invited to speak at many international universities (both East and West) and in 2000 was seconded for a year in Finland as advisor to a new doctoral program in literacy and children's literature. Her work is widely published and translated, and her most recent book, Australian Literature for Young People (2017), has been nominated for several awards. She has served on the executive of a number of scholarly Boards, including as Vice President of the Fédération Internationale des Langues et Littératures Modernes (affiliated to UNESCO); the US-based Children's Literature Association (ChLA); the International Research Society for Children's Literature (IRSCL); the Montgomery Institute (Canada); and the Australasian Association for Children's Literature and Research (ACLAR). She was one of three Chief Investigators on the international project Approaching War: Children and War 1880–1919 (funded by a Leverhulme Grant with Newcastle University UK). She leads several research projects including New Ways of Doing School: Mixing story and technology to generate innovative learning, social and cultural communities (funded by the Australian Research Council); New Ways/Old Ways: Converging Roads, with the Martu communities of the Western Desertlands, as well as other large externally-funded projects, notably IMC SKY HIGH!, working in areas of educational disadvantage.

Paul March began his career in primary schools. He is currently an educational consultant and has been an Associate of the International Centre for Youth Cultures, UTS. Dr March has been lecturing at UTS in primary English curriculum studies (including reading, writing, and children's literature), child drama, and communication studies. Among his publications are several co-edited academic texts: Writing and Learning in Australia (Oxford/Dellasta), Teaching Writing K–12 (Dellasta), The Teacher is the Answer (Centre for Reading, UTS), an Oxford Handwriting series of books for New South Wales primary schools (2009) and chapters in academic research publications. He has presented papers at international conferences in the United Kingdom, the USA, and Canada and has worked as an Adjunct Professor in Boston. He is involved in post-doctoral research in the semiotics of writing for children. He is active as an adjudicator and examiner for speech and drama and has had extensive experience in devising syllabuses for the Australian Speech Communication Association. He has also been active on committees for the International Reading Association and the Primary English Teaching Association. Dr March is a Past President of the Hills/Parramatta Region of the Australian College of Educators and was admitted to the rank of Fellow of the Australian College of Educators in 2012. He was elected as a Fellow of The English Speaking Board (International) Ltd in 1977.

Lesley Ljungdahl was the Coordinator of the Bachelor of Education (Primary Education) in the Faculty of Arts and Social Sciences at the University of Technology, Sydney (UTS). She taught English literacy and literature subjects in both the primary and the secondary school programs at UTS. In 1971 she was appointed as a Lecturer in English to the William Balmain Teachers' College, which became the Kuring-gai College of Advanced Education (now UTS). Lesley worked at UTS from 1982 to 2014. She holds postgraduate qualifications from seven universities. Lesley is also a qualified librarian, with a Diploma in Librarianship from University College, London, and a Master of Library Studies from McGill University. She was a secondary-school librarian in Montreal in the 1970s. She has presented papers on literacy at TESOL conferences in Baltimore, Long Beach, New York,Vancouver, and Arequipa (Peru). Other international conference presentations in Beijing, London, Havana, Granada, Barcelona, Rhodes, Columbo, Bhubaneswar (India). and publications on literacy issues have followed through her career as a lecturer in English. A book publication, A Week in the Future, highlights the work of Catherine Helen Spence (1825–1910), one of the first female authors in Australia—the subject of Lesley's PhD thesis. She worked with pre-service and postgraduate students in the teaching of language and literature, with a particular focus on the needs of students from an English as an additional language background. Dr Ljungdahl has been a Visiting Scholar at Macquarie University and Sydney University, a lecturer at the Australian Catholic University and a University Liaison Officer at Charles Sturt University.

Marcelle Holliday taught for eighteen years in primary and demonstration schools in New South Wales and South Australia before working on the assessment of reading with the Australian Cooperative Assessment Project. She has worked extensively on a range of projects in literacy including curriculum development, teacher professional development, and the development of effective literacy assessment materials. From 1997 to 1999 she played a major role in the design and implementation of the NSW Department of Education and Training Literacy Strategy, which included a widely acclaimed 'balanced approach to reading' and a daily Literacy Session. In 1998 Marcelle pioneered Log on to Literacy, a professional development program for teachers in isolated communities delivered via the Internet. She has served as a council member of the Primary English Teaching Association (now PETAA), for which she has written and edited several publications. She has presented papers and worked with teachers at conferences and in seminars in Australia, the United Kingdom, the USA, and Sweden and has taught pre-service teachers at two universities. Marcelle currently works as an education consultant and writer.
Lecturer Resources
The following resources are available for lecturers who prescribe Literacy: Reading, Writing and Children's Literature, sixth edition, for their course:
A collection of tests and Issues for discussion grouped by theme
Powerpoints of tables, figures and chapter summaries
Glossary and reading templates.
For more information about these resources, please contact your Oxford Learning Resource Consultant.
Request an inspection copy