The Child in Focus ebook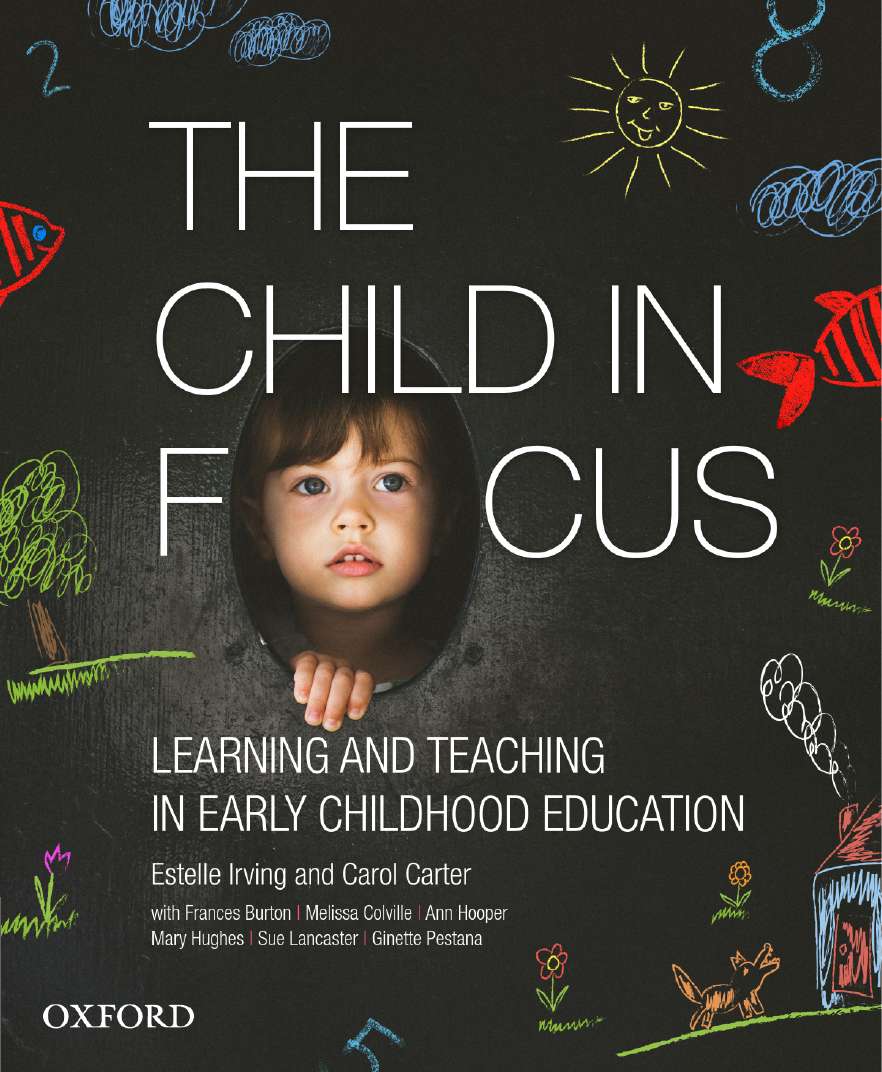 The Child in Focus ebook
| | |
| --- | --- |
| ISBN: | 9780190310981 |
| Binding: | Ebook Rental |
| Published: | 26 Mar 2018 |
| Availability: | Available |
| Series: | |
$51.95 AUD
$58.99 NZD
Add To Cart
Other options: Paperback $99.95 AUD $113.99 NZD Ebook $94.95 AUD $108.99 NZD
Request an inspection copy
Description
Addressing the latest changes in the curriculum, The Child in Focus incorporates the full range of the early years from birth to age 8 while linking to specific subject areas. It provides an all-round introduction for students beginning an early childhood education program.

Part 1 is an introduction to childhood and the concepts which form early childhood education. Part 2 covers discrete subject areas along with curriculum and pedagogy. Part 3 focuses on professional practice and teaching skills, providing students with the grounding knowledge to continue in their degree.

The Child in Focus recognises the important role early childhood educators and teachers play in society and focuses on providing the foundational skills and knowledge for students to succeed in these roles. It is filled with contemporary content and has a strong emphasis on the development of critical reflection and adaptability to respond to increasingly complex social and family issues.

KEY FEATURES
Addresses the national Graduate Teacher standards described by the Australian Institute of Teaching and School Leadership (AITSL), the Australian Curriculum, and the National Quality Standard (NQS) of the Australian Children's Education and Care Quality Authority (ACECQA)
Each chapter begins with an introductory vignette to illustrate theory and engage students' interest. These include interesting, historical facts relating to the concepts/topics covered by the chapter
Individual chapters link to specific subjects in early education programs – these chapters are clearly tabbed for easy reference
'Stop and reflect' sections encourage students to reflect on their own experiences and education, while 'Stop and think' sections consolidate learning by asking students to answer questions based on the text
Case studies showcase real-life education experiences
Each end of chapter includes a summary, further reflection questions, a class activity and discussion questions.
Contents
PART 1: FOUNDATIONS
1. What is a child? Concepts and images of childhood Estelle Irving
2. Social construction of childhood Estelle Irving
3.Theorists and Theoretical Perspectives: early childhood development and learning Carol Carter
PART 2: EARLY CHILDHOOD TEACHING AND LEARNING
4. Play and Play-based learning Melissa Colville
5. Curriculum and Pedagogy Carol Carter
6. Mathematics Frances Burton
7. Language, Literacy and Children's Literature Mary Hughes
8. The Arts in Early Childhood Carol Carter with Ginette Pestana
9. Science Ginette Pestana
PART 3: PROFESSIONAL PRACTICE
10. Introduction to Professional Practice Ann Hooper
11. Observation-based planning Melissa Colville
12. Assessment and Evaluation Sue Lancaster with Frances Burton
13. The Importance of Relationships Carol Carter
14. Working with Families and Communities Estelle Irving and Sue Lancaster
15. Inclusive Practice for Diverse Learners: Gifted children Ann Hooper with Sue Lancaster
16. Teaching Practice Issues in Contemporary Society Carol Carter with Melissa Colville and Mary Hughes
Authors
Dr Estelle Irving - Program Leader, Bachelor of Early Childhood Education, Holmesglen Institute
Dr Carol Carter - Coordinator and Lecturer of Foundations in Education, University of Newcastle
With Frances Burton, Melissa Colville, Ann Hooper, Mary Hughes, Sue Lancaster and Ginette Pestana
Lecturer Resources
An IRM is available which includes extra learning activities per chapter for use in tutorials, as well as a sample list of essay questions.
Request an inspection copy