Write Ways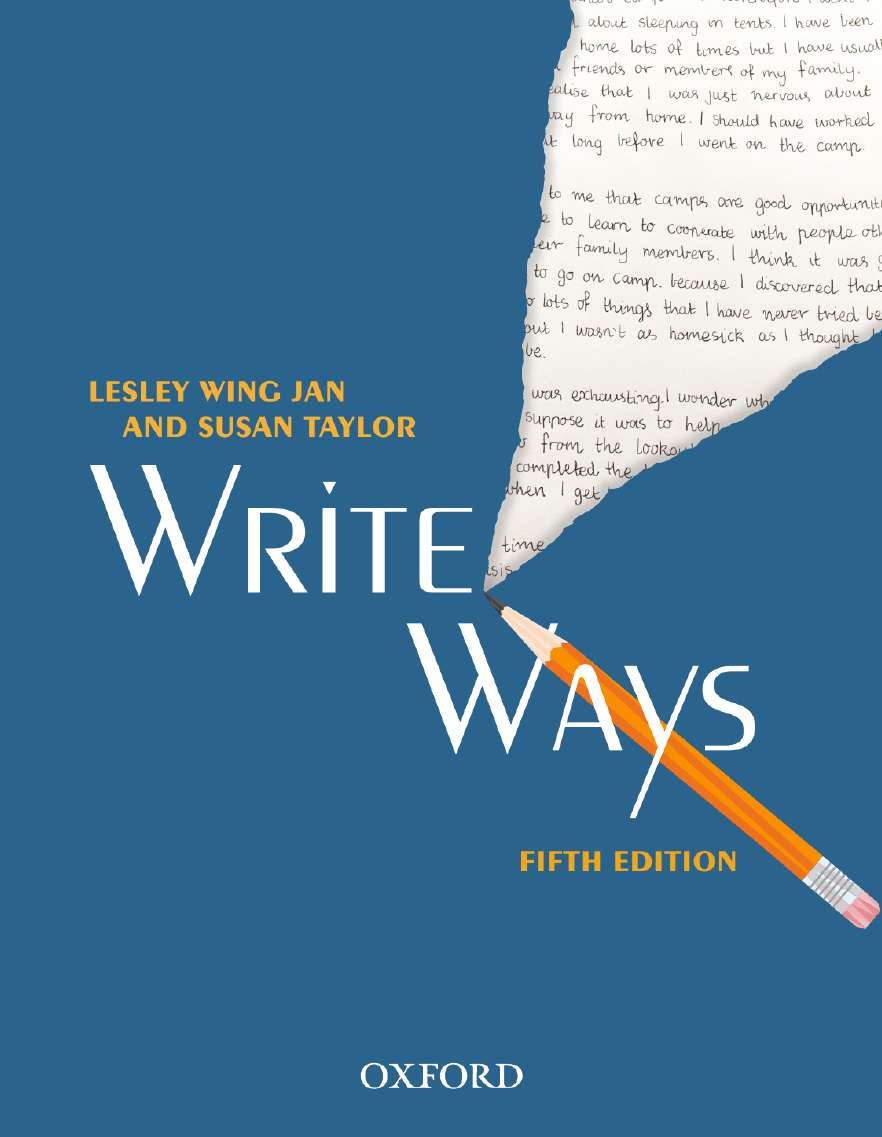 Write Ways
| | |
| --- | --- |
| ISBN: | 9780190318574 |
| Binding: | Paperback |
| Published: | 5 Jun 2020 |
| Availability: | 338 |
| Series: | |
$91.95 AUD
$105.99 NZD
Add To Cart
Other options: Ebook $94.95 AUD $108.99 NZD Ebook Rental $49.95 AUD $56.99 NZD
Request an inspection copy
Description
A practical, easy to read text on how to teach writing.

Write Ways is a practical, user-friendly text for pre-service and practising teachers. It explains how to teach students to write in all the major text types—not only in English, but across the curriculum—and provides clear, useful examples of classroom practice, planning and assessment.

This book offers a balance of theory and practice, aiming to broaden understanding of text and literature. It encourages students to create and respond to a range of texts, as well as using literature to inspire students to develop as thoughtful, competent and engaged writers.

New to this Edition
Updated to include Australian Curriculum topic names and current assessment practices
An increased focus on grammar multiliteracies, literacy practices and teaching focuses at whole text, paragraph, clause, sentence, word group and word level
Action boxes help students apply the knowledge they have learnt
Consider and Connect questions prompt students to reflect on related topics and how they connect with their knowledge of writing
Includes examples of how to use Project Based Learning allowing students to find more meaning in their writing as they are writing authentic texts for real-life purposes.
Contents
PART 1: PREPARATION

1 Program Planning
2 Assessment Procedures and Record Keeping

PART 2: LITERACY

3 Literacy, Language and Learning
4 Texts
5 Using texts in meaningful contexts
6 The Reading and Writing Process

PART 3: TEXT TYPES

7 Informative Texts
8 Information Reports
9 Procedural Texts
10 Explanations
11 Recounts
12 Transactional Texts
13 Persuasive Texts
14 Imaginative Texts
15 Narratives
16 Information Narratives
17 Poetry
Authors
Lesley Wing Jan , Former lecturer and teacher
Susan Taylor , Lecturer, Macquarie University
Lesley Wing Jan
A highly accomplished education consultant with extensive teaching experiences in primary, secondary and tertiary settings.

Susan Taylor
Primary school teacher who also works with pre-service teachers in Education at Macquarie University.
Lecturer Resources
The following resources are available for lecturers who prescribe Write Ways, fifth edition, for their course:
Assessment checklists to use as practice for lesson planning
Sample units that look at specific text types to use as teaching examples with your students.
Request an inspection copy