Professional Communication for Early Childhood Educators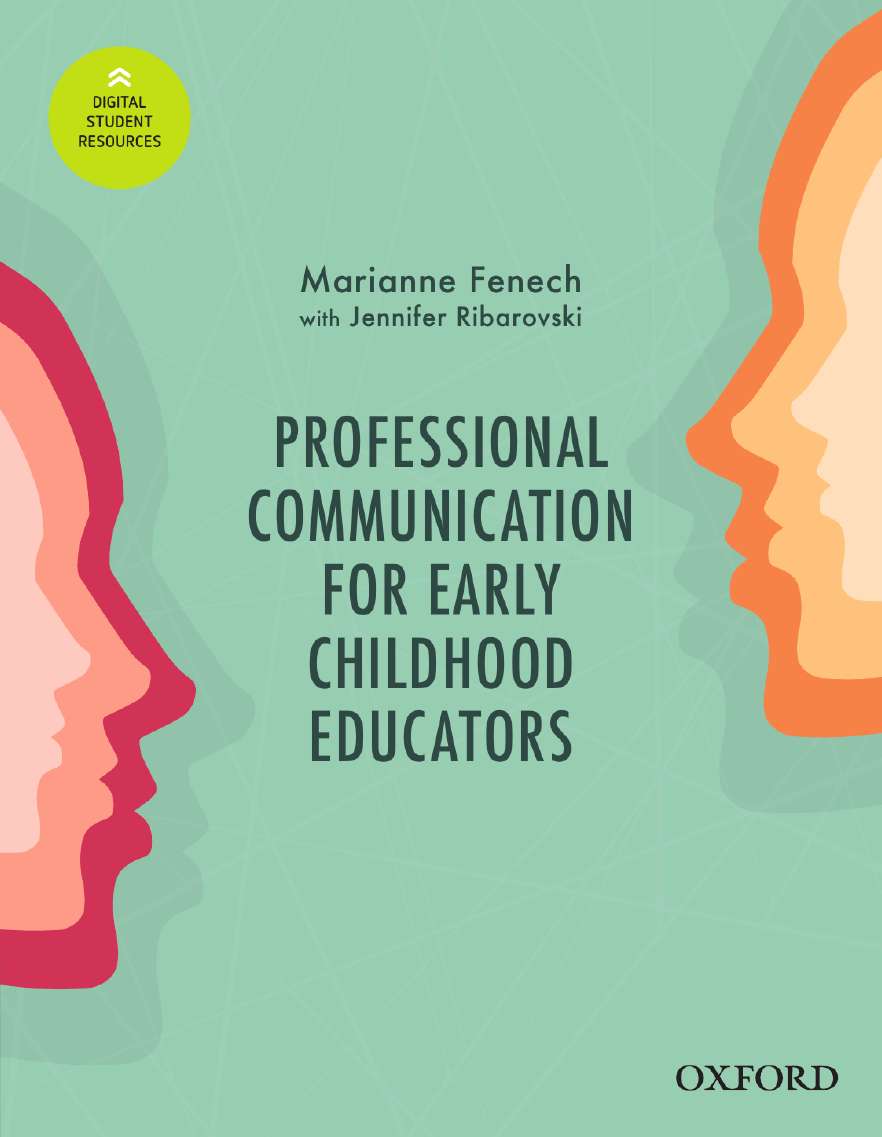 Professional Communication for Early Childhood Educators
| | |
| --- | --- |
| ISBN: | 9780190322885 |
| Binding: | Paperback |
| Published: | 29 Apr 2020 |
| Availability: | 119 |
| Series: | |
$79.95 AUD
$91.99 NZD
Add To Cart
Other options: Ebook $69.95 AUD $79.99 NZD Ebook Rental $39.95 AUD $45.99 NZD
Request an inspection copy
Description
Effective interpersonal and workplace communication in everyday practice

This book puts professional communication at the forefront of practice for all early childhood educators. Quality early childhood education requires educators to develop strong relationships with children, families, colleagues, and professional and community stakeholders. Effective interpersonal and workplace communication is integral to building and maintaining such relationships.

Being an effective communicator is fundamental to the work of an early childhood educator but students often graduate lacking skills such as active listening, assertiveness and showing empathy. This book assists students in learning these skills as they prepare to become effective communicators in their everyday practice, while also supporting practicing educators in improving their communication skills. It is designed to support educators to develop and reflect on their interpersonal and workplace communication skills, enabling them to practise as intentional and effective communicators in complex and dynamic teaching environments.

Key Features
Reflection boxes encourage students to reflect on what they have learnt – these can be used to work through individually or as a group in tutorials
Includes links to the National Quality Standard and the National Quality Framework
Examples and scenarios are taken from real-life experiences of educators from ECEC services across Australia
Videos of professional communication skills in action prompt students to reflect on key concepts discussed and consider these in their own contexts
Spotlight on Communication case studies provide practitioner profiles, detailing practitioners' experience working in the sector and how their practice relates to professional communication.
Contents
Part A: Introduction to Professional Communication
1 Why Effective Communication Matters
2 Exploring the Communication Process
3 Principles of Professional Communication

Part B: Interpersonal Communication
4 Active Listening
5 Engaging and Meeting with Families
6 Intercultural Communication
7 Communication Using Digital Technologies and Social Media

Part C: Workplace Communication
8 Approaches to Workplace Communication
9 Working in Teams
10 Meetings and Making Decisions
11 Working with and Leading Change

Part D: Bringing It All Together
12 Difficult Conversations
Authors
Marianne Fenech , Associate Professor, University of Sydney
Jennifer Ribarovski , Managing Director, JR Education Consulting Services
Student Resources
Each print copy of Professional Communication for Early Childhood Educators, comes with access to the following resources:
Videos showing professional communication in the context of Australian early childhood education services.
This code can only be activated once. Once activated, access is valid for the life of the book.
Request an inspection copy