Learning to Teach eBook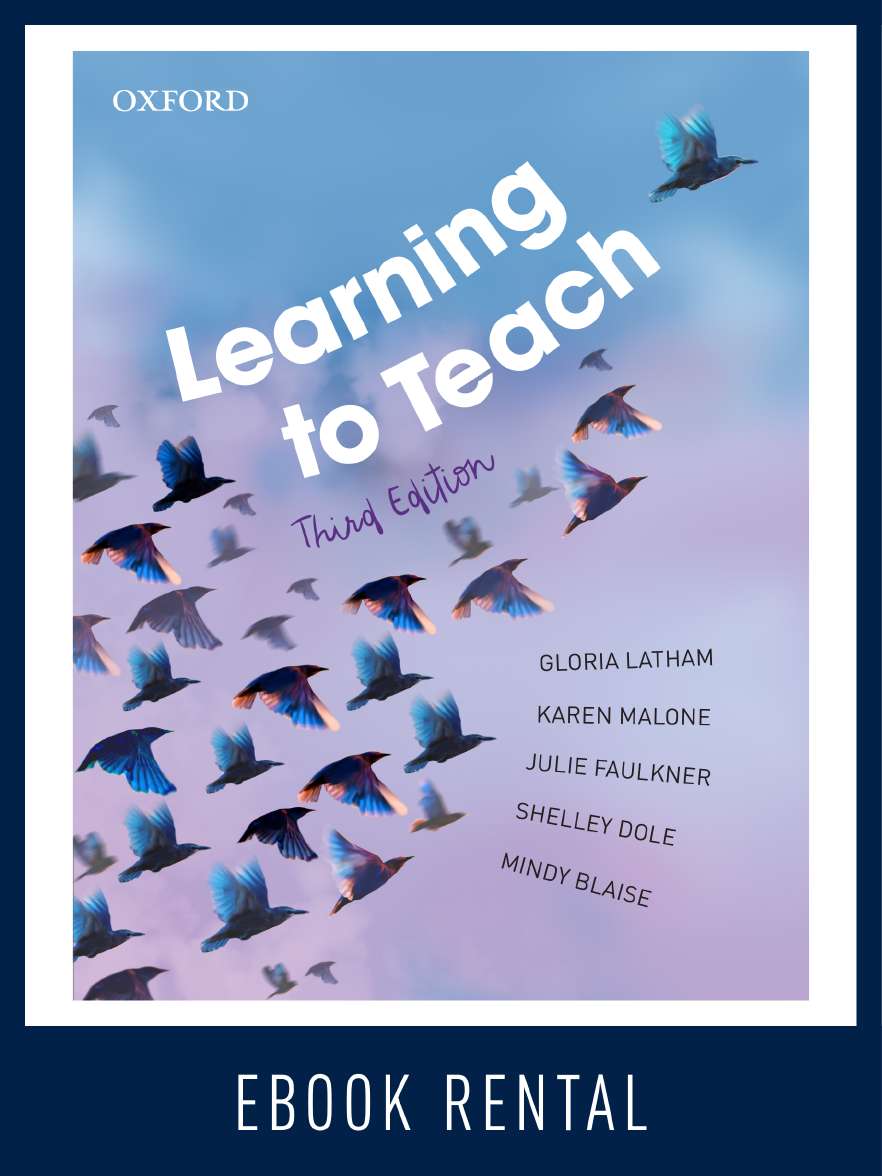 Learning to Teach eBook
| | |
| --- | --- |
| ISBN: | 9780190323400 |
| Binding: | Ebook Rental |
| Published: | 20 Mar 2020 |
| Availability: | Available |
| Series: | |
$43.95 AUD
$49.99 NZD
Add To Cart
Other options: Paperback $82.95 AUD $94.99 NZD Ebook $77.95 AUD $88.99 NZD
Request an inspection copy
Description
Prepare your students for a twenty-first century classroom.

Learning to Teach, third edition, offers a unique perspective by positioning the reader as a pre-service teacher embarking on their new career. The reader is introduced to three fictional pre-service teachers whose narratives flow throughout the text. These characters share how their personal and professional life experiences have exposed them to new ways of thinking about young people, teaching, and learning.

Using a fictional university teacher education program and primary school, this eBook explores how educators are working to transform their practices in like-minded communities for radically changing times. It examines current government initiatives and regulations while developing the reader's ability to analyse scenarios, critically reflect on their own assumptions, and develop best teaching practices.

New to this Edition
New unique perspective on three pre-service teachers' journeys into the world of teaching
New university assignments and field placements undertaken by the three pre-service teachers
Four new chapters:

Chapter 4: Experience in Schools,
Chapter 5: Going Rural – A Community of Practice
Chapter 9: Thinking Critically
Chapter 14: Ready to Teach and Keep on Learning

Chapters have been completely revised and include new and challenging questions to reflect current teaching and learning practices
Critical and reflective dialogues from members of the teaching and learning community frame the content from multiple perspectives and modes.
Contents
PART 1: LEARNING ABOUT TODAY'S LEARNERS

1. Re-evolution: Disrupting Education
Karen Malone
2. Entangled Childhoods
Karen Malone

PART 2: LEARNING ABOUT TEACHERS AND PROFESSIONAL PRACTICE

3. Preparing for Practice
Gloria Latham
4. Experience in Schools
Gloria Latham
5. Going Rural - A Community of Practice
Shelley Dole

PART 3: LEARNING ABOUT LEARNING

6. Teacher Identity and Learning
Julie Faulkner
7. Worldview of Teachers
Mindy Blaise
8. Teachers' Theory Making
Mindy Blaise
9. Thinking Critically
Julie Faulkner

PART 4: LEARNING ABOUT TEACHING: BREAKING OUT OF THE TEACHING MACHINE

10. Reconnecting: Classroom Interactions
Gloria Latham
11. Learning-with: Reconfiguring Relations with Each Other, Students and the Environment
Mindy Blaise
12. Propositions and Provocations: Planning for Learning in the Anthropocene
Karen Malone
13. Assessing Learning
Gloria Latham

PART 5: WHAT'S NEXT?

14. Ready to Teach and Keep on Learning
Gloria Latham
Epilogue: I am School
Gloria Latham
Authors
Gloria Latham
Honorary Senior Lecturer at the University of Sydney

Karen Malone
Professor of Education and Research Director, Swinburne University

Mindy Blaise
Vice-Chancellor's Professorial Research Fellow, School of Education, Edith Cowan University

Julie Faulkner
Senior Lecturer of Teacher Education, Language, Arts & Professional Learning, Monash University

Shelley Dole
Head of the School of Education, University of the Sunshine Coast
Lecturer Resources
The following resources are available for lecturers who prescribe Learning to Teach, third edition, for their course:
Instructor's Resource Manual
Podcasts from of the pre-service teachers featured in the book
Blogs from the pre-service teachers and a visual diary of their teaching experiences.
For more information about the resources for Learning to Teach, third edition, please contact your Oxford Learning Resource Consultant.
Request an inspection copy