It's Arts Play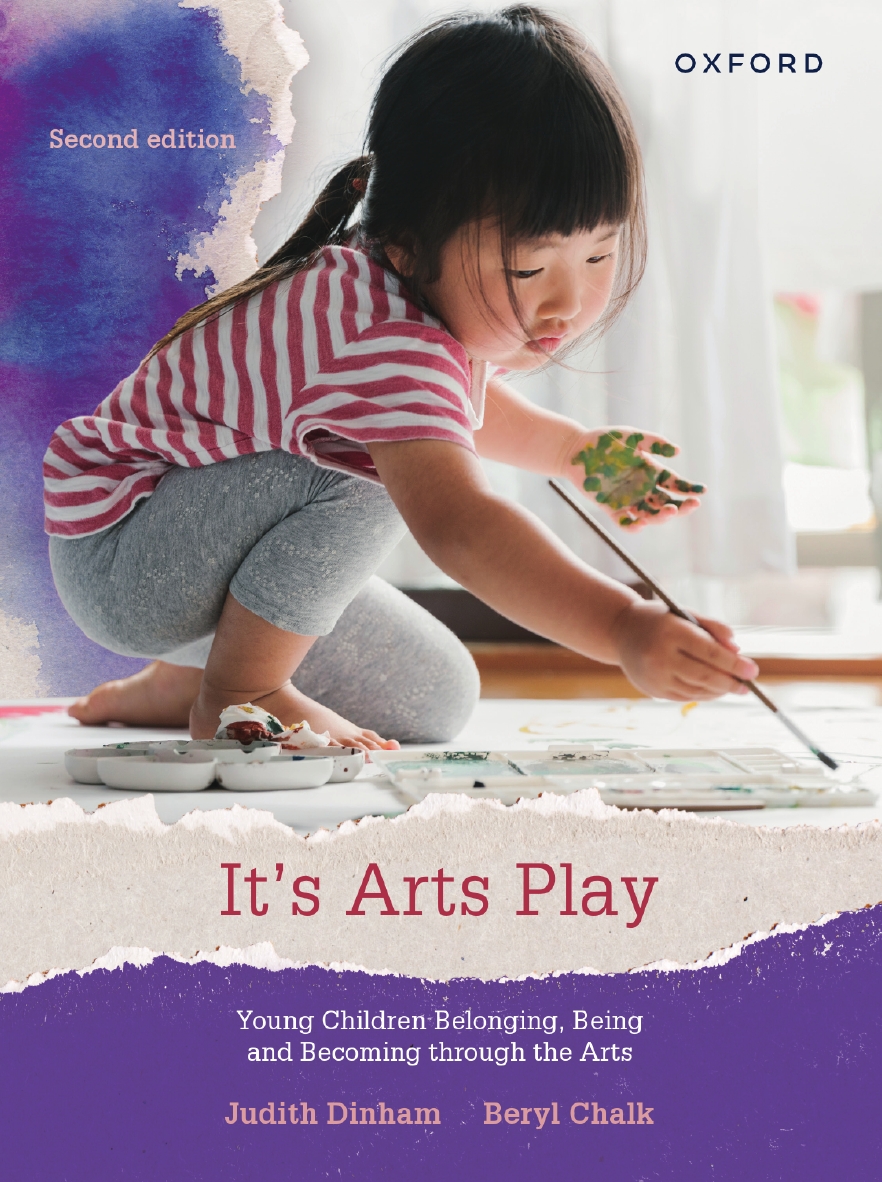 It's Arts Play
| | |
| --- | --- |
| ISBN: | 9780190333904 |
| Binding: | Paperback |
| Published: | 12 Sep 2022 |
| Availability: | 323 |
| Series: | |
$94.95 AUD
$108.99 NZD
Add To Cart
Other options: Ebook $84.95 AUD $97.99 NZD Ebook Rental $46.95 AUD $53.99 NZD
Request an inspection copy
Description
It's Arts Play: Young Children Belonging, Being and Becoming through the Arts will introduce you to Arts education in early childhood, highlighting the range of ways the Arts can impact education and development. It incorporates the Early Years Learning Framework (EYLF), which offers a holistic concept of children's learning and is framed around core themes of Belonging, Being and Becoming.
The second edition of this Australian textbook provides well-focused, comprehensive and sound practical guidance for authentic play-based practice across the five subjects identified as part of the Arts in the Australian Curriculum: dance, drama, media arts, music and visual arts.
This textbook is a valuable resource for students in all stages of early childhood or primary education study, as well as for early childhood educators.
Ideas and commentary from the Alice Springs (Mparntwe) Declaration, which emphasises the importance of meeting the individual needs of all learners, and outlines education's role in supporting the wellbeing, mental health and resilience of young people.
Contemporary theoretical information, foregrounding social justice and its interrelation with arts education in early childhood
Margin notes with useful terminology to help you construct a professional vocabulary.
Practical 'sparkers' include ideas to get you started as you develop your own knowledge and experience of the Arts in education.
Incorporation of authentic Indigenous voices throughout the text, offering insights that help Arts educators to interact with Indigenous arts in culturally sensitive ways.
*Please note the online resources referred to in the video are a list of related web links included in the content of the book
Contents
Part 1 Children's learning through the Arts
Chapter 1. Setting the context
Chapter 2. The nature of learning in and through the Arts
Chapter 3. How arts experiences contribute to children's growth and development
Chapter 4. Belonging: How children belong through the Arts
Chapter 5. Being: How children experience being themselves through the Arts
Chapter 6. Becoming: Ways in which children become their future selves through the Arts
Part 2 Educating through the Arts
Chapter 7. Learning experiences in Dance
Chapter 8. Learning experiences in Drama
Chapter 9. Learning experiences in Media Arts
Chapter 10. Learning experiences in Music
Chapter 11. Learning experiences in Visual Arts
Chapter 12. Learning experience across the age groups
Part 3 The Professional at Work
Chapter 13. Arts Pedagogies
Chapter 14. Monitoring, documenting and assessing arts learning
Chapter 15. Planning for arts learning
Authors
Judith Dinham is an Associate Professor and Director of Learning and Teaching, School of Education, Curtin University.
Beryl Chalk is a retired academic, School of Education, Curtin University.
Lecturer Resources
The following resources are available for lecturers who prescribe this title for their course:
Extra learning activities for tutorials.
A list of children's literature to use when teaching the Arts.
Web links and an image bank to use for further reading and resources.
Sample Pages
Request an inspection copy