Education, Change and Society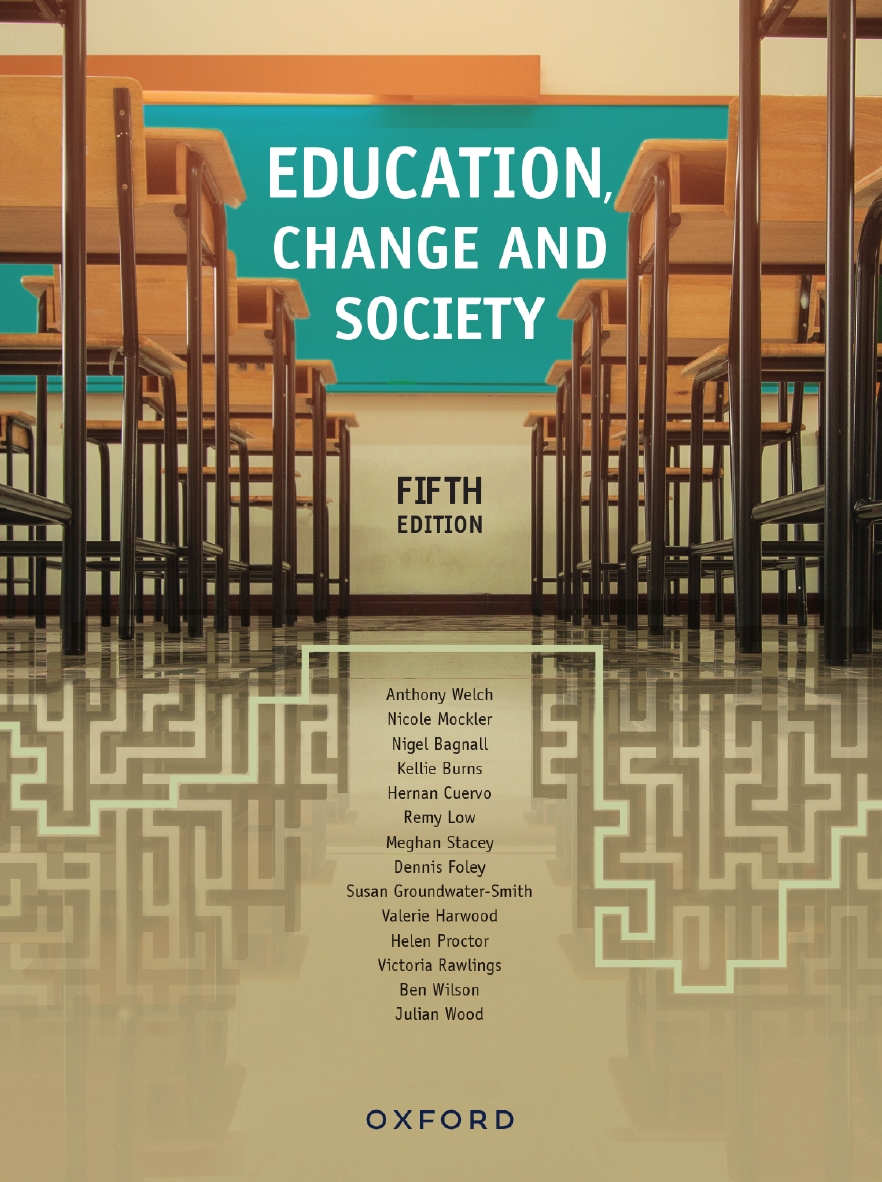 Education, Change and Society
| | |
| --- | --- |
| ISBN: | 9780190334871 |
| Binding: | Paperback |
| Published: | 7 Oct 2022 |
| Availability: | 488 |
| Series: | |
$91.95 AUD
$99.99 NZD
Add To Cart
Other options: Ebook $84.95 AUD $97.99 NZD Ebook Rental $46.95 AUD $53.99 NZD
Request an inspection copy
Description
Enhance your teaching with critical frameworks in social and policy-based educational contexts.
Education, Change and Society is one of the most comprehensive and theoretical texts on the sociology of education. This text helps to situate educational activity in its broad social and policy context so you can learn how to critically reflect on frameworks. It examines the larger-scale sociological and curriculum-focused issues and themes that may affect your day-to-day teaching.
The fifth edition provides you with a depth of understanding of how education can influence and shape society, and conversely how society shapes education policy. Each chapter not only describes and analyses what is going on, but also interprets the evidence and includes up to date references.
New chapters showcasing a range of themes, including young people in educational institutions; school systems and school choice; curriculum; and teachers.
An expansive focus on nation-wide policies with in-text examples from New South Wales, Western Australia, South Australia and Tasmania.
Educational and sociological concepts are explained and discussed, equipping you to critically examine education, curriculum and learner experiences.
New and updated boxed texts include evocative comments and grounded examples of topics from the chapters. Focus questions in each chapter encourage critical discussion of content.
Suggestions for further reading and external web content provide a platform for discovering and exploring the wealth of research on the social contexts of education and policy studies in Australia and beyond.
Contents
1. Young people in educational institutions
5. Social class and inequality
6. Cultural difference and identity
9. Making education policy
10. School systems and school choice
14. Researching education
Authors
Anthony Welch is a Professor of Education at The University of Sydney.
Other authors and equal contributors include:
Nicole Mockler
Nigel Bagnall
Kellie Burns
Hernan Cuervo
Remy Low
Meghan Stacey
Dennis Foley
Susan Groundwater-Smith
Valerie Harwood
Helen Proctor
Victoria Rawlings
Ben Wilson
Julian Woodall
Lecturer Resources
The following resources are available for lecturers who prescribe this title for their course:
Downloadable PDF chapter with essential information for a research project, to utilise in workshops and tutorials.
Weblinks that highlight further readings and contextual information relevant to the topics for each chapter.
Sample Pages
Request an inspection copy