Language and Learning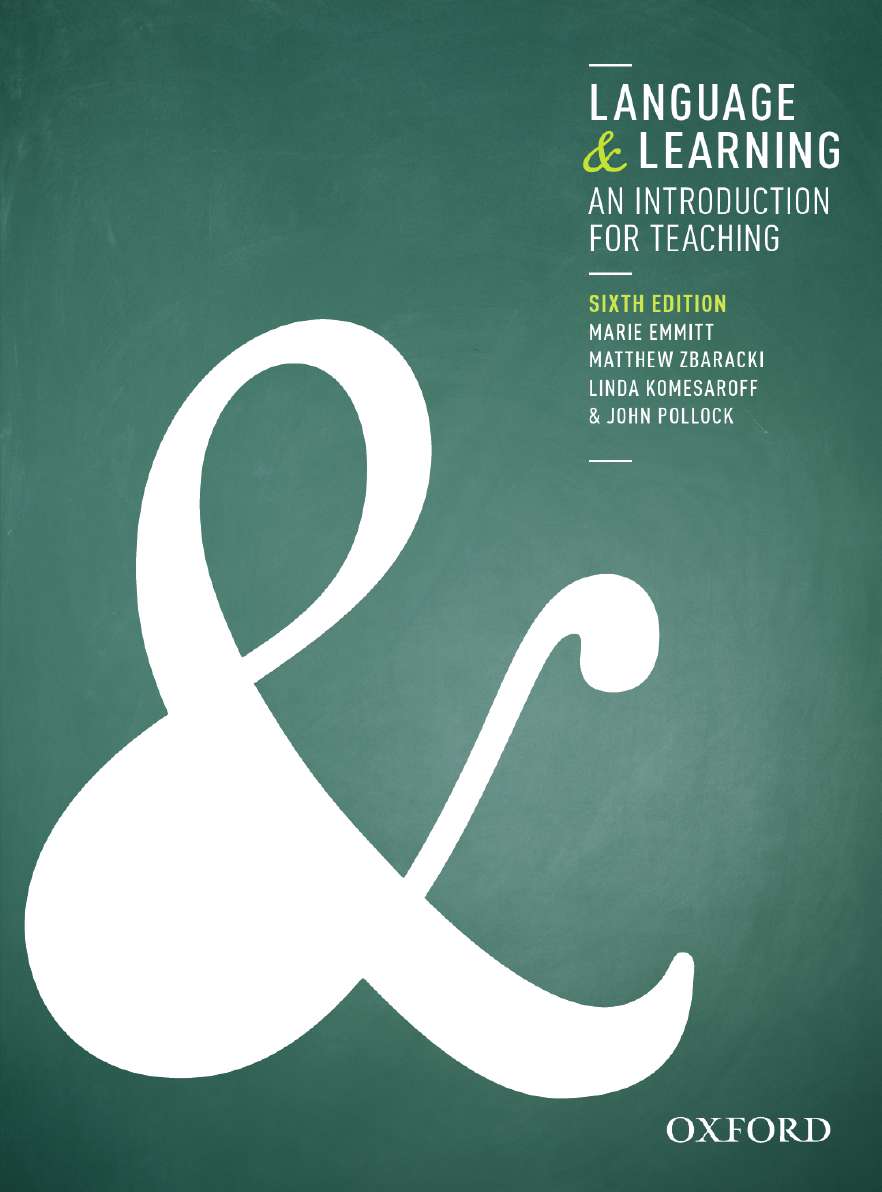 Language and Learning
| | |
| --- | --- |
| ISBN: | 9780195522266 |
| Binding: | Paperback |
| Published: | 21 Nov 2014 |
| Availability: | 34 |
| Series: | |
$89.95 AUD
$102.99 NZD
Add To Cart
Other options: Ebook $81.95 AUD $93.99 NZD
Request an inspection copy
Description
Language and Learning 6th edition is Australia's most comprehensive textbook about language acquisition and use. Written specifically for Australian pre-service teachers, the aspects of language explored include:
the purposes & uses of language
the linguistic basis of language
language-learning
the influence of new technologies on language & learning
implications of language knowledge for teaching.
New to this edition:
Two colour design and new pedagogy to emphasise critical thinking and assist with student navigation
More emphasis on different cultures, using language differently
More on genres
More emphasis on the changing nature of literacy, the breadth of multiliteracies and embracing new forms of literacy
Coverage of new fields of linguistics, such as neurolinguistics
More coverage of technology and how to use it effectively in teaching
Contents
PART 1: LANGUAGE AND CULTURE
1. An Overview of Language and Learning
Why study language?
Who has studied language?
What is language and why do we have it?
Different dimensions of language
Language, ideology and power
Language codes
Language, thinking and learning
Language and literacy
Towards a definition of language
2. Doing Things with Language
Functions of language
Language and communication
Improving our communication skills
Language and groups
Language and culture
Differing cultures
Language, culture and thought
Language and society
Variation in written language: different genres
PART 2: LINGUISTICS AND LANGUAGE STRUCTURE
4. An Introduction to Linguistics and Grammar
Why learn about linguistics?
Definitions
A study of language
Grammar today: traditional grammar and functional grammar
What should teachers know about grammar?
5. Discourse Analysis/Text Linguistics
Beyond the sentence
Genre
Top-level structure
Text cohesion and cohesive ties
6. Syntax, Morphology and Lexicology
The study of language at the sentence level
Syntax
Morphology and lexicology
The function of words in sentences
Origins of words
7. Phonology and the Relationship between Letters and Sounds
Why study phonology and letter–sound knowledge?
Phonetics, phonology and phonological awareness
How are speech-sounds produced?
8. Differences between Speech and Writing
Code differences
Text density
Possible difficulties with the written language
Writing for children
PART 3: LANGUAGE AND LEARNING
Learning speech
Problems with language development research
Learning language
What teachers can expect
Processes of language learning
Language learning as social interaction
10. Learning a Second Language
Theories and approaches
Defining our terms: second-language learning
Factors that influence second-language learning
What do we mean by literacy?
Literacy — what is to be learned?
Learning how written language works
Learning the writing system
Writing
12. Learning and Language: A Summary
What is learning?
How does language facilitate learning?
Language learning in the classroom
Appendix 1: Australian English phonemes
Appendix 2: Classification of English consonants
Glossary of language terms
References
Index
Authors
Marie Emmitt - Former Dean of Education; Professor, Faculty of Education and Arts, Australian Catholic University
Matthew Zbaracki - Senior Lecturer, Faculty of Education and Arts, Australian Catholic University
Linda Komesaroff - Former senior lecturer, Deakin University
John Pollock - retired Head of Department of Industry Education, RMIT
Sample Pages
Read a sample chapter from Language and Learning:
Request an inspection copy