Writing Right with Text Types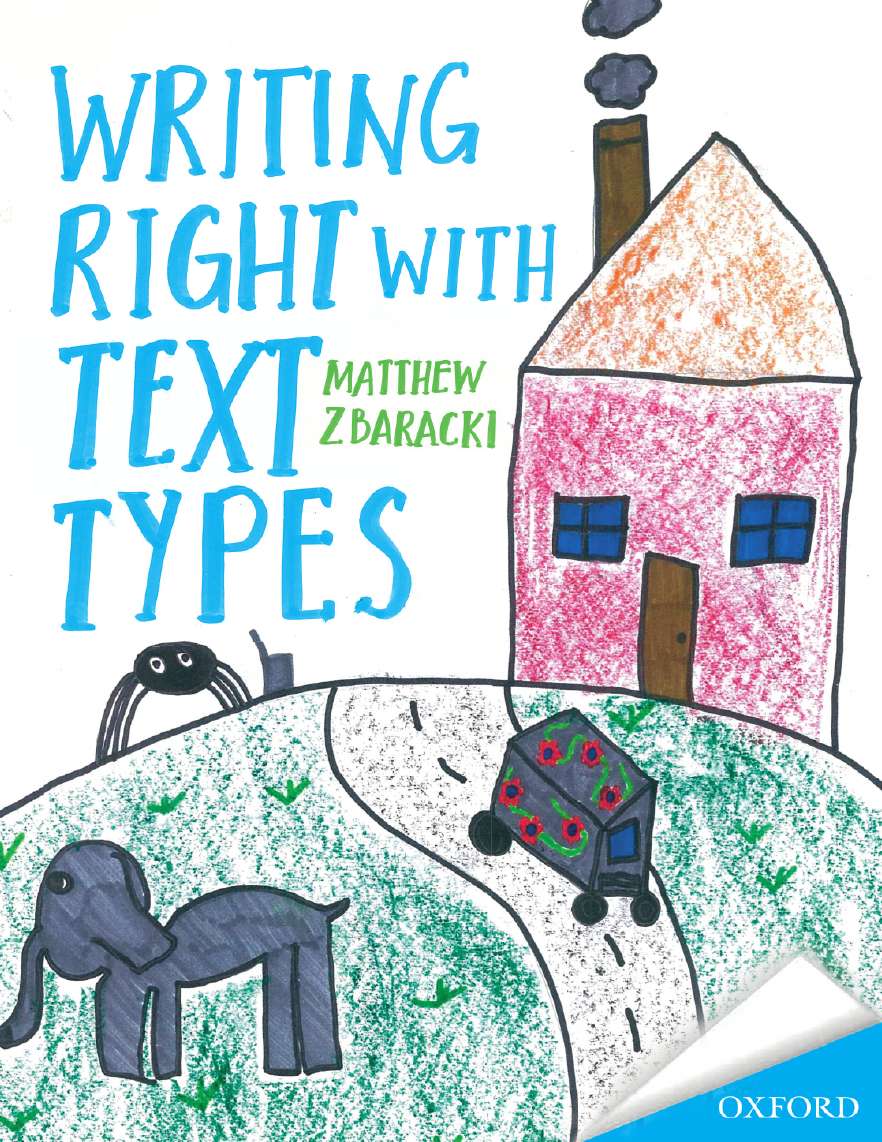 Writing Right with Text Types
| | |
| --- | --- |
| ISBN: | 9780195527919 |
| Binding: | Paperback |
| Published: | 21 Oct 2015 |
| Availability: | 17 |
| Series: | |
$85.95 AUD
$98.99 NZD
Add To Cart
Other options: Ebook $77.95 AUD $89.99 NZD
Request an inspection copy
Description
Create a writing classroom that is creative, innovative and imaginative
Writing Right with Text Types helps current and future teachers inspire young writers in exciting and engaging ways. Chapters 1 to 4 explore the critical components of language and writing, including grammar, setting up your classroom for writing, modelling writing to your students, and assessment. Chapters 5 to 13 discuss the common genres taught in primary school and the text types found within these genres. In these chapters, theory is brought to life through numerous teaching ideas and case studies. The final chapter explores recent developments in classrooms and children's literature; it encourages reflection on how we teach writing to children and how we might do so in the future.
Key Features
Includes actual examples of children's writing from a variety of primary grade levels. These writing samples help show what children are capable of as writers and to not only explore what they do well, but to discover ways that they could improve and develop their writing further.

Introduces a plethora of titles from children's literature and these titles can be used as models of text types and genres. These include examples of multilevel and multimodal texts, graphic novels, comics, and picture books etc to showcase how these different types of texts can be used to extend and cross over between genres and text types.

Features websites and current apps throughout, in particular in the 'In the classroom' boxes. These provide further resources that might spark an interest for your young writers. These technology resources and the children's literature titles are listed at the end of each chapter, for quick reference.

Encourages reader to reflect on their learning with 'Stop and think' questions and then practice by developing their own lessons with the 'Now it's your turn' feature.
Contents
1: Introduction
Teaching writing
Children's vocabulary development
The writing process
Genres and text types
Introducing the genre chapters
Using children's literature to motivate young writers
Conclusion
2: Grammar
Introduction
Traditional grammar: Knowing the parts of speech and what they do
Traditional grammar versus functional grammar
Teaching grammar meaningfully
Conclusion
3: Getting Ready
Introduction
Space to write
Time to write
Inspiration to write
Tools for writing
Freedom to write
Conclusion
4: Assessment
Introduction
Assessment for learning
Assessment of learning
Assessment as learning
Rubrics
Assessment in this book
Conclusion
5: Humour
Introduction
Incongruity: The basis of humour
In depth: A short narrative
Conclusion
6: Narratives
Introduction
Structuring and planning narratives
Language and grammar features of narratives
In depth: A short narrative
Conclusion
7: Recounts
Introduction
Structuring and planning narratives
Language and grammar features of narratives
In depth: A short narrative
Conclusion
8: Persuasive
Introduction
Structuring and planning persuasive texts
Language and grammar features of persuasive texts
In depth: Letters and advertisements
Conclusion
9: Information Reports
Introduction
Structuring and planning information reports
Language and grammar features of information reports
In depth: Book and news reports
Conclusion
10: Procedural Texts
Introduction
Structuring and planning procedural texts
Language and grammar features of procedural texts
In depth: Recipes
Conclusion
11: Explanation
Introduction
Structures, language features, and planning
In depth: Explanation reports
The importance of visuals
Conclusion
12: Transactional
Introduction
Structures, language features, and planning
In depth: Technology correspondence
Conclusion
13: Poetry
Introduction
Language and grammar features of poetry
Structure
In depth: Key forms and types of poetry
Conclusion
14: Future Gazing
Introduction: Technology and multimodality
Blended narratives and blended genres
Multimodality, technology, and blended narratives in this book
Pushing the boundaries
Conclusion
Authors
Matthew Zbaracki – Senior Lecturer, School of Education,Australian Catholic University (Melbourne)
Sample Pages
Read a sample from Writing Right with Text Types:
Request an inspection copy