Teaching and Communicating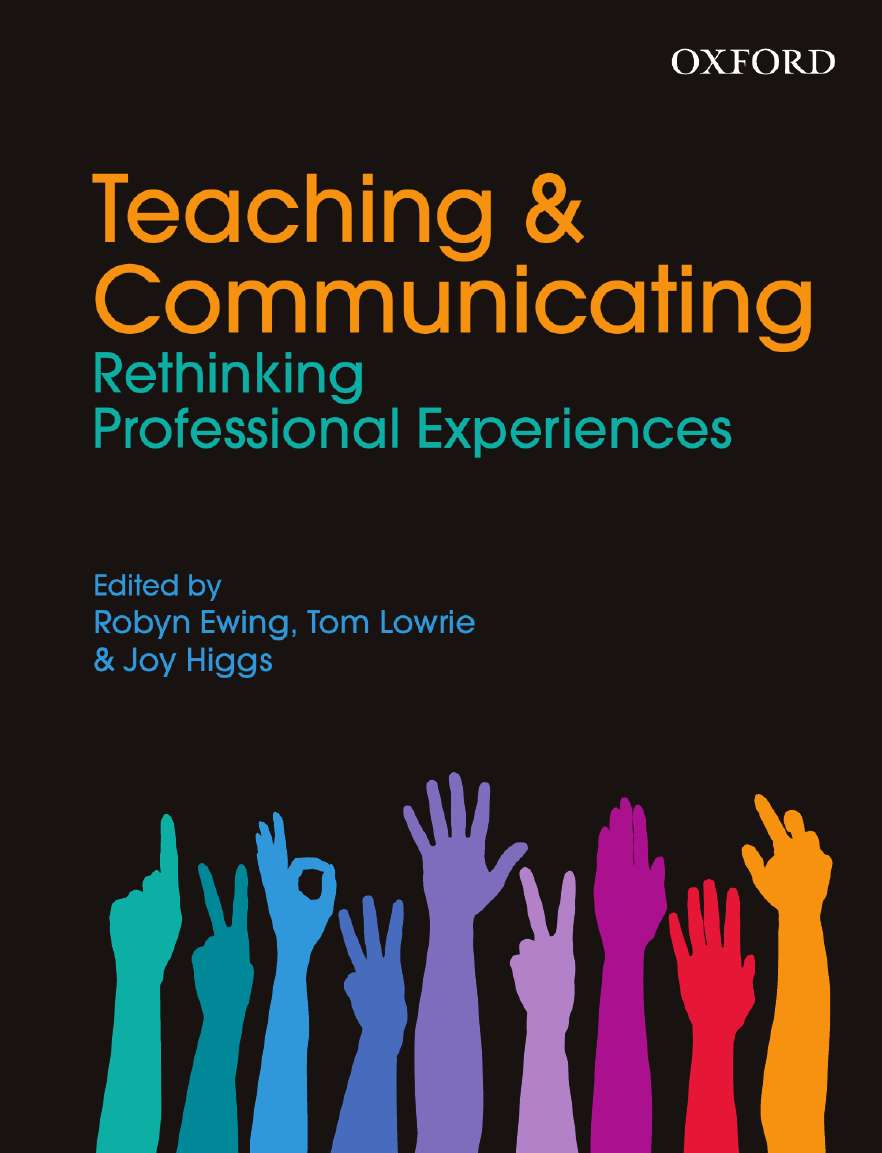 Teaching and Communicating
| | |
| --- | --- |
| ISBN: | 9780195567212 |
| Binding: | Paperback |
| Published: | 9 Dec 2009 |
| Availability: | |
| Series: | |
$72.95 AUD
$82.99 NZD
Add To Cart
Request an inspection copy
Description
Professional experience is central in teacher preparation. In Teaching and Communicating, your students are equipped with the skills and knowledge needed to make the most of this experience. This user-friendly guide demonstrates how pre-service teachers, supervisors, mentors, and academics involved in school and field placement can be collectively engaged in professional experience contexts that are both dynamic and diverse. It provides opportunities for participants in the professional experience process to consider the complex nature of communication, to develop skills on how communication processes should be enacted, and to consider the broader education community. It also provides your students with practical advice on how to improve assessment by offering ideas about report writing, journal keeping and assignment delivery.
Contents
Contributors
Preface
Part 1. Communicating in Education
1 Setting the Scene: The Current Teacher Education Context
2 Theories of Communication
3 Learning to Learn through Professional Experiences
4 From Practice Teaching to Practicum to Professional Experiences
5 Teachers as Learners
6 Ethical Communication in School and Community Contexts
7 Communicating Inclusively
Part 2. Teaching and communication
8 Preparing Lesson Plans, Programs, Units, and Day Books
9 Helping Preservice Teachers Learn to Communicate Effectively in School Contexts
10 Communicating Effectively in Classrooms: Using Voice and Body Language
11 Enhancing Communication with Effective Resources
12 'Don't smile 'till Easter': Creating a Positive Classroom Learning Community
13 Constructive Use of Feedback in Professional Experience
14 Using Portfolios to Communicate
15 Communicating Collaboratively with Peers, Mentors and Supervisors
Part 3. Communication across differences and diversity
16 Communicating with Parents, Community Groups and Service Agencies
17 Communicating with Young Children
18 Communicating with Adolescents: Through the Middle Years of Schooling
19 Communicating and Senior Students
20 Understanding Learning and Communication Difficulties
21 Language-based Learning Difficulties in the Classroom
22 Seeing Practice through Practice: Learning through Action Research and Action Learning
References
Index

Authors
Robyn Ewing – Professor of Teacher Education and the Arts, Faculty of Education and Social Work at the University of Sydney and Member in General Division of the Order of Australia
Tom Lowrie – Professor and Director, Research Institute for Professional Practice, Learning and Education, Charles Sturt University
Joy Higgs – Professor and Director, The Education for Practice Institute, Charles Sturt University
Oxford University Press would like to congratulate
Robyn Ewing
for winning the 2012 Lady Cutler Award for Distinguished Service to Children's Literature.
Oxford would also like to congratulate author - Joy Higgs - for winning an Australian Teaching and Learning Council Fellowship for Practice-based education: enhancing practice and pedagogy.
For more details please se http://www.altc.edu.au/altc-teaching-fellow-joy-higgs-am
Robyn Ewing is currently a Professor in the Faculty of Education and Social Work. In addition to her role as Acting Dean, she also teaches in Curriculum, English and Drama, working with both undergraduate and postgraduate students. Tom Lowrie is Research Professor in Professional Practice and Director of RIPPLE (Research Institute for Professional Practice, Learning and Education). A substantial body of Tom's research is associated with spatial sense, particularly children's use of spatial skills and visual imagery to solve mathematics problems. Joy Higgs is Strategic Research Professor in Professional Practice at (RIPPLE) and the Director of The Education for Practice Institute at Charles Sturt University in 2007. Before joining CSU she worked for over 25 years as an educator, scholar, researcher and research supervisor at The University of New South Wales and The University of Sydney.
Request an inspection copy