Psychological Testing and Assessment eBook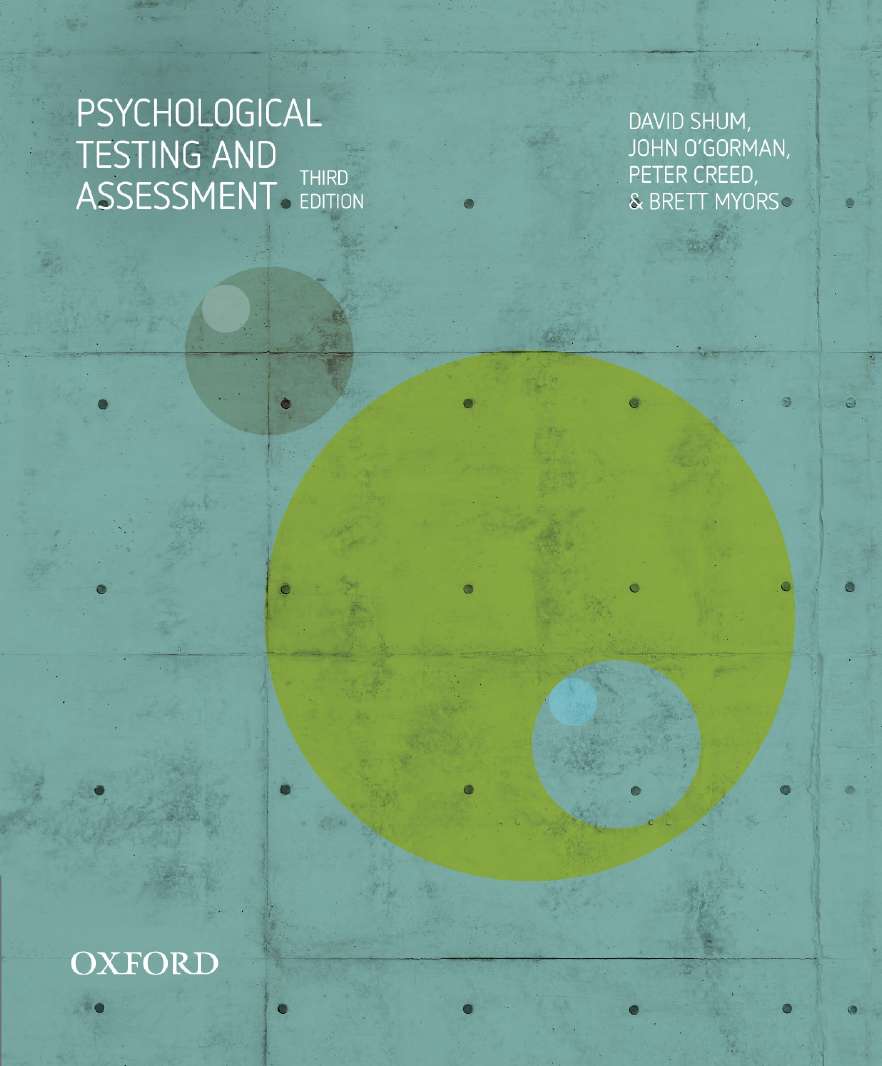 Psychological Testing and Assessment eBook
| | |
| --- | --- |
| ISBN: | 9780190305215 |
| Binding: | Ebook |
| Published: | 23 Jun 2017 |
| Availability: | Available |
| Series: | |
$97.95 AUD
$112.99 NZD
Add To Cart
Description
Psychological Testing and Assessment is a comprehensive introduction to theory, research and best practice for psychological testing and assessment. The text examines the principles and practice of psychological testing and assessment within an Australian context, provides varied examples, discusses local issues and addresses the Australian Psychological Society's Code of Ethics.

This book covers the latest in theory and research and provides students with a practical and accessible guide to the dynamic and evolving field of psychological assessment.

NEW TO THIS EDITION
A wider representation of current tests recommended by the Psychology Board of Australia
New case examples illustrate impacts, controversies and legal cases showing real world application of theory and followed by discussion questions to help students test their understanding of key issues
Glossary Margin Notes include key terms from the beginning of the chapter bolded in the text alongside a margin note definition to assist learning of key professional terms
More content added on:

Utility, controversies, issues, criticisms of bias in testing
Cross cultural assessment and diverse populations
Acquiescence
Future of testing
Contents
Part 1: The Context of Psychological Testing and Assessment
1. Psychological Tests: What Are They and Why Do We Need Them?
2. Psychological Testing and Assessment: Processes, Best Practice and Ethics
Part 2: Methodological and Technical Principles of Psychological Testing
3. Test Scores and Norms
4. Reliability
5. Validity
6. Test Construction
Part 3: Substantive Testing and Assessment Areas
7. Intelligence
8. Personality
Part 4: Areas of Professional Application
9. Clinical and Mental Health Testing and Assessment
10. Organisational Testing and Assessment
11. Neuropsychological Testing and Assessment
12. Forensic Psychological Testing and Assessment
13. Educational Testing and Assessment
Part 5: Prospects and Issues
14. The Future of Testing and Assessment
Authors
David Shum is Chair Professor of Neuropsychology and Dean, Faculty of Health and Social Sciences at The Hong Kong Polytechnic University.
John O'Gorman is an Adjunct Professor in the Health Group, Griffith University.
Peter Creed is a Professor in the School of Applied Psychology and a member of the Menzies Health Institute Queensland, Griffith University.
Brett Myors is an Adjunct Associate Professor in the School of Applied Psychology, Griffith University.
Lecturer Resources
The following resources will be available for lecturer's who prescribe Psychological Testing and Assessment third edition:
Image gallery
PowerPoint slides
Instructor's manual
Testbank
Sample Pages
Request an inspection copy